FROM JALAN BESAR STADIUM, SINGAPOREBy Teng Kiat
| Goal Singapore
David Moyes
has endured a miserable first season in charge of
Manchester United
so far, but club legend
Paul Scholes
believes that those calling for his head at the moment are wrong to do so.
The former Red Devils midfield maestro, who is in Singapore at the invitation of leading furniture retailer Courts, offered his sympathies for the Scot, whom he believes has not been helped by injuries to key players.
"No, it's far too early," he told
Goal
on Friday morning when asked whether Moyes should be sacked. "It's been a difficult season for him, he's had a lot of injuries to cope with. With all the injuries he's had, I feel quite sorry for him really, he's never been able to put out the same back four.
"You see all the top teams, they have the same back four every week, especially with the centre-backs; they need to get an understanding and rhythm together.
Michael Carrick
's been injured,
Robin van Persie
's been injured, key players have been injured but he's not made any excuses and tried to get on with it and hopefully next year will be better."
Scholes added that things have not been looking the best for the club since December, with their new signings struggling to find their footing as well.
"He's done very well over the years as a manager, it's only probably past this Christmas where it hasn't gone to plan; even his signings haven't quite settled in,
Marouane Fellaini
has had a lot of injuries as well, probably hasn't produced quite what he's hoped,
Juan Mata
has been a little slow to get going as well but these players need time," he added.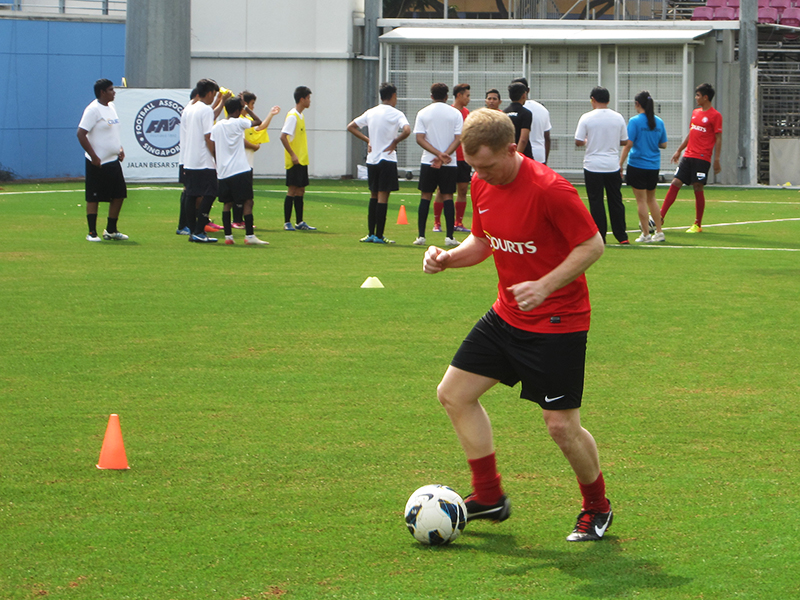 Scholes training with participants at the Jalan Besar Stadium in Singapore
The 39-year-old did however warned that United are a club that has to challenge for trophies both domestically and on the continental front and doing so was crucial to staying on as manager.
"I don't think that's the case, you just give it to him until it's right," he replied when asked how long Moyes should be given to get the team on track. "You know, results are supposed to decide if he's there, when he's there at United you've got to challenge for the league title, there's no doubt about that, you've got to challenge for the FA Cup, and you've got to challenge for the Champions League and if you're not doing that year on year, whoever's in charge won't be there."
The 11-time Premier League winner was optimistic of the Red Devils' chances in the Champions League and stated that they will face stiff competition from the teams left in the competition. On the domestic front, he conceded that a top-four finish would be difficult but a Champions League final appearance could help to salvage the season.
"I don't see why not, the best performances have probably been in the
Champions League
this season," he responded when asked whether United could go all the way to the final.
"The other seven teams are very good, I think that's the only problem! Well, if they can play like they did Wednesday night [
against Olympiakos
], I am sure they will be up there.
"Hopefully we can finish fourth [in the league], it might be a little difficult now but the point is to try and finish the season off in good style, try to win as many
Premier League
games as we can, I suppose, and try to get to the final of the Champions League. If we get to the final of the Champions League, it wouldn't be a bad season."
Scholes assisted Aide Iskandar, head coach of S.League side
Courts Young Lions
, in a training session with 40 young footballers from the Special Olympics Singapore football team and East View Secondary School students at the Jalan Besar Stadium on Friday morning.
He will be making a special appearance at the Courts Megastore in Tampines on Saturday in conjunction with their 40th anniversary celebrations.