By
George Ankers
With
England
's qualification for
World Cup 2014
assured and no play-offs to worry about,
Roy Hodgson
looks set to use November's friendlies against
Chile
and
Germany
to test out some relatively unfamiliar options.
Though momentum and mood may suffer from excessive experimentation
, injury has partly forced the manager's hand and some players will be thrown in at the deep end.
These matches, however, are a huge chance to impress against quality opposition and it could be the making or breaking of some stars' chances.
Goal
looks at how things stand ahead of the double-header...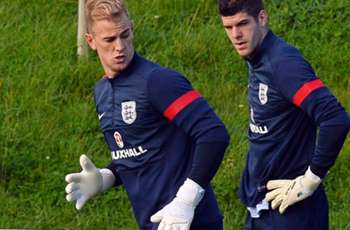 Joe Hart (Manchester City)
Glen Johnson (Liverpool)
Kyle Walker (Tottenham)
Phil Jagielka (Everton)
Gary Cahill (Chelsea)
Ashley Cole (Chelsea)
Leighton Baines (Everton)
Frank Lampard (Chelsea)
Steven Gerrard (Liverpool)
Michael Carrick (Manchester United)
Jack Wilshere (Arsenal)
Theo Walcott (Arsenal)
Andros Townsend (Tottenham)
Danny Welbeck (Manchester United)
Daniel Sturridge (Liverpool)
Wayne Rooney (Manchester United)
It is a case of 'as you were' for Hodgson's locks, with 16 men looking like dead certainties for a ticket to Brazil and none of them suffering crippling injuries or disastrous losses of form.
While
Danny Welbeck
,
Michael Carrick
,
Kyle Walker
and captain
Steven Gerrard
are all out of Friday's clash with Chile and the former two unavailable for Germany as well, absences for one or two friendlies are unlikely to make any difference to their involvement next summer. All four are players whom Hodgson knows well and it would take something serious to prevent their inclusion from hereon in.
Though continued errors have finally seen
Joe Hart
lose his place in the Manchester City line-up to Costel Pantilimon, Hodgson has given the goalkeeper complete backing, even though he will not start against Chile. Even if Fraser Forster or John Ruddy – or both – deliver virtuoso displays against Alexis Sanchez et al, the England No.1's absence would be a gigantic fall from grace.
With Gerrard out, it falls to the Three Lions' most recent centurion,
Frank Lampard
, to captain the side at Wembley, which underlines his continued importance at international level. One or two recent performances for Chelsea have hinted that the veteran looks rather more his age than usual but the vice-captain looks very likely to play either partner or understudy to the Liverpool man in Brazil.
Of the 16, one of
Theo Walcott
and
Andros Townsend
is most likely to be in danger. Due to injury, the Arsenal man is still not yet available to Hodgson but his international experience and ability to play through the middle if needs be make him a sure-fire candidate to return when fit.
For Townsend, these friendlies are a chance to cement his place in the side against two teams, particularly Germany, who will fancy themselves to contain him. With some even newer faces breathing down his neck, the Tottenham winger will be determined to succeed.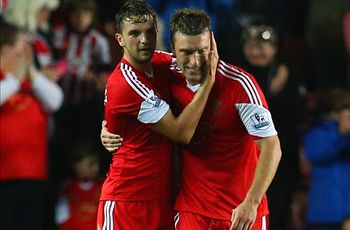 John Ruddy (Norwich City)
Fraser Forster (Celtic)
Phil Jones (Manchester United)
Chris Smalling (Manchester United)
Tom Cleverley (Manchester United)
James Milner (Manchester City)
Ross Barkley (Everton)
Alex Oxlade-Chamberlain (Arsenal)
Aaron Lennon (Tottenham)
Jermain Defoe (Tottenham)
Rickie Lambert (Southampton)
UP: Adam Lallana (Southampton)
NEW ENTRY: Jay Rodriguez (Southampton)
NEW ENTRY: Jordan Henderson (Liverpool)
The most movement over these friendlies may be found in this category, with a handful of new recruits uplifted into Hodgson's squad to see if they sink or swim.
As noted above, one of
Ruddy
and
Forster
will start against Chile in goal, while both are likely to play a part at some point over both matches. Neither boasts much international experience and a good performance would do wonders for their status.
The big news in the latest squad, however, is from the Southampton contingent.
Rickie Lambert
's muscle injury suffered in training on Thursday puts him out of Friday's game and in doubt for Tuesday, a frustrating blow for a man aiming to underline his credentials before Andy Carroll's return from injury. For team-mates
Adam Lallana
and
Jay Rodriguez
, however, it is a huge chance.
Lallana, captain of Mauricio Pochettino's high-flying Saints, is the local poster boy for the club's much-admired academy and put a flourish on his fine recent form with a stunning performance and goal against Hull City to celebrate his call-up.
Goal
readers think that he should start in place of Gerrard against Chile
and it could prove a huge moment in his career.
Rodriguez, almost as impressive as his skipper, is seen by Hodgson as a similar player to Welbeck, attacking from wide positions. With the Manchester United man injured, the 24-year-old could define himself as an effective alternative or, at least, a back-up in case of injury next summer.
Jordan Henderson
is recalled to the squad after doing well for Liverpool and, along with
Ross Barkley
and
Tom Cleverley
, will also be fighting to fill the void left by Gerrard.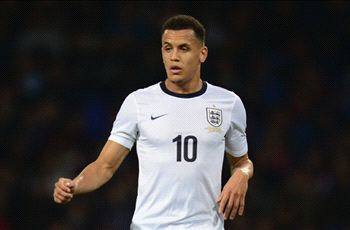 DOWN: Ravel Morrison (West Ham)
Ashley Young (Manchester United)
Ben Foster (West Brom)
Matt Lowton (Aston Villa)
Luke Shaw (Southampton)
Kieran Gibbs (Arsenal)
Steven Caulker (Cardiff City)
Ryan Shawcross (Stoke City)
Joleon Lescott (Manchester City)
Michael Dawson (Tottenham)
Jack Rodwell (Manchester City)
Gareth Barry (Everton)
James Ward-Prowse (Southampton)
Raheem Sterling (Liverpool)
Nathan Redmond (Norwich City)
Wilfried Zaha (Manchester United)
Andy Carroll (West Ham)
Saido Berahino (West Brom)
NEW ENTRY: Nathaniel Clyne (Southampton)
OUT: Harry Kane (Tottenham)
November's friendly window may not mean much in terms of competitions and results but, for fringe players, it represents a vital window to prove themselves ahead of the World Cup. For some England hopefuls, therefore, their absences may be bad signs.
One of those outsiders with the most public clamour for inclusion is
Ravel Morrison
. Looking a reformed character thanks to his time with Birmingham City and now West Ham, the attacking midfielder has shone for England Under-21s as well as in the Premier League but his chances look more remote following calls-up for so many new or returning midfielders to Hodgson's latest party.
The Hammers star still has the flair to make a late charge should his form continue but, for now, the implication is that 2014 may be too early for him.
The same goes for some of his Under-21s colleagues. While many have hailed the summons for Lallana and Rodriguez, the likes of
Luke Shaw
and
James Ward-Prowse
have their backers as well, with good displays to their name for both Southampton and the Young Lions. Yet the former, in particular, has Ashley Cole and Leighton Baines in front of him. Their time looks likelier to come after the summer.
So, too, for youth internationals
Harry Kane
and
Saido Berahino
. Kane's lack of match opportunities for Tottenham makes his inclusion now appear too remote, despite goals for Gareth Southgate's side, while it looks as if the in-form Berahino will be given time to develop with West Brom rather than be thrown into the mix too quickly.
The best tip for an outside run at Brazil, though, may be
Nathaniel Clyne
. Hodgson's preference is clearly for Glen Johnson and Walker at right-back but the Southampton star has a case for being the best Englishman in his position on form. Capable both defensively and offensively, he looks sure to knock down the door before too long – but can he do it quickly enough to reach the World Cup?
Follow George Ankers on