Ayush Srivastava


COMMENT | India

Follow on
Ever since the Luis Suarez saga has begun, the Liverpool faithful have continued to back the club's decision of not selling him by stating that the player 'owes them', for backing him, during the many controversies that he has been involved in, in his two-and-half years stay at Anfield.
However therein lies a bitter lesson that the club would do well to remember and learn from.
From the time of Bill Shankly at the club, the Reds have been known as not only a successful team, but also one of the most respected sides in Europe and infact across the world, where they still have a huge fan following, as seen during their pre-season, even after being in Champions League wilderness for long.
They have always conducted themselves in exemplary fashion, and never shielded their players, when they were found to be in the wrong.
But then entered Luis Suarez. While he has often been a lone beacon of hope in a rather lean period in the club's history, he has also dragged the team's reputation through the dirt during his time there.
Racism charges, blatant dives, rude gestures towards the crowd, several poor as well as late tackles and finally the Branislav Ivanovic biting incident, are all the charges that the striker has been found guilty of, during his stint at Liverpool alone.
And each time he has tried to don the mantle of an innocent victim, and the Reds, partly out of loyalty, and also because of how important he has become to a mediocre side, backed his claims to the hilt, even though evidence and past history went against him.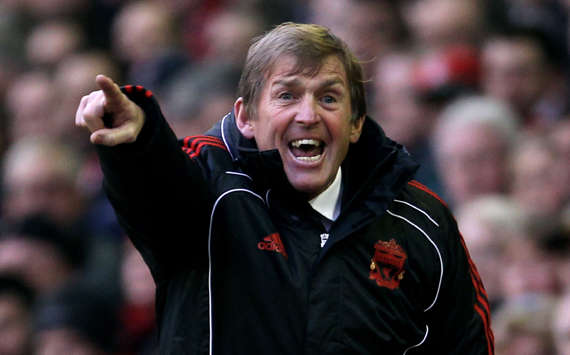 Kenny Dalglish backed the player to the hilt...
Who after-all can forget the shirts that the Liverpool squad and Kenny Dalglish wore, at the height of the Patrice Evra racism case?
So bad was the public fall-out from that incident, that several backroom staff lost their jobs, and even Dalglish's sacking was partly attributed to his handling of this incident.
Yet Liverpool backed him, always pointing to similar incidents elsewhere, which went unpunished, in a bid to show that the Uruguayan was being victimized.
But it all blew up in their face at the end of last season, when while still serving his ban for the Ivanovic biting incident, the player used that same victimization theory to demand a move, to 'escape' the English media.
However while Liverpool were blinded by his undisputed genius on the pitch, no top side was ready to accept that as a compensation for the baggage he carries with himself as a player, always on the verge of something spectacular, or similarly cringe-worthy.
When Arsenal ended up being his only serious suitors, Suarez finally came up in the open, and is now trying to force a move, yet again trying to take up the role of a person who has been 'wronged', as, believe it or not, he feels Liverpool betrayed him, by not fulfilling their promise of releasing him, if a side playing their trade in Champions League came in!
However as much as this is undoubtedly a case of a player showing no responsibility for his actions or justifying the trust placed in him by the club, it is also Liverpool's fault, that the issue has boiled down to the present scenario.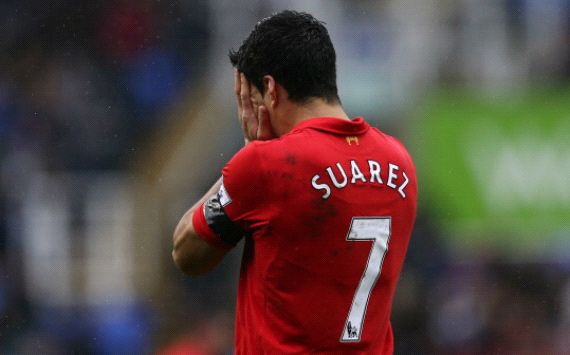 Suarez's actions have been embarrassing...
Because so used is the player, to being believed to be in the right, that he seems to have lost all sense of responsibility for his actions, and expects to be backed, regardless of what he says or does, hoping to get his way in each case.
In reality, ungrateful as he might be, Liverpool are guilty for treating him like a pampered kid, when a more iron-fisted approach would have sufficed, when he first erred on the pitch.
They though, thought that by sticking to their man, the player would feel a sense of loyalty towards them, and would stick with the club, through their lean period.
However this is an era where players look to switch clubs for the slightest of pay-rises, and expecting some noble virtues from a character as flawed as Suarez's, was always going to end up with Liverpool being disappointed.
And this is what it may end as, with Brendan Rodgers' decision to banish him from training with the squad showing how unprofessional his attitude has become. No matter what John W. Henry says, it seems only a matter of time, or at most until January, before Suarez is on his way, out of Anfield.
While the club will definitely do well to get a good transfer fee for him, they would do even better by learning a lesson from this experience, and never allow Liverpool's name and reputation to be dragged through the mud, just to protect and please a player.
Because at the end of the day, a club is always bigger than any player as Rodgers had pointed.
How do you stay up with football when on the move? With http://m.goal.com –your best source for mobile coverage of the beautiful game.