COMMENT
By James Daly

Sometimes the best stories are the ones that are true. The ones you couldn't make up. Being a Crystal Palace fan this season has been like being in the most ludicrous of film plots. The sort you'd leave the cinema saying 'that would ever happen in real life'. And yet, here we are, a Premier League team for 2013-14.


LIKE A FINE WINE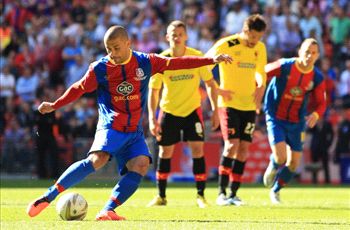 PHILLIPS RATING v WATFORD





Came on for Williams with 25 minutes left and was unfortunate that none of his side's best chances fell to him. Got one from 12 yards in extra-time, though, and took it nervelessly. He always does.
FROM OUR LIVE! COMMENTARY


GOAL! Phillips converts from the penalty spot to give Palace the lead! Zaha runs once more at Cassetti on the Watford right and is, yet again, fouled by the full-back - this time in the box. Phillips steps up and makes no mistake from 12 yards, firing an unstoppable penalty into the top corner.
We've gone from being relegation certainties to top of the league to the team with the worst form to play-off winners in 10 months. Even the craziest script writer would be hard pushed to come up with that.
Throw in a managerial change that saw a club legend depart half-way through the season, one of our players make his senior England debut before leaving for Manchester United and our striker outscore Cristiano Ronaldo only to tear his cruciate ligaments and be out for nine months. Roy of the Rovers it ain't.
But it's all true. All spine tingling, jaw droopingly true.


There was a moment after the game at Wembley when we were in the pub trying to work out what we'd just seen when I said to my brother "…of course, next season in the Premier League…" I had to stop myself for a second. Premier League? Are we really now a Premier League team? It still seems so surreal.


And yet just three years ago, almost to the day, we were waiting around for a verdict from Lloyds bank to see if we even had a club at all.


It was my birthday, May 31, 2010 when a verdict came down that Lloyds would sell Selhurst Park to CPFC 2010 - a consortium of Palace fans - meaning they could save the club from possible extinction.


Now we have just earned £120 million and have won a place in the best league in the world. By anyone's standards that's an amazing turn around, and it still hasn't sunk in.


The thing is we never expected anything. Even when Palace were third this season and riding on the crest of a wave, smashing teams 5-0 at Selhurst and looking unbeatable, we never really thought we'd do it. Going into the play-offs, we were just happy to be involved. The plucky underdogs. As it turned out, that was the perfect situation for us.


We've always done well as the underdogs; in the FA Cup semi-final against Liverpool in 1990, in the Championship play-off final against West Ham in 2004, at Old Trafford against a strong Manchester United team in the Carling Cup quarter-final in 2004. We thrive on 'making up the numbers'.
But we deserve to be there. The team has been immense in the last three games, despite being terrible in the previous 10. But when it counted they stood up. Ian Holloway, the main actor, got everything spot on.

The supporting roles weren't bad either; Wilf Zaha signing off in style with the sort of performances we know will make him a star at Old Trafford, and Kevin Phillips proving age ain't nothing but a number. There was nobody else I'd want taking that penalty.


It's difficult to put into words what this means for the club. The money will change us forever, it will help improve an already amazing academy, it will transform the stadium and it could add the players that might keep us up.


Whatever happens, we will enjoy the ride. Not just the trips to Old Trafford and Anfield, the appearances on Match of the Day or the Panini sticker albums. But the fact we even have a club. Every moment is brilliant when you nearly lost your team. We will savour every minute next season.