With three English league titles and two FA Cups already in his trophy collection, Arsenal legend Nigel Winterburn added another feather to his cap when he led the CLA All-Stars to the Masters Cup title in the 5th Singapore Cricket Club (SCC) Soccer Sixes on Sunday evening.
The former Gunners defender was in town as the ambassador of this year's edition of Asia's premier six-a-side tournament at the Padang, and did not disappoint as he helped the All-Stars beat SCC Strollers 1-0 in the final.
Winterburn had earlier hammered home the winning penalty in the semi-final after the All-Stars had played out a 1-1 draw with Bangkok Airways, which came on the back of a 3-0 success over Team Blondi.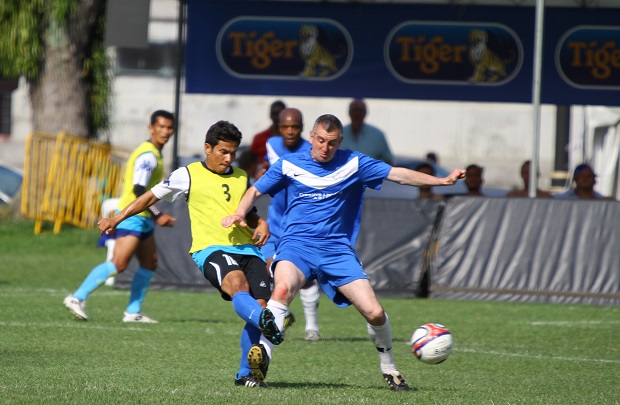 "I knew what I was doing as soon as I walked up to the penalty spot – hit it as hard as I could," he responded when quizzed about his spot-kick.
"The team is really delighted to have won the tournament. We played really well in the quarter-finals and we were lucky to win the shoot-out in the semi-finals. I'm glad we managed to nick it in the end of the final!"
In the Open category, Australian side Newcastle Jets emerged as champions after defeating Thailand's Chonburi FC 4-1 in the final. The A-League side had fought back to beat the Singapore Under-21s 2-1 in the semi-final, while Chonburi disposed of defending champions Courts Young Lions 1-0 in theirs.
"Even though this is a sixes format, it still helps the team when we go on and play the eleven-a-side games," Jets coach Gary van Egmond explained.
"We have a long pre-season ahead and this tournament gave our players a much needed challenge.
"The tournament and hospitality has been great and we look forward to playing here again next year."
In support of the underprivileged homes in the region, Newcastle Jets announced that they will give away their prize money of SGD $1,500 to all teams from the Soccer Sixes Youth Category.