The former Gunners defender believes the ex-England captain could have played on regularly, and gave his own views about retiring as a player from the game
You should only retire when you cannot play at the top level anymore.
That is the strongly-held belief of former Arsenal defender Nigel Winterburn, who admits that he was "surprised" when he heard that ex-England captain David Beckham was going to step away from his professional football playing career.
The Gunners legend, who is in town as an ambassador for the 5th Singapore Cricket Club Soccer Sixes this weekend, also hailed Beckham's contributions to his country.
"I must admit I saw that news [about his retirement] and I'm surprised, you know, [because] when I watch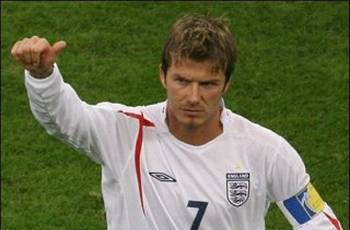 David Beckham, I think he can still play," Winterburn said.
"He even admitted in his interview, which I saw this morning that he still feels he can play at the top level, and then he slightly contradicts himself by saying the time is right to retire.
"If you still believe you can play at the top level, then for me the time is not right to retire.
"I think he's been a fabulous ambassador for the English national team, he's travelled the world to play with some fantastic teams, and he's won many trophies. He should be very proud of the career he's had and in particular the way he represented his national team as well."
The 49-year-old, who made 584 appearances for Arsenal and scored 12 times before moving to West Ham United in June 2000, claims to have given his all as a player and holds no regrets.
"The reason I left Arsenal was because in those last six months, I was playing about once every five or six weeks, and I felt my level of performance when I played had dropped, and so I moved to West Ham where I played regularly," Winterburn explained.
"But I was nearly 40 years of age when I retired and I was pushing my body to its limit, and my recovery after games was taking me at least two days - and let me tell you at that stage, when you are playing with players that are 23, 24, 25, it gets very hard.
"For me, I've achieved everything I wanted to achieve and I've pushed my body to the limit, and I'm not sure it would take any more. Whereas with David Beckham, I think he could still continue but mine, I think, was just [simply that] my body wouldn't allow me to do that anymore."
Winterburn won three league titles and two FA Cups in his time at Arsenal, and now works for the club in a broadcasting capacity. He is enjoying life after retirement, and believes he is fortunate to have had a smooth transition from playing to stepping down.
"It's good, and I've really enjoyed it!" he quipped.
"Obviously I've done little bits of coaching, I am doing a lot of media work [now and] I get to spend a bit of time at home as well.
"For me, I haven't found the transition difficult from being professional footballer to being an ex-player because I was nearly 40 when I retired. So I believe I've pushed my body to the limit [and] I was ready to retire.
"I believe the transition has been a lot easier than maybe someone who had to retire early through injury; then I can see the frustration there, that maybe they haven't fulfilled everything they've wanted to try and achieve.
"So yeah, I am quite happy!"