COMMENT
By
George Ankers
Eight minutes into his
Premier League
career,
Michu
became synonymous with the phrase "only £2 million". His first-time shot under
QPR
goalkeeper
Rob Green
set
Swansea City
up for a thundering
5-0
announcement on the first day of the season and neither he nor the club have looked back.
That goal and its 53rd-minute follow-up were the first and second of 19 strikes to date in all competitions, scored at a rate of more than one every other game. Experts tipped a dark horse when last season's top-scoring midfielder in La Liga left Rayo Vallecano for Wales but nobody expected this.
MICHU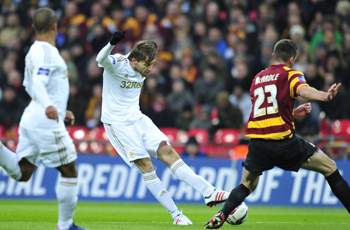 MICHU'S SEASON SO FAR

GAMES PLAYED
GOALS
ASSISTS
34
19
4

AVERAGE PLAYER RATING


3.11
WHAT THEY SAY

"Michu deserves to be credited for his superb season. The way he has stood out in the league at a club like Swansea, which is not one of the top clubs, is exceptional. He's not an out-and-out striker and has been scoring a lot of goals like he did for Rayo Vallecano."

-Vicente del Bosque
With four goals in his first three matches, Michu set the pace for the entire division and, one brief lull in January aside, has kept it up. In doing so, he has spearheaded Swansea's transformation from a team admired last season to beloved in this.
Before that season-opener against QPR kicked off, pundits saw Michael Laudrup's teamsheet, spied the Spanish midfielder leading the line and assumed that the Dane had imported a 'false-nine' style from La Liga. Not so; Michu has been arguably the truest No.9 in the league.
Whereas last season Brendan Rodgers fielded Danny Graham up top to considerable dividends and talk of an England call-up, the former Rayo man built so greatly on his forward role that Graham was sold quietly to Sunderland within six months. In the kindest way possible, he will not be missed at the Liberty Stadium.
Graham is the kind of target man who can hold the ball up and maintain possession. Michu is the kind of target man at whom you can really take aim and expect him to make something of it. According to
whoscored.com
, the Spaniard has won 100 of his 204 aerial duels in the league this season, a success rate over double that of the Englishman's. Against Premier League defenders, who tend towards physical power as their defining characteristic, this is no mean feat.
He is also a far more natural finisher. Be it timing his runs and flicking with his head or running on to a through-ball, looking up and sliding home, Michu is deadly,
drawing comparisons to Robin van Persie for his "killer" instinct
.
Burying 22 per cent of his chances, according to
eplindex.com
, the Swansea star is a deadlier finisher than Luis Suarez, Gareth Bale, Demba Ba and Wayne Rooney. He is level with Van Persie and, of the league's top scorers, is bettered only by Christian Benteke and Romelu Lukaku (and even then only slightly – both boast 23%). Fourteen of his 19 goals have taken just one touch.
Almost instantly, the eyes of the elite started wandering but Swansea have been resolute in their desire to keep him, rejecting any talk of selling on quickly for a massive profit margin. Happy in his continued adaption to life in Wales,
Michu signed an extended contract in January
.
He an irresistibly popular player, uniting fans who would squabble bitterly over the merit of bigger names. His continuing friendship with former Real Oviedo colleagues and fellow nice guys Juan Mata and Santi Cazorla only adds to that,
as did the trio's contribution to saving their boyhood club from financial oblivion earlier this season
.
An admirably grounded man playing thrilling football at a charming club ... the Spaniard is the alternative candidate we can all get behind.
The support is there in the game, too, as proved by a League Managers Association poll
which crowned Michu the signing of the season
– with Laudrup also named best boss. Between them, the pair have personified the best success story of 2012-13.
Other candidates for the PFA Player of the Year award have done more to decide the destination of the title. Some (though not many) have scored more goals. But none have won over the neutral with the same sense of fun as Michu.
Follow George Ankers on