COMMENT
By Matt Scott at the Riverside Stadium
Rafael Benitez
confirmed the end of his
Chelsea
career on Wednesday night but he may well have also brought the curtain down on his chances of ever working at a club of such standing again.
The Spaniard's explosive comments in the aftermath of the Blues' 2-0 FA Cup fifth round tie at Middlesbrough, which booked their place in a last-eight meeting with Manchester United, were not only aimed at the fans who have never backed him, but also at the Stamford Bridge hierarchy that he clearly believes have undermined him from day one.
The Spaniard seethed: "There is a group of fans that are not making any favours to the team and singing and wasting time making banners and it's because someone made a mistake. They put my title as interim manager and I will leave at the end of the season."
RAFA'S RANTS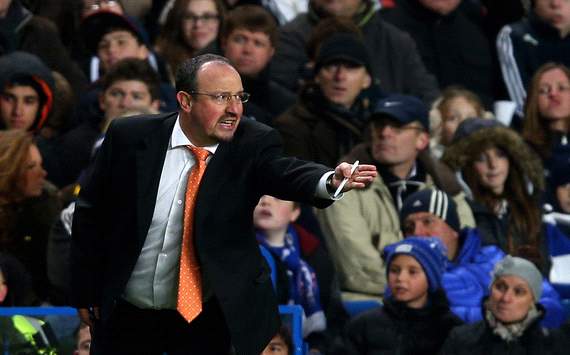 ON TRANSFERS - JUNE 2004
Despite a successful spell at Valencia, Benitez swiftly fell out with the board over transfers famously claiming: "I asked for a table and they brought me a lampshade." His resignation swiftly followed as he headed for Liverpool.

ON SIR ALEX - JAN
2009
"I want to talk about facts," Benitez famously started. Liverpool were top of the league and Sir Alex Ferguson's famous mind games appeared to work as the Spaniard went on to question everything from differing kick-off times to refereeing bias towards Manchester United.
ON HODGSON - OCT 2010
Following his sacking as Liverpool manager that May, Benitez staunchly defended his time at Anfield after the state of the squad was questioned: "A lot of people are talking about the legacy but the legacy is fantastic. [Former managing director Christian] Purslow and [former manager Roy] Hodgson have already changed the squad."

ON MORATTI - DEC 2010

Following a Club World Cup win with Inter, Benitez immediately called on president Massimo Moratti to back him in the transfer market. It was either that or "carry on like this without a project, without planning, and go ahead with one person to blame for the whole season." Moratti opted for a third option and sacked the Spaniard.

ON BOOS - NOV 2012

Since his appointment as Chelsea interim manager, Benitez's reign has been littered with boos by fans irked by the nature of Roberto Di Matteo's departure. His first game in charge was no different, except the Spaniard insisted he heard no such vocal displeasure: "I was not listening to anything. All the clubs are the same, if you win the fans will be happier."

ON ABRAMOVICH - FEB 2013
Following a 2-0 win over Middlesbrough to reach the FA Cup quarter-finals, Benitez vented his anger at the Chelsea fans and owner Roman Abramovich's "massive mistake" to tag him as an interim manager: "At the end of the season I will leave, they don't have to worry about me."

Benitez's outburst should have come as little surprise to a public that have seen it all before from a manager who is seemingly unable to cope with the pressure that accompanies the most high-profile of hot-seats.
He was rightly ridiculed for his list of "facts" about Sir Alex Ferguson's treatment of referees and Manchester United's coincidental good fortune from the fixture computer. However, its timing, coming as it did when Liverpool topped the Premier League, was atrocious and the Reds' eventual surrender of the title to their bitterest rivals can be traced back to Benitez's focus switching from his own side and to matters at Old Trafford.
After leaving Liverpool in 2010, Benitez launched several attacks on the American owners he had worked under, George Gillett and Tom Hicks.
While the pair from the States notoriously did not see eye to eye and did not cover themselves in glory during their time presiding over matters at Anfield, Benitez's willingness and quickness in pointing the finger of blame towards them was telling.
He claimed Hicks and Gillett forced him to become more of a "bank manager" than a football manager as he was unable to bring the players he wanted to Anfield due to financial restraints imposed upon him. He insisted that with the signings he wished to make, the Reds would have been league champions in 2010.
As he managed Inter to success at the 2010 Club World Cup, Benitez may as well have signed his own termination as he blasted club president Massimo Moratti for a lack of support in the transfer market as he looked to move the
Nerazzurri
on following the success the club enjoyed under Jose Mourinho.
He said: "If Inter Milan want me as their coach then I must have 100 per cent support and control in everything that happens. Last year Moratti spent €80 million [£69m] on five players. This time he has spent zero. Either the club can buy four players in January, we can continue with the coach acting as the only guilty one - or the president can talk to my agent about finding another solution."
Moratti's response was to sack Benitez four days later.
It would be little surprise if Roman Abramovich's notoriously itchy trigger finger quivers once more this season and the Spaniard finds himself out of a job with little hope of getting a new one.
The former Real Madrid youth team manager has long been linked with an eventual move back to the Santiago Bernabeu to take charge of the first team at some point in his career. However, after his latest fast and furious high-profile failure, would Florentino Perez and the decision-makers at
los Blancos
want to sign themselves up for a train-wreck?
Benitez's standing in Italy can be revealed by Marco Materazzi's comments about him after he took the Chelsea post earlier this term.
The former Inter defender claimed: "If I were president of a club, I would not trust Benitez with my team. It pains me to say good luck to Chelsea but I will anyway, I feel sorry for their fans."
With a crumbling reputation as his second high-profile job in a row goes awry, Benitez's listing of his achievements to the gathered press on Wednesday almost seemed like a desperate call to any top-level owners that are considering a new manager this summer.
He claimed: "I have won nine titles at a proven level in three different countries so I have enough experience and have shown enough quality as a manager to show these people with an agenda that they are wrong."
He again looked like a man bereft of confidence as he suggested his interim title had been put in place by the Stamford Bridge supremos because, in his own words: "They want to blame me for everything that is wrong."
Despite claiming to have to have the experience and quality required to manage at the highest level, it is Benitez's temperament and inability to thrive in such an environment that will see him struggle to ever reach the top table again.
Follow Matt Scott on