EXCLUSIVE
By Alberto Pinero
Manchester City
youngster
Denis Suarez
believes the strength of the club's attacking options means the loss of
Mario Balotelli
will not have a lasting impact.
DEBUT DELIGHT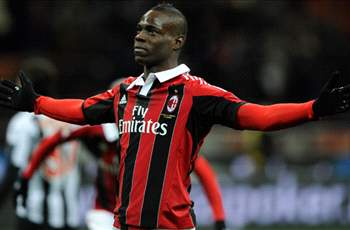 BALOTELLI RATING VS UDINESE







All eyes were on him long before kick-off, and true to form, Balotelli could not help but create a spectacle for his new fans. Involved in most things good for Milan in the first half, coming close to scoring in the opening minute before achieving the feat with a precise volley from close range. Threatened throughout, and won the game in debatable circumstances with a penalty right at the death.
The striker left the Etihad Stadium in a £19 million move to AC Milan during the January transfer window, ending a two-and-a-half-year spell with the Premier League champions.
However, with Roberto Mancini already able to call upon the talents of Sergio Aguero, Carlos Tevez and Edin Dzeko, Suarez has downplayed City struggling in Balotelli's absence.
"I don't know if City will miss him," Suarez told
Goal.com
. "With the forwards we have here, I doubt it. Also I don't think Balotelli will miss the team. In the end, he's gone to Milan, which is where he's from and what he wanted."
Suarez joined City at the same time as Balotelli but has made just two appearances since, with both coming in the Capital One Cup, and the 19-year-old has admitted that he may be forced to look for more regular first-team action elsewhere as he feels his progression is stalling.
"Mancini is giving me opportunities this year, although I haven't yet debuted in the Premier League," he said.
"I think this year I need to be more or less a first-team player or I will have to look for a solution by way of a transfer. I don't think I'm doing much in the reserve league.
"You play reserve games every weekend but it's not like playing in the Segunda or Segunda Division B.
"When I was at Celta at 16, I was playing for the reserves, competing against 30 year olds. It's not the same. Here they're all 20-year-old kids.
"It's not that I won't improve but I think I've progressed past that stage and now, if I can't play in the first team, I'll have to look elsewhere."
Follow Alberto Pinero on