COMMENT
By
David Lynch
Ever since his arrival at
Liverpool
in 2011, observers have fought a running battle to ensure their views on
Luis Suarez
are the latest noteworthy contribution to an unrewarding debate.
The Uruguyan has been 'slammed', 'criticised' and 'rebuked' by more pundits than journalistic cliché deems plausible, but it is hard to argue that there is not good reason for this.
The unsavoury side to Suarez's personality is, of course, well documented.
STUNNING SUAREZ
Last three Player Ratings

SPAIN 3-1 URUGUAY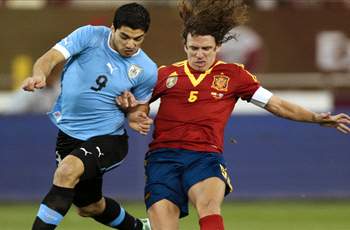 Very assured when on the ball, and showed some encouraging signs with his partnership alongside Cavani up top for Uruguay. Did not get much opportunity to score, but still was difficult for the defence to deal with.
MAN CITY 2-2 LIVERPOOL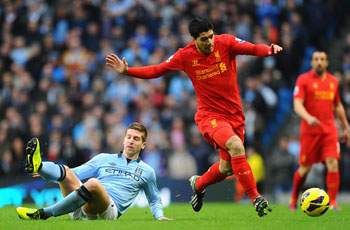 Played in a slightly different role in behind Sturridge, where he pressured the ball well from but had less effect on the game. Still impressed and proved hard to pick up, waltzing past Clichy and Barry with sublime skill on one occasion. Didn't have his shooting boots on, though.
ARSENAL 2-2 LIVERPOOL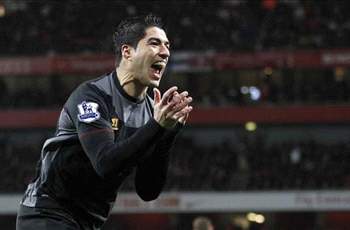 Snapped up the early chance and set up Sturridge beautifully on 10 minutes with a glorious pass. Also showed great discipline to help out his defence to good effect and could have won it with a late shot which forced Szczesny into a good stop.
Rarely has a player seemed to relish needling his critics so openly, or walked the line between pantomime bad guy and outright villain quite so well.
It was this reputation which led one impartial commentator to insist that the 26-year-old had entered the field with "diabolical intent" prior to his recent game-changing handball as a substitute against Mansfield, when arguably the event had a lot more to do with the parabolic movement of the ball.
But this is modern football, where outrage reigns and where absolute clarity must be found amongst blurred ethical boundaries in order to define the agenda. Or, as former Almeria coach Juanma Lillo once said of the game's relationship with its press, "the garnish has eaten the steak".
Of course, when all is said and done, the fact remains that such indignation should be irrelevant background noise.
Suarez is famous for being good at football, and in that regard he is amongst the best, a jewel in the Premier League's crown.
The Salto-born forward has scored 17 league goals this term, just under half his team's total tally of 36, and has seamlessly taken up the role of attacking talisman following Steven Gerrard's regression into a deep-lying midfield position. His relentless work-rate and willingness to make space for others is equally noteworthy, and has effectively dragged the Reds to the edge of credibility this term.
Yet, the potential consequences of world-class performances for a side currently languishing in seventh are clear to all those who boast realism amongst their virtues.
This is a talent which should not be shackled to a second-tier competition such as the Europa League by a club desperate to return to the big time – one day, Liverpool will be forced to set Suarez free.
He would certainly not be short of suitors should the opportunity to depart Anfield arrive in the near future, that much is certain.
As Goal.com revealed in January, Roberto Mancini is a keen admirer of the striker, and Manchester City are sure to be at the front of the queue should he become available
.
However, with Liverpool fully aware of the perils of selling to a domestic rival having witnessed former Arsenal striker Robin van Persie at Old Trafford this season, a move abroad - and away from English crowds - would in all likelihood suit both parties best.
The only hope left for Kopites, and indeed Suarez's non-Liverpudlian admirers (as few as they may be), is that Liverpool might somehow delay this inevitable grim circumstance. And they were provided with hope of such a postponement last week, in the form of a typically honest interview given to the
Daily Mail
.
"I will wait until the end of the season and see how we are doing," Suarez said.
"We won't know until then how we are doing and what our position is so I am prepared to wait until that time.
"But I want to say now that, if you want to know what will happen to me if we don't qualify for the Champions League, then I will say this: I have a contract with Liverpool and I am very happy here. I will stay."
Those quotes appear to suggest that the Merseyside club have stumbled upon that rarest of things in football - reciprocal loyalty.
Now, they must ensure they do not abuse this privilege; this season's meagre challenge for Champions League football must be followed by one of real substance.
Put simply, the prospective financial compensation on offer should they fail to do so is not enough to soften the blow of any Suarez departure.
A club who sold the once-prolific Fernando Torres for £50 million only to spend a sizeable chunk of that on Andy Carroll can clearly attest to that fact, there are no guarantees in the transfer market.
Therefore Liverpool must prove that they, like their striker, are amongst the best in the world by attracting those who might rival Suarez's status as the club's best player. Otherwise, the Premier League will surely see its 'product' further devalued by the departure of another star.
Follow David Lynch on