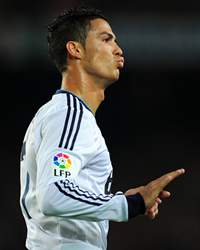 Dear Santa,
Thanks for the speedboat and jetpack last year, I guess, but I have to say that I was a little bit disappointed. It'd be nice to get some kind of recognition this year that you love me as much as you claim to do and, let's be honest, as much as I deserve. With that in mind, I have a few modest gift ideas that I feel would be suitable:
A limited-edition Cristiano Ronaldo action figure with movable arms to make shushing gestures. Must come with Ballon d'Or accessory
'Moments', Cristiano Ronaldo autobiography by Cristiano Ronaldo. Signed by author, please
'Heads Up with Cristiano' game for iPhone
A Cristiano Ronaldo lunchbox to impress all my mates on the training ground
A Lionel Messi voodoo doll
As many pins as you can fit in your sack
'Cristiano Ronaldo Sings Christmas', a three-CD compilation of the Portuguese hunk crooning festive classics like 'All I Want For Christmas Is The Ballon d'Or'
Another mirror
Dear Santa,
For Christmas this year I'd like a set of business cards bearing the message: "Joleon Lescott: Premier League-winning centre-back". Plenty of them, too - I'll be giving most of them to Roberto Mancini just as a reminder but, if he can't or won't read them, I'll have to send some of them out to a few agent friends of mine...
Dear Santa,
Bring me the ability to think more than nine months ahead, mate, and hurry up about it because I can't afford to be thinking about "there's always next year", I've got a family to look after and we need to focus on establishing ourselves in this house. You'd better not be expecting any milk and cookies when you show up, though. Just deliver the presents and move on, do your job like a real man and we'll have no problems. Got it?
Mon cher Pere Noel
,
Ah 'ave, er, 'ow you say, integrated so
perfectement
into ze French culture
et
way of life zat ah am thinking maybe ah will be needing ze refreshment of
mes
Engleesh skills. Ah would like
un
copy of ze book which is called 'English For Dummies',
s'il vous plait
.
Dear Santa,
I am confident that we are moving in the right direction and that, with time, we will be successful - no New Year's Resolutions for me - but all this constant speculation from the media is not very helpful. This Christmas a nice pair of earmuffs to block out the unproductive voices would be nice.
That said, I write this not expecting that you will bring me anything. I am always told to write to Santa and he will deliver presents to you through the chimney. I have watched the chimney but I did not see any such incident.
| | |
| --- | --- |
| "I am always told that Santa will deliver presents to you through the chimney but I have watched the chimney and I did not see any such incident" | |
Dear Santa,
As, I'm sure, you are aware, my consistent, irresistible quality has caused giant Spanish clubs to fight over me as if I were Helen of Troy, only more attractive (though I will concede that she had better balance). I will, therefore, ask from you a guidebook to Spanish sign language. I will shortly need to know whether my trademark 'heart' goal celebration will need to be performed upside-down in La Liga.
Dear Santa,
You do realise that you aren't real, don't you? That every child, each of whose faces lights up when you are mentioned, is destined to eventually dismiss you as an irrelevant, nonexistent relic of their past? Good. Now that we're clear, for Christmas I would like a copy of the book 'Grandma's Dead: Breaking Bad News with Baby Animals', by Amanda McCall and Ben Schwartz*. I'm personally not that keen but the bigwigs at
Sky Sports
were oddly insistent that I should read it. No idea why.
Dear Santa,
Obviously I can't talk about my targets for the window but I'm sure you can understand that I'd love to bring in some things into the stocking. I'll draw up a list with the chairman and he'll take it from there so my hands are tied, really. I can't tell you nothing. Obviously I've seen the papers linking me to the Car Arm Rester Cushion* from Assisted Technology Services and obviously it's a triffic little gift - a top, top stocking filler - that would really make my interviews more comfortable but I certainly couldn't tell you even if I was interested in it, which obviously I am.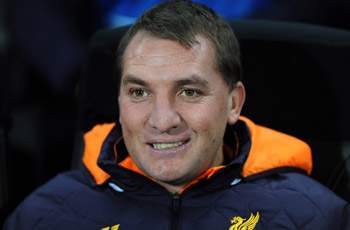 "Is Michael Owen still free?"

Dear Santa,
First of all I'd like to say how I admire you for the way in which you go out there and you move the sleigh methodically from right to left all day long. I think that's tremendous; it's how it should be. Give the gift and keep moving. Fantastic. It's that kind of commitment - not just from yourself but from all the elves who make your operation what it is, who have that heart that you need - that I really admire.
Now then, I'm not the sort of ask for much at Christmas - my players are already giving me so much every day - but, since you ask, perhaps ... I suppose a striker. Any striker. Really, any one at all. A striker. Please, God, a striker. Is Michael Owen still free, in fact? I haven't heard from him for a while.
Also, I may need some more envelopes.
Dear Santa,
Bonjour! Here are a few gift ideas just off the top of our heads. We'd really like all of them but will happily take any number of them in any combination; we've got loads of room to keep them in but, of course, a Pepe is mostly just for Christmas so we can always bin them after we get bored.
In no particular order: Cristiano Ronaldo, Lionel Messi, Ashley Cole, Pep Guardiola, Pepe, Wesley Sneijder, Karim Benzema, Alex Song, Radamel Falcao, David Beckham, Brooklyn Beckham, Ronaldo circa 2000, Christian Eriksen, Bradley Wiggins, Didier Drogba, Bela Guttmann, Roy of the Rovers, Harry Potter, the real Javier Pastore, credibility and respect. Any of those. We'll probably send another letter later when we've thought of some more.
Dear Santa,
Simple: Pace, power, leadership and commitment. You can't ask for more than that.
Dear Santa,
This might be a long shot but you are, after all, magic: Could you bring me a time-traveling DeLorean car**, as seen in the documentary film 'Back to the Future', this Christmas? I know that this is the season of goodwill and all of that but, honestly, I'm a bit down and I would love to go back a few months and make some different decisions about my future. Failing that, I would also like some socks.
Dear Santa,
I know you must be well busy these days so I'll help you out: Don't worry about getting me anything. The kind people of Manchester have already made a generous donation which I will be able to use to buy myself a present this Christmas. You take it easy, man. I've got it covered.
* - Yes, this really exists.
** - Sorry, this really doesn't.
Follow George Ankers on