Stoke City striker Michael Owen is hoping that his move to the Potters will see his injury-hit career end on a high.
The attacker, who was released by Manchester United at the end of last season, signed a one-year deal with the Staffordshire club after the close of the transfer window and believes that he can score goals regularly at the Britannia Stadium.
"It's a move that I'm excited about and I hope I can stay fit for the majority of my time here," the former England international told reporters.
"I want to perform and I want to finish my career on a real high. I'm still only 32 and I still feel as if I have a lot left in me.
"I've always scored goals no matter what team I have been in, so as long as I can stay fit and healthy, then I'm sure I can do that here at Stoke."
Owen was linked with multiple clubs throughout the summer from both the Premier League and abroad but opted to stay in England, citing personal and professional reasons.
"There were a couple of Premier League teams that showed interest but this is a team on the up," he continued.
"I know the manager and a few of the players and it meant I didn't have to move my family as well.
"My past experiences of coming to the Britannia were a real eye-opener - the crowd are really passionate and I don't care who you are, you always like to play in front of a passionate crowd that love their football.
CROUCH EYES ENGLAND REUNION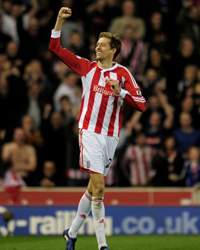 The Stoke striker feels that he and his new team-mate can revive their previously successful partnership for club and country


"So there were loads of things that ticked the boxes and I'm sure I've made the right decision."
The ex-Real Madrid striker admits that he is lacking match fitness after his long summer as a free agent but feels fresh enough to contribute for the Potters immediately.
"I feel as if I am fit enough to take part in a game," Owen stated. "I'm not quite 100 per cent confident or happy in my general touch and different bits and bobs, but that will come.
"So we'll see what the manager has got in mind, but I'd like to think I'll improve as the weeks go on."