COMMENT

By Sam Lee
Perhaps moreso than any club hiring a new manager,
Manchester United
have signed their immediate future over to
Louis van Gaal
.
In three short weeks the Dutchman has overhauled Carrington - trees have been planted to shield players from the wind, pitches torn up and replaced, beds and floodlights installed - told the club that they have too many commercial requirements and implemented a previously untried 3-5-2 system.
Never mind playing the Manchester United way, Manchester United will play the Van Gaal way. To do so you need specialists and Nigel de Jong is one of a select few.
You don't have to be good, you have to be right. Rivaldo was good, the European footballer of the Year in fact, and he was dropped by Van Gaal because he wouldn't play on the left.
Toni Kroos, Cesc Fabregas and William Carvalho are good but, despite extensive groundwork put in by the David Moyes regime, they are not coming to United. Maybe they're not the right men for Van Gaal?
Arturo Vidal is the right man, Kevin Strootman is too. For one reason or another, they may not be arriving at Old Trafford just yet.
So who else is there? Well, there's De Jong. A 29-year-old midfielder widely regarded in England as something of a clogger, bombed out of Manchester City after the club won their first title.
But one man's rubbish is another man's treasure and De Jong is a Van Gaal man through and through. After the AC Milan man limped out Netherlands' World Cup last-16 clash with Mexico, the coach's best-laid plans were in jeopardy.
"Nigel de Jong was head of incidental pressing. It's not easy to replace him. He has characteristics others don't have," Van Gaal said, semi-ridiculously.
The Head of Incidental Pressing. Not many people know what this is but Van Gaal does. De Jong is a man with a very specific role in a very particular system. It is a system also employed by Manchester United this season and the club just so happen to be short on midfielders.
The Red Devils can break the world record for a player if they see fit but the beauty is that they don't have to for De Jong.
They can get their dream man (if he's Van Gaal's dream man, he is Manchester United's dream man) for £8 million
. £8m! A drop in the ocean for a club of United's money-making prowess.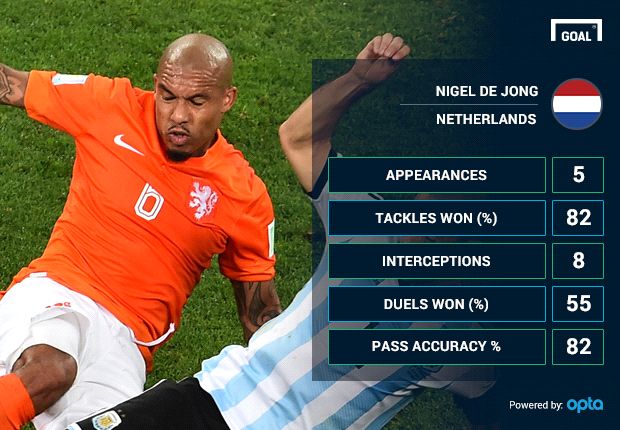 It seems unnecessary to explain just why De Jong is right for United seeing as Van Gaal has indentified him and what he says goes - plus the fact that he came back from injury to shackle Lionel Messi in a World Cup semi-final - but the numbers do back up the argument.
While his reputation as a hatchet man, largely forged thanks to his karate kick on Xabi Alonso, is in part understandable it is also unfair. De Jong is a fine passer, capable of building attacks wherever he happens to get possession - receiving a pass from a centre-back or after winning a tackle in the opponent's half.
His passing accuracy for AC Milan in Serie A last season was 91.5 per cent - fourth in the entire division of players to have made more than 15 appearancees. In his own half 95.54%, in the opposition's 88.14%. The latter statistic is also the fourth best in the league, behind three playmakers. Despite being charged with getting the ball and giving it, he created 20 chances for team-mates from open play.
Of course, the head of incidental pressing must put himself about. Last season he made 73 tackles, winning 76.71%, at a rate of over two per match. He made 1.4 fouls per game.
Winning possession is part of the job description and in Serie A he recovered the ball a staggering 209 times, six times per match. Alongside 92 interceptions, 2.8 per match and the eighth best in the league, it makes for impressive reading.
So while Vidal may be the marquee name for whom United fans are crying out, or Strootman may be Van Gaal's favourite (he only played 3-5-2 with the Dutch because the Roma man got injured), De Jong is nothing to be sniffed at.
There are three weeks to go until the transfer window closes and United are in a rush to tie up deals. While Borussia Dortmund and Arsenal hold firm over Mats Hummels and Thomas Vermaelen, and the Vidal saga rumbles on, it makes perfect sense to tie up a comparatively simple deal for De Jong.
He knows the Premier League, he knows the north west of England, he knows how to play this precarious system and, most importantly, he knows what Van Gaal wants. De Jong is simply the right man at the right time.