COMMENT
By Sam Lee
So what
does
the summer hold for
Radamel Falcao
? Regular followers of football's transfer rumour mill will probably answer, "well, he might play in the World Cup, but not much else by the looks of it", and, for many world-class players focusing on rebuilding their knee following a cruciate ligament injury, that would probably be true. But not Falcao.
The Colombia striker currently exists in a potentially volatile ecosystem. He is a client of Jorge Mendes, arguably world football's top agent (depending on your definition of "top"). His rights are owned by the increasingly influential Doyen Sports Investments. He plays for a club owned by Dmitry Rybolovlev, who has just been ordered to pay his estranged wife £2.7 billion in the world's largest ever divorce settlement. Falcao is at the beck and call of three very powerful masters, who could want any number of different outcomes.
Following last summer's massive outlay, which saw Joao Moutinho, James Rodriguez, Eric Abidal, Geoffrey Kondogbia and Falcao (for £53m alone) among others all move to the Stade Louis II, Rybolovlev's plan was always to slow down on the spending. Now half of his fortune is on its way to his ex-wife, pending various appeals in the Swiss courts, it could be brought to a complete stand-still.
Suleyman Kerimov, the Russian businessman who actually helped buy-out Rybolovlev's potash business, Uralkali, in 2010, stripped out Anzhi Makhachkala's most valuable assets in August last year when a plunge in that same business' share price cost him $375m. Anzhi are currently bottom of the Russian Premier League.
As yet there is no indication as to how Rybolovlev will react to the prospect of losing half of his wealth - Swiss ski resort properties and all - but if his cut-backs encroach into football then Falcao and his €18m yearly salary will feature prominently in discussions.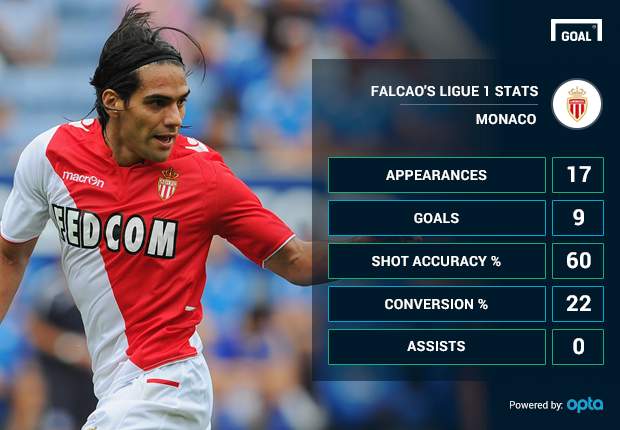 Mendes always wants the best for his clients, and he will surely be keeping a close eye on developments.
In fairness, if Mendes or Doyen had been that keen to take Falcao out of Monaco already, we would have known about it by now.
Take Leandro Damiao, for instance. Doyen acquired his rights, helped transfer him from Internacional to Santos and are doing their best to maintain the player's high profile in Europe despite some wretched form over the past 18 months. It may be a coincidence that Damiao was recently linked with far-fetched moves to Atletico Madrid - Mendes' Gestifute company has three Atleti players plus coach Diego Simeone on their books - and Porto, where Falcao and many other Mendes/Doyen clients have risen to prominance.
William Carvalho was first reported to be a target for Manchester United only after the Sporting midfielder had been signed up by Mendes and Doyen. There are reports that Mendes even went to Carrington last season to meet the club's new heirarchy. He knew the old one well enough, having brought Cristiano Ronaldo, Nani, Anderson and Bebe to the club. David de Gea is a current Gestifute client.
Of course, Falcao is signed up to Gestifute and remains listed as a client on Doyen's website.
When he surprisingly moved to Ligue 1 from Atletico last summer, there were plenty of suggestions that he would immediately be heading back to Spain, to the Santiago Bernabeu, in fact. Florentino Perez attended a meeting with both Mendes and Rybolovlev last year. But that particularly controversial trail has gone cold. So have all the others, it seems.
The lack of stories regarding Falcao in the world's newspapers is something of a give-away, then. As it stands, no move is on the cards. Falcao hardly needs the distraction, either.
Ever since he went down under the challenge of Soner Ertek in a Coupe de France match against Monts d'Or Azergues in January, his sole ambition has been getting fit for the World Cup.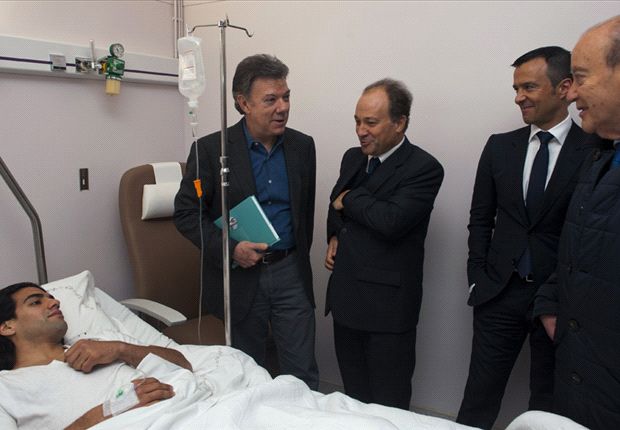 Healing hands |
Noronha (centre left) and Mendes (centre right) at Falcao's bed side
Jose Carlos Noronha, one of the most prominent doctors in the world and a trusted associate of Mendes, was the man charged with getting Falcao ready for action in Brazil. He has even spoken to Colombia president Juan Manuel Santos about it: "He told me that if I can get Falcao fit for the World Cup, then I could win him the elections."
Noronha is one of the only men on the planet capable of getting a footballer back on the pitch inside a matter of months even after a severe knee injury. He has done it before and Colombia are hoping he will do it again.
But with the World Cup less than three weeks away, it is crunch time. Falcao has been named in Jose Pekerman's 30-man squad, but will quickly have to prove his fitness to make the final 23.
If Mendes or Doyen are plotting a transfer, it is unlikely even Falcao will know about it just yet. "He tells me to focus only on football and [Gestifute] will look after the rest," Cristiano Ronaldo says affectionately of Mendes' methods.
Any sale for less than the €48m they paid last summer would be bad for Monaco in Financial Fair Play terms. Then again, with Rybolovlev's involvement in the balance, Uefa regulations may not be that applicable for much longer.
Falcao may not be one of the hottest names in this summer's rumour mill, but that might not matter.
Approaching a World Cup in his peak years but not at peak fitness, working with companies so talented in looking after their players' best interests, and playing for a billionaire on the verge of losing his empire, it is true to say absolutely anything could happen this summer. Follow Sam Lee on