Former national custodian Yazid Yasin, who has featured in every S.League season urges an end to exploitative contracts as he gets in depth about the status of football here
EXCLUSIVE
By
Ahmad Khan
Having been in the football fraternity since the inauguration of the
S.League
in 1996,
Woodlands Wellington
custodian
Yazid Yasin
is one of most respected names in Singapore football.
With over 400 S.League games under his belt, the 34-year-old has seen it all in the realm of local football. His accomplishments were even recognised last year by
Goal Singapore
in the inaugural
Goal Singapore Football Awards
, with the stocky custodian
receiving the first ever Milestone Award
.
But while most Singaporean footballers who are not part of the national set-up struggle to remain employed into their 30s, Yazid's longevity has stood out in stark contrast.
How it all began
Yazid signed his first professional contract for the now-defunct Sembawang Rangers at the tender age of 16.
"Sembawang were not the best team, but probably that gave me the opportunity to play," he humbly recounted. "As a goalkeeper it's very difficult to break into the first team. The games I played, I think I did reasonably well. From there, the opportunity came for me to be a professional player; after that, it's about maintaining the standards and working hard."
Since his Sembawang days, he has won every single trophy available in Singapore from his illustrious career playing for the likes of Home United, Geylang International and current club Woodlands.
Having been there from the start, Yazid has had first-hand experience seeing how the state of football has changed tremendously since the start of the S.League; from the times when the crowds were bursting into stadiums, to the struggling state of affairs now.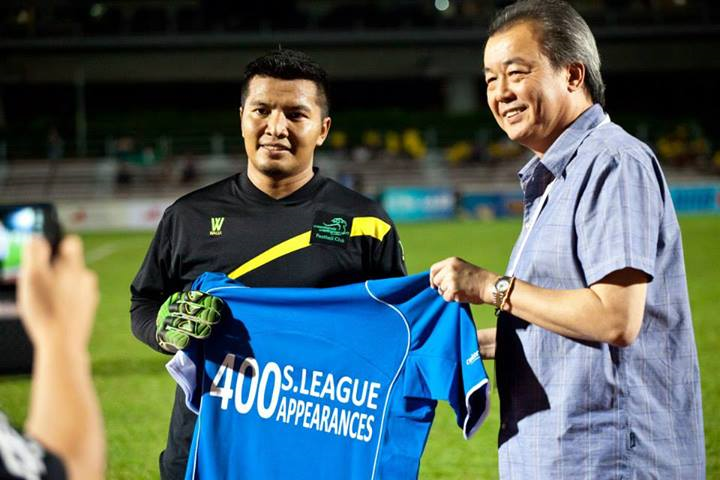 Yazid being presented with a token for his landmark achievement
"Lucky for me, I've been there from the start," he said. "It (football in Singapore) has changed leaps and bounds. When we started out, the money was good. The clubs were willing to spend the money on players, give the players two or three-year contracts."
"But I think as the league progressed, things changed. There was a time when football was very big, there were good players and the crowd was there. And then after that it slowly went on a decline, maybe [due to a lack of] budget and sponsorship. I think that's the main reason why some or most opt not to continue their football careers."
Goal's interview with Duncan Elias, who was forced to retire at the age of 28 after struggling to find a club, drew a strong response from fans and those in the local football scene, with many laying the blame on the disadvantageous contract system.
Yazid himself empathised with his former Geylang team-mate's predicament and agreed with the issues that were raised.
Yazid believes the dwindling support of the league to be the catalyst to the introduction of short-term contracts, as clubs desperately looked for ways to cut costs and stay in the black. Since the start of the league, three local clubs have pulled out of the league ( a fourth club, Tanjong Pagar, left in 2004 but made a return seven years later) due to financial difficulties.
"There are the big teams like Home United, Warriors and Tampines Rovers who have maintained a certain level [of financial stability] from the start until now, whereas the 'weaker' teams struggle to get funds, yet still play in the league," he explained. "I'm not sure which club started this 11-month contract rule. But when one club does it, another club will follow, because it's cost cutting. That's the sad thing and it's been going on for years."
As Duncan before him had pointed out, the practice of offering short-term contracts had adverse effects on the welfare and motivation of the players. With the short-term contracts, players were perpetually in a position of scrambling to find a club at the tail-end of the season.
Cut-price players
Yazid admits he has been fortunate enough to not have faced the plight that befell Duncan, but he strongly feels that short-term contracts are detrimental to players, their livelihood and the league itself.
"When you sign someone for 11 months, what happens in December?" he lamented. "As a parent with kids, December is the most important month. They have to go to school, they need to get books. You can't do that to players."
"Players play better when they know they have secured their future."
Without any assurances over their future, Yazid said that there is a significant dip in levels of interest, training and performance in players as compared to those who have had their contracts sorted out for the following season.
Clubs only pay players for 11 months of service as there are usually no matches played in the month of December. But Yazid refutes that rationale, pointing out that footballers still have to maintain a decent level of fitness even during off season to ensure they are up to the mark, especially when they return from their break.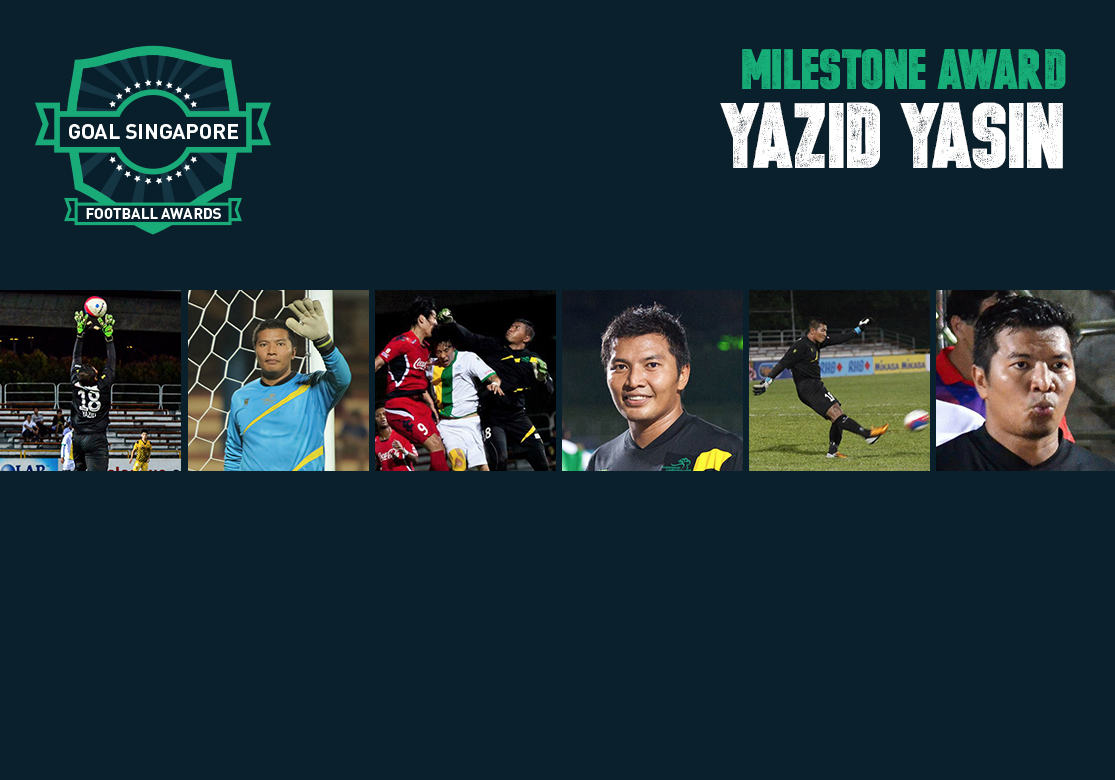 Yazid won the Milestone Award at the first ever Goal Singapore Football Awards
Another consequence he highlights is the common practice for footballers here to seek a second employment in another field, when they fail to earn enough to make ends meet. This, causes hinderance to their progress as footballers as well.
"I don't blame the players, because if they have a proper contract, then it would be fair to say they should not be moonlighting," Yazid told
Goal
. "But if you have an 11-month contract and the club doesn't sign you, what are you going to do for that one month?"

Players must take responsibility
Despite the overwhelming negativities of short-term contracts, Yazid countered that players themselves have to take responsibility in understanding the full terms being offered and plan their future accordingly.
"If you sign the contract, that means you agree to the terms of the contract," he explained. "Nobody put a gun to your head and forced you to sign the contract. The decision lies with the player himself, and when the player signs, they must take responsibility."
The former Singapore international also feels that young players in particular need to learn fiscal responsibility and not just worry about the amount they are being paid.
"A lot of players don't realise how lucky they are as professional footballers," he related. "Players outside need to pay money to play social football. You are being paid to play this game, so you must give something extra just to keep that. It's the players who sign the contract, and it's difficult if you sign the contract and then moan after. They might as well not sign it then."
Secret to success
With all the inhibitions footballers face to become a professional in Singapore, one has to wonder how the 34-year-old has stayed evergreen in the top tier of local football for such a long time.
While he readily admits that luck played a huge part, at the end of the day, he says it all boils down to having the right attitude and what he did with the opportunities presented to him.
"It was difficult for me to break into the team as a goalkeeper considering my height," recalled the custodian who stands at 1.69m, below the average height of even an outfield player. "It's a combination of a lot of things. It's not because I was outstanding, but more so because I was there for every training session, I was early and I did everything that was required of me during training, and when I get the chance, I do reasonably well."
"If you are playing well, you are disciplined, and don't create problems, it's a plus point. It makes it a little bit easier. My secret to longevity is my discipline and hard work. You must have that if you want to succeed, and that applies to everything else and not just in professional football."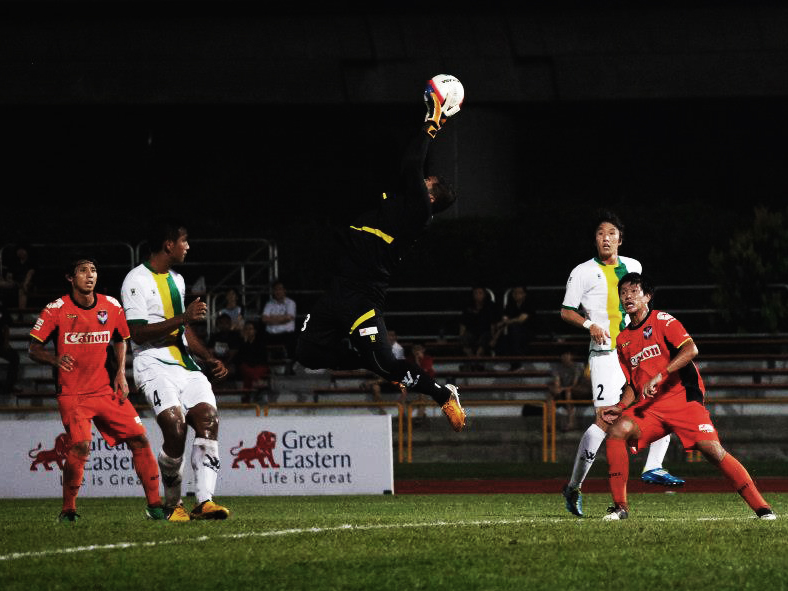 Flying high since the start of the S.League
Need for change
Even though the sport has been good to him personally, Yazid still emphasised that there is room for change to raise the standard of football here.
He strongly believes that the remuneration for footballers needs to be vastly improved to attract more players to compete in the sport and turn professional. Even more so to those who have already been in the game for a while.
For a start, he feels players should be given a minimum of a one-year contract rather than an 11-month deal or less, and that the players should be allowed to talk to other clubs three months before the end of their contract.
"Players who are coming through the ranks, when they see that the money is not good or that there is no security in playing for a club, they will go to another career path, which I think is a loss for Singapore football," Yazid explained. "The level of football can be much higher and the pool of players can be much bigger. But with a lot of uncertainties and insecurities, a lot of very good players shy away."
"It's also difficult to understand how a player who has been playing, having a good season, and then the next season he might have trouble finding a club. It's mindboggling!"