Thailand
striker
Teerasil Dangda
has officially sealed his loan move to
La Liga
side
Almeria
.
It was
reported earlier this month that the Muangthong United star would go on loan for one season
in the 2014/15 campaign at Almeria and the historic contract was signed on Thursday at the SCG Stadium in Nontaburi, with Almeria's representatives present.
Teerasil will join Almeria in July later this year, having almost joined Muangthong's official club partner Atletico Madrid in the January transfer window. The 25-year-old
had spent two weeks training with them
, with the stint subsequently extended to one month, and
there was talk he would play for them
. But Atletico wanted him to start in the reserves, while Almeria were ready to have him in their first team, which led Muangthong to opt for the latter.
"This contract signing is not only important for SCG Muangthong, Teerasil or Thailand, but it's also crucial for us too," Almeria CEO Jose Juan Bonillo said. "This will be our first step of our cooperation on both sides' development. I hope Teerasil will have a successful stint with us and make himself more renowned across Europe."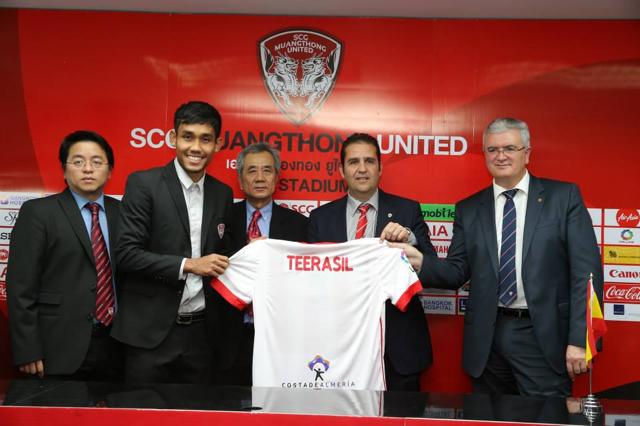 "Teerasil is a great choice," Almeria sporting director Alberto Benito Castañeda declared. "He can play on both sides, as a false nine or even the target man; anything to fit the coach's tactics. Since the Liga BBVA has a slot for a non-Europeam player, we didn't consider any one but him. We watched his videos and kept scouting him for a long time and now, we fully believe that he's more than capable for La Liga."

Benito is also confident that his relegation-battling side will stay up this season, so Teerasil can play at Spain's highest level.
"Now we have 25 points and we're getting on the right track from my point of view," he asserted. "I'm confident that Teerasil will be the first Thai player in the Spanish first Division next season as we won't be relegated. I wish he can join us right away in July and play at least 10 pre-season matches."
The striker,
who has already declared that he is ready to prove himself in Spain
, was grateful for the chance to play in Europe.
"I have to say 'thank you' to everyone involved in this," he said. "And I wish this will give some spark to the Thai football scene and benefit it in the long term."