SPECIAL REPORT
By Kris Voakes
The decision by Tottenham last week to review their so-called 'special relationship' with Real Madrid summed up just what kind of a transfer window it has been over the summer.
While football has always been a game highly dependant on transfers involving names both big and small, in the post-Bosman era many a club's business plan depends on the ability to exchange players whose contracts have some way to run.
Yet the past four months have seen several very public grudges stem from the need of one club to acquire a player and the other's desire to keep him. The end result is that many of Europe's biggest clubs stand toe-to-toe in media battles long after the closure of a record-breaking summer transfer window.
While Spurs were seemingly resigned to losing Gareth Bale to the Spanish giants and indeed spent much of the incoming €100 million transfer fee long before the Welshman's move was finalised, they were unhappy with some of Madrid's conduct during the long drawn-out saga. Throw in the Blancos' decision to sell Mesut Ozil to Tottenham's local rivals Arsenal on the final day of the window last Monday, and the White Hart Lane board were quick to review the link set up with their Madrid counterparts after Luka Modric's switch to Spain last summer.
The Bale transfer was far from the only one which caused ire over the summer. Madrid lost friends in Paris when setting the wheels in motion for the appointment of Carlo Ancelotti as Jose Mourinho's successor at the Bernabeu, with PSG chief Nasser Al-Khelaifi sniping: "I think Ancelotti signed a pre-contract with Real Madrid, but I can't imagine Madrid would make him sign an agreement since that would be against the law."
"I think Ancelotti signed a pre-contract with Madrid, but I can't imagine Madrid would make him sign an agreement since that would be a point of law"





- PSG president Nasser Al-Khelaifi

Beyond Madrid, there have been other high-profile cases. The transfer window wasn't even open yet when Mario Gotze's move from Borussia Dortmund to Bayern Munich was announced by die Roten on the eve of his then-employers' Champions League semi-final clash with Real Madrid. The timing led to much consternation in Germany and forced Bayern sporting director Matthias Sammer to publicly deny that the club had maliciously attempted to distract their domestic rival's pre-match preparations.
"If we would have wanted to announce the transfer to affect Dortmund, we would have done it tomorrow, on the day of Dortmund's match," he claimed. "The timing, of course, is not perfect, but our aim was to play the first legs of the Champions League semi-finals and then announce it at the end of this week."
France Under-20 international Florian Thauvin departed Lille for Marseille on deadline day without ever playing for LOSC, with president Michel Seydoux left pointing the finger at the player, his entourage and his Stade Velodrome counterpart Vincent Labrune for the events which led to the €15m transfer.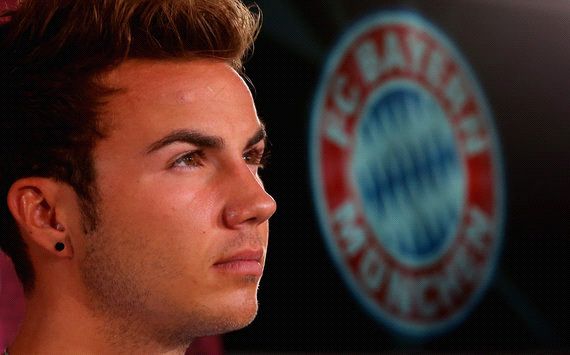 Gotze | His move in April caused much controversy in Germany
Thauvin signed from Bastia in January but was immediately loaned back to the Corsicans, and reacted to the departure of coach Rudi Garcia for Roma by going on strike in order to force a move. After much public fist-shaking from Seydoux over the whole affair, in which he stated he was "99.9 per cent certain Thauvin will stay", he was soon left to face the fact that the young winger's destiny laid elsewhere. The €11.5m profit made in Thauvin's six months on the club's books was not enough to stop Seydoux claiming Labrune had allowed the player to get away with having "no scruples nor values" in forcing a move for the sole purpose of increasing his earning potential.
Lyon president Jean-Michel Aulas lodged a complaint with the French Professional Football League against clubs who he said had "derailed" Bafetimbi Gomis' transfer to Newcastle. "I filed a complaint because certain clubs were unsettling certain players," said Aulas. "Some offered dishonest proposals to try and derail the deal. I will let the committee settle it."
The uncertainty created around the striker led to Gomis being unavailable for the Champions League play-off tie with Real Sociedad, which saw Lyon eliminated from the competition at the loss of millions of euros in potential prize money and commercial revenues.
Juventus made enemies across Italy, with coach Antonio Conte and Napoli boss Rafa Benitez publicly entering a slanging match even before the Bianconeri attempted to line up a move for Juan Zuniga. Their decision not to let Mauricio Isla join Inter at the last minute also further clouded their relationship with the rival Nerazzurri.
Manchester United, meanwhile, ran into a dispute with Chelsea over Wayne Rooney's failed move and Everton over their "derisory and insulting" bids for Marouane Fellaini and Leighton Baines. While the Belgian eventually moved to Old Trafford, the Toffees continued to stand their ground over the England full-back, quickly resetting the boundaries after manager David Moyes' switch between the two clubs in May had presented some sense of a bond forming across the north-west.
"Everton can confirm that it has received bids from Man Utd for two players. Those bids were immediately rejected out of hand as derisory and insulting"





- Everton Football Club statement

The series of issues between clubs comes as little surprise to one football agent based on the continent, who told Goal that the conduct of some outfits will often raise eyebrows in opposing boardrooms.
"Far too often, people are quick to blame agents or players for the number of transfers that take place these days." But what everyone should remember is that if no club wants a player then he cannot go anywhere, and the side that the player is leaving often looks to blame a player or agent in order to save their relationship with another club," explained the agent.
"But it is regularly the case that the destination club will have a big say in the development of a transfer, with laws relating to tapping-up carrying very little weight, and it is only fair they are singled out when they instigate a move. That has happened a lot this summer, and not before time."
Sevilla president Jose María del Nido claimed that any attempt to sign midfielder Geoffrey Kondogbia would be considered an attack on the club since the France international midfielder wasn't on the market. The 20-year-old subsequently terminated his contract in Seville ahead of a free transfer to Monaco, immediately burning bridges between the two clubs.
While few sides have gone as far in the past as to announce any kind of 'special relationship', Tottenham's previous willingness to work with Madrid was nothing new. But now, with increasingly more clubs being left annoyed by the conduct of others, the wonderful world that is the football transfer market is set to take on another personality ahead of future windows.
As teams attempt to find a common goal in a competitive environment in which everyone is attempting to gain an advantage over one another, further conflict appears inevitable.
Follow Kris Voakes on