As imagined by
Matt Scott
...
WHERE NEXT FOR MADRID'S MUTINEERS?
Reports from Spain have suggested that the camel's back has finally been broken and several of Real Madrid's home-grown stars have met with club officials to demand that Jose Mourinho is given the boot at the end of the season.
The fact that so many of his players want him to go has probably made up Mourinho's mind, and he will now be chained to the home dugout until the lot of them have retired or been flogged to Manchester City.
The Spanish contingent in the
Blancos
squad are believed to be behind the planned mutiny, so what will become of them?
MATT'S MAILBAG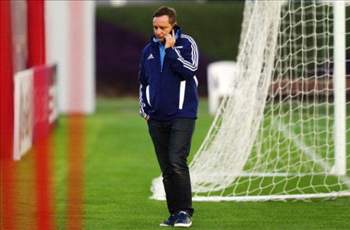 I'm going to send this to you, because when we say it to Tottenham, they do not seem to understand. We at Schalke are willing to sell Lewis Holtby in this month, but Mr Levy must understand that he cannot pay for the young lad in cinnamon spiced biscuits and strudel. Not only is it nowhere near our very reasonable £1 million asking price, but it's a bit offensive.


- Horst, 43, Gelsenkirchen
Iker Casillas - Hinckley United
: The Spain captain has, let's be honest, been stealing a living for the past few years.
Keeping goal for Real Madrid and
La Roja
has detailed standing around and occasionally receiving the odd back-pass from Sergio Ramos, not exactly a strenuous work-out that deserves to be paid through the nose for.
Therefore,
Sant Iker
should find a new challenge, and where better to actually prove himself than with Conference North whipping boys, Hinckley United?
The Leicestershire club are rooted to the bottom of England's sixth tier, having amassed
ONE
point from their 24 games so far this season.
The Knitters (what a nickname) are 19 points from safety with 18 games left to play and a total of 79 goals have gone into the Hinckley net this season, which calls for a hero. A sultry, smouldering Spanish hero at that.
If you want to be considered the best Iker, Hinckley is your only option.
Xabi Alonso - Juventus
: Would there be a finer sight in football than Alonso and Andrea Pirlo trundling around midfield in tandem?
The passes! The interceptions! The free kicks! The
beards
!
Sergio Ramos - Paris fashion week
: The defender has been flouncing around football pitches for almost a decade, with his hair often the focus rather than his football.
Designer stubble sitting on his strong, square jaw-line, there might not be another club for Ramos if he leaves Madrid, so a change of career could be in order.
Forget the toil of the football pitch Sergio and move to the glamour of the catwalk. There's enough back-stabbing and moaning for you to fit right in too!
TODAY'S BIGGEST

RUMOURS

Coloccini to quit Newcastle

Rodgers wants Swans captain



Spurs eyeing Vydra deal

WHAT THEY REALLY MEANT
Arsene Wenger
:
"No [I have nothing to tell you]. That is why I have to shorten the press conference, because I have to do some work!"
Decoded: "Mohamed Diame is still in the building, hopefully Mertesacker has been able to wrestle him to the ground and we can get him to sign this contract right now."
Gerard Houllier on Newcastle
:
"You can't stop the French speaking French. The dressing room will be unbalanced. There will be problems."
Decoded: "What they need is a new manager who can speak French. Nudge, nudge. Wink, wink."
Mohamed Diame
:
"I know there are people out there saying things about me but I have spoken with the manager and told him that I want to stay here.
"
Decoded: "I don't think I want to go to Arsenal anymore after Mertesacker tried to jump on me in the tunnel last night. Luckily I'm a thousand times stronger than him and managed to get away."
Franck Ribery
:
"I am better than ever before at the moment. I am on top of my game. I am among the best and most important players in the world
."
Decoded: "Can anyone remember me? I used to be really, really good. The 2006 World Cup, remember that? I was great! I'm still that good, why does no-one remember me? LOVE ME!"
Follow Matt Scott on