By
Matt Scott
BALOTELLI'S COMING HOME
Mario Balotelli strolls down the staircase of his Cheshire home, wearing a silk smoking jacket over his shoulders and just a tanga sparing his modesty. 'WHY NEVER ME?' is embossed on the front.He looks around with a puzzled look on his face.
MARIO'S TO-DO LIST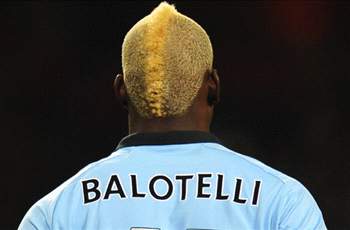 Deck Mancini

- could do better
Sell camo Bentley -

Carlos?

Dye head blonde

Hire Elton John to write Raffaela a love song and win her back.
Get younger brother Enoch a trial at City.
Play a Premier League game in a onesie.

Move out of Cheshire mansion

Get trampoline and scalextric set moved to Milan flat

Take friends for farewell meal

Pluck up the courage to eat spare ribs with the bone left in - unlikely
Delete internet forum alter ego, but leave one last ridiculous rumour about me giving money away, people seem to enjoy them
MB:
Humphrey? Where are you?
Humphrey, the loyal butler, scurries in from the kitchen, quickly finishing a sandwich and tucking his shirt in
.
H:
Yes sir, sorry sir. What can I do for you?
MB:
Fetch the car for me, the Bentley. I'm going to training.
H:
Dressed like that? Should you not put your training kit on? It's awfully cold to just be wearing underwear.
MB:
Ahh someone will get me something to wear. They're very resourceful at City actually.
H:
Well regardless sir, the Bentley is not in the garage. You left it in Liverpool yesterday when you heard there was a Greggs there that does the best lemon donuts in the country.
MB:
Of course I did. I was very disappointed actually, they weren't up to the standard of Greggs in Chippenham.
H:
Ah yes. The filling was excellently distributed if I recall?
MB:
Yeah, right in the middle, not slightly to one side like you usually find. I hate eating around loads just to get a big dollop of sauce at the end. And it always ends up in my lap.
H:
Truly a nightmare.
MB:
But anyway, how did I make it home from the Greggs?
H:
You hired a helicopter and flew that back, you said something about not needing the Bentley anymore as you are moving back to Milan, shouldn't you be worried about that?
MB:
Of course! Yeah keep it on the hush, but I'm off to Italy. AC Milan are rubbish now apparently so I'll be an absolute hero there.
H:
You did actually mention having a list of things you are yet to do before leaving Manchester. I think it's in your right pocket.
MB:
Ah! Indeed it is! 'Sell Camo Bentley' hmm that might be an issue now. The police will probably bring it back though, they're kind like that.
H:
They do have a track record... Sir, may I enquire, what is to become of me?
MB:
You should come with me! I'll need someone to help me track how good Tiramisu is across the country!
H:
If you say so...
TODAY'S BIGGEST

RUMOURS

Sir Alex eyeing Valdes

Inter plot Dzeko swoop

Arsenal consider Wanyama
WHAT THEY REALLY MEANT
Louis Nicollin
:
"It doesn't bother me. We're not going to cry. He is not irreplaceable. The important thing is that we get money."
Decoded: "MUTLEYYY. DOOO SOMETHING!!"
Osvaldo Coloccini
:
"Fabricio is very anxious, he wants a definition, for better or for worse. I think it's time to return to San Lorenzo. We both desire the transfer.
"
Decoded: "Newcastle are absolutely rubbish now and Fab can't abide playing with Mike Williamson anymore. It's time to go home."
Alou Diarra
:
"With the current coach [Allardyce], it is impossible. There's no dialogue, no explanation. I have to go. At West Ham, I wasted my time."
Decoded: "I'm sick to the back teeth of the boss calling me 'Alan' and telling me to 'get ******* stuck in you *****' - I'm a France international for pity's sake."
Arsene Wenger on Wilfried Zaha
: "We were never in for him, never."
Decoded: "Zaha had absolutely no interest in joining Arsenal once he heard a proper football club wanted to offer him a contract. Absolutely none."
Follow Matt Scott on