By Alex Hess

ADEBAYOR ON HIS WAY?
Today's major transfer story comes to us in a familiar form: the Exotic Foreign Attacker (EFA).
Familiar to British audiences since Michael Caine's defence of his British fort in
Zulu
, through to Didier Drogba's defence of his penalty box in the Camp Nou, the latest EFA to hit British television screens (and to a lesser extent, football pitches) looks set to be Leandro Damiao, whose serial goal-getting for Internacional has re-piqued the interest of Tottenham boss and shady Euro-intellect Andre Villas-Boas.
That's right, that creaking sound in the distance is Daniel Levy heaving open his transfer war chest in preparation of submitting an imminent £15 millon bid for the robust attacker.
ASK ALEX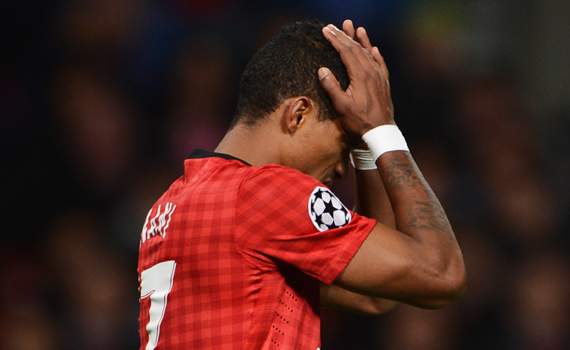 I don't think I can take it anymore. I need to leave this Manchester place, with its grey clouds and its many, many wingers, and its shouty Glaswegians. Why do these fans love Ronaldo but they don't love Nani? I don't understand. Why does Mister Fergie keep saying he'll "drive me to Russia"? You need a plane to get to Russia. Stupid Mister Fergie. Please, Zenit, take me away from this miserable Manchester place, and into your glorious, stepover-appreciating sunshine.


- Nani, 26, Manchester
The questions begged by Spurs' continued interest in Damiao, of course, surround the resonance it will hold for the club's current attack – namely, Jermain Defoe and Emmanuel Adebayor. At first glance, with their manager's historical preference for a 4-3-3 formation and neither player at all qualified to occupy a wide berth, things certainly don't look great for either.
Window Watch
would certainly not bet against Adebayor's agent – never short of work over his career – receiving a phone call or two in the coming days. With the nomadic Togolese's form having become suspiciously tepid since he secured a permanent move to north London (and therefore ceased to be playing for a new contract), as well as him having recently vacated Spurs' line-up in favour of the Africa Cup of Nations, one would suspect that it is Adebayor whose place is most directly under threat from his rival EFA.
That said, though, if the impending new arrival can show – to pick an example at random – the capacity to lift his head up and actually pick out a teammate, or, to use another completely arbitrary example, a variety of finishing that extends beyond simply closing his eyes, thwacking the ball with all his might in the general direction of goal, and hoping for the best, then, who knows, perhaps Jermain Defoe could find his spot endangered as well.
Time, as it tends to do, will hold the answers.
ARSENE'S BAD LETTER DAY
Elsewhere in the transferosphere, Barcelona president Sandro Rosell took time out of praising his club's flourishing youth academy, La Masia – the one that produced yesterday's Ballon d'Or prizewinners Lionel Messi (at least after they prised him from Argentina) and Andres Iniesta, and leaves the club never needing to resort to such nefarious and crass tactics as actually purchasing players, like those fascist Galactico-collectors in the capital – to inform the world that the club's £33m signing (and yet only their third priciest-ever acquisition) David Villa will not be going anywhere this month, thanks very much.
Cue a resigned sigh from a communist tower block in north London, as Arsene Wenger realises
yesterday's hours of letter-writing
could have been better spent watching that really-very-tidy-if-perhaps-a-tad-lightweight-but-who-needs-muscle-anyway central midfielder play for the under-14s, or taking Gervinho to the park for his daily walk.
SNEIJDER'S TURKISH DELIGHT
TODAY'S BIGGEST

RUMOURS


Chelsea line up Fellaini


Inter eye Dzeko bid



Sir Alex keen on Lampard

And finally, today's to-ings and fro-ings saw Galatasaray open talks over Inter's mercurial* playmaker Wesley Sneijder.
Some may see it as a step down for the Netherlands international, who only three seasons ago was master puppeteer of Jose Mourinho's treble-winning side, but that would be an insult not only to Turkish football as a whole but to numerous other elite-level footballers who currently line up for the Istanbul giants, not least esteemed Premier League veterans Emmanuel Eboue and Albert Riera.
Besides, if the notion of the visionary World Cup finalist lining up behind Diego Milito used to strike fear into the hearts of opposition defenders in Serie A, imagine the sleepless nights that lie in wait for centre-halves across Turkey as they contemplate encountering a three-man forward line of Sneijder, Johan Elmander and Milan Baros. A truly nightmarish strike
partnership
trio, I'm sure you'll agree.
*(read: infuriating)



Follow Alex Hess on