---

BY PETER DAVIS

Follow on Twitter

---
Marcello Lippi and Sven-Göran Erikkson may be the biggest managers in Chinese football but in the countries second tier an ex-AEK Athens, F.C. Salzburg and Reggina player sits proudly as the only undefeated coach in China, Goran Tomić of Beijing Baxy.
After 19 China League One games, Baxy are undefeated with 8 wins and 11 draws, conceding only 13 goals in the process.
Most impressively for 37 year old Croatian Tomić are the circumstances in which he has steadied the ship at the side sitting in the shadow of Chinese Super League giants Beijing Guoan. Baxy were relegated from China League One in 2012, rescued only due to Dalian Shide disbanding.
In this exclusive in depth interview, Goal learns more about Goran Tomić and his route to Beijing as well as his take on the superb season with Baxy so far.
You started your coaching career at HNK Šibenik in Croatia, what made you get into coaching?
It is a difficult decision to decide what to do after football and I was only 29. Once I had retired I spent the next three years finishing my degree in Tourism Management but in the meantime I completed football coaching courses. I found I really missed football so I got my coaching license and then very quickly I got the position in Croatia [with HNK] and became the youngest coach at the time in Croatia.
After that I got the opportunity to become the coach of Baxy and became the youngest coach in China so that made me really happy.
You joined Baxy at their lowest point with them relegated in 2012, what made you join Baxy?
In December 2012 I came to Beijing to meet the president of the club and he offered me a three year contract to be part of a long term project, he was really enthusiastic and had a big plan.
I lived abroad for 10 years as a footballer and after 7 years at home I didn't really have to think much about the move. I really want to make a great career for myself here and came here full of energy, I want to be a successful coach.
Looking back on your playing career and it being so diverse with you playing at AEK Athens, Reggina, Vicenza and FC Salzburg among others, does that knowledge of different leagues help you now as a coach?
I have been very lucky to have been trained by some very famous coaches in my career like Dumitru Dumitriu [AEK Athens, 1997] and Francesco Guidolin [Vicenza, 1998]. From each of them I took something and they helped me to find my own way of coaching and what works well.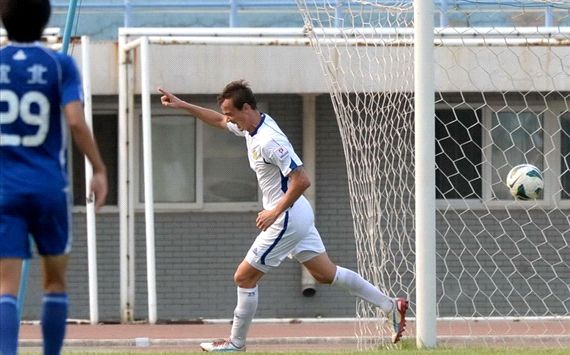 You signed impressively last year getting Ryan Griffiths, Steve Makinwa and plenty of good Chinese talent, were you happy with last season's achievement in finishing seventh?
Seventh was the best position Baxy had ever achieved so in that respect it was excellent, we weren't so good in the second half of the season but overall we were satisfied with the season.
This season you are going one better, what's the mood at the club this season?
The objective this season was to be top six and of course being in the top two would be better [the promotion spots]. We are now close to the top of the league and if we have the chance or the possibility of promotion that is what we will go for.
Your foreign personnel is obviously very important, with them changing frequently in Chinese football is that a problem as a coach?
In China people expect results, you have just three foreign players and if one is not playing well you don't have time to wait for him and you must search for other options. The role of foreign players is very important in China and they must play well as they make the difference in this country.
Why do you think players do succeed in China such as Lucian Goian at Baxy and Tianjin?
He is successful because of his character, a player who is giving his best in every match and Chinese players appreciate that, there is never an easy training and Chinese players notice when a player puts in maximum effort. I'm lucky this year because we have a great combination of Chinese and foreign players.
On that, how big a signing was goalkeeper Jiang Bo from Hangzhou with there being so few goalkeepers of a good quality in China?
He was a big gift for us. At the beginning of the season when we were doing pre-season in Kunming I didn't know what kind of player he was as I hadn't followed his career in Hangzhou but very quickly I discovered that he is one of the best goalkeepers not just in our league but the whole country.
Which Chinese players would you say are standing out this season?
Lu Jiang, Wang Cun, Cui Wei and last season's goalkeeper Dong Lei are all important older Chinese players for Baxy. When you mix them with the foreign players and talented younger players we have a really good group with a good character and they fight on to the end of the game. 6 or 7 times this season we have been 1-0 down and have come back so the team is hungry for a good result.
Together with the staff we have a really good group we have a Croatian and Chinese mix even though we have a different mentality we have created one unit.
How is the youth squad set up at Baxy?
The president has big ideas and is cooperating with some big European clubs but the problem in China is bigger and not just at Baxy, I don't see kids playing football.
I think this is the biggest problem in China. I came to Beijing a city of 20 million people and was expecting you could make a selection from thousands of children but they don't have that. In my city of 40,000 people you have 1,000 kids who want to play.
What is missing on a more local level in terms of youth development?
This is totally about marketing, to get more children in football classes, to send tickets to schools for free, make some football events, autograph sessions and things like that.
And you don't even have shirts for sale which a big issue?
Or a fan shop, we are a very new team and you need a strategy for this. Our president is very enthusiastic and is going about this step by step to create a good club as a whole.
So this season you are now 19 games undefeated, how does it feel to have come this far without losing?
It's fantastic, even in my playing career I have not been on this kind of run. Not losing for 19 matches in a row is difficult to repeat and only very big clubs like Guangzhou Evergrande, Beijing Guoan or in the second league Henan last year can go on a run like this.
So you are a better manager than Lippi and Sven?
[Laughs] The point is we are winning matches that we would have lost last season and that is giving us more energy. This is something important, there are so many good clubs in our league and if this were Guangzhou Evergrande this would be normal but for Baxy this is something really special.
Beijing-based Peter Davis has followed Chinese football since 2008 and is a regular contributor to Wild East Football.