EA Sports 2014 Fifa World Cup Brazil promises over 200 national teams (including Singapore!) and gamers can lead their chosen nations all the way to the Holy Grail of football in a Road to Fifa World Cup mode.
Or you can just kickstart your game and settle for an exhibition match with all the authentic Brazilian stadiums rendered to perfection. Crowd support and all new voiceover work also adds to the spectacle.
Goal took the game on a test drive with our staff pitting Singapore against Malaysia in a classic Causeway Derby and the experience lived up to the excitement of real life.
Player names are up to date and gamers can choose from a wide selection of players from the roster.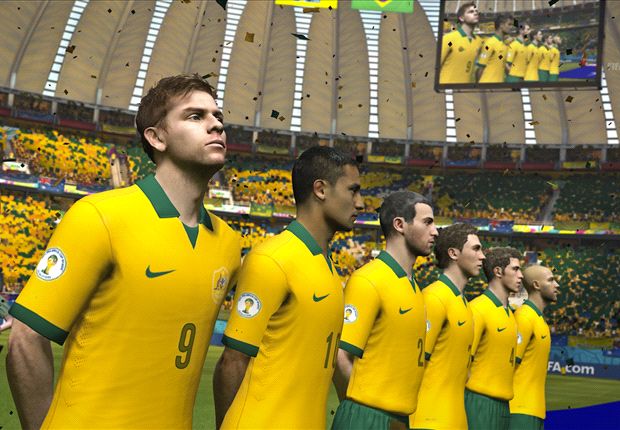 Fans can find anyone from Argentina's Lionel Messi to Qiu Li of Singapore in the game.
Those familiar with the series would have no problem jumping straight into the game, while newcomers will face no difficulties either.
The game is available now on Xbox 360 and Playstation 3.
Key Features
Road to the FIFA World Cup™— The most immersive tournament mode in EA SPORTS history. Choose from any of the 203 National Teams sanctioned by FIFA and play with up to 32 players locally through the qualifying rounds, and proceed on to the group stages of 2014 FIFA World Cup Brazil™. Along the way, get tournament updates from EA SPORTS Talk Radio.
Captain Your Country— EA SPORTS™ 2014 FIFA World Cup™ marks the return of one of the most popular FIFA game modes of all time. Start from the bottom, work your way up the squad list and eventually lead your country through qualifying, and on to the FIFA World Cup. A brand new auto-positioning system makes the mode accessible to new players.
Road to Rio de Janeiro™ (online) – Players progress across a map of Brazil's 12 host cities in licensed and authentic stadiums. Compete in Online Stages with any of the 203 National Teams to advance, remain in a city, or be relegated. Win the final of 12 stages to hoist the FIFA World Cup Trophy at Estadio do Maracana in Rio.
Story of Qualifying – Play over 60 real scenarios that the world witnessed during the 2014 FIFA World Cup™ qualifying stages.
Story of Finals (online) - Activated at the beginning of the tournament and updated throughout, play challenges based on the narrative of the day's events.
Additional Modes – 2014 FIFA World Cup, Kick Off, Skill Games, Online Friendlies, EA SPORTS Football Club.
Presentation
Patriotic Presentation - Feel the support of an entire nation with all-new crowd scenes including banners, flags, and seat cards in the stadium, and from Live City events in all corners of the world. Score a goal with England and see fans cheering live in Trafalgar Square. All-new crowd renderings bring the World Cup atmosphere to life.