How the Arsenal striker draws strength from his daughter features in the latest of our series chronicling the extraordinary power of belief
For much of the 2013-2014 season, Arsenal fans have whispered a silent prayer when striker Olivier Giroud, often ploughing the loneliest of furrows up front for the Gunners, has collapsed in a heap on the ground. With precious little back up, supporters know that a serious injury to the Frenchman could spell disaster.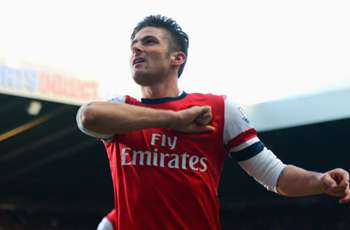 "Her presence on this earth gives me strength and confidence"
Yet followers of the north London club should, according to Giroud himself, rest easy. In interviews, the 27-year-old claims the birth of his daughter Jade means that he now has a guardian angel looking over him.
"Her presence on this earth gives me strength and confidence as I go onto the pitch," he explained.
When asked if he can continue to knock in the goals for Wenger's side, Giroud also insists on touching wood when he talks about his striking exploits.
"I find that a simple act such as that also helps me," he added.
Failing all that, Giroud also draws on the research he's conducted into the "second season phenomenon".
The former Montpellier star made a slow start to his Gunners career in 2012-2013, but he can draw strength from the experiences of those before him.
"There are dozens of strikers who have come good after taking time to settle in their first season at their new clubs. Now, when I hear Arsenal supporters sing my name to the tune 'Hey Jude,' I know that they have come to accept me more now. I have faith and so do they."
Join the conversation about unbelievable stories of believing at #startbelieving or for more information about PUMA visit: https://www.puma.com/footballclub