By Paul Macdonald
Andres Iniesta sprints across to the Spanish support in the corner of Soccer City. His team-mates, substitutes and coaches flood over to embrace him. Before he is bombarded by his colleagues, he tears off his jersey in haste to reveal a heartfelt message.
'Dani Jarque. Siempre con nosotros', translated simply as 'Dani Jarque. Always with us'. An emotional goal, an emotional tribute, and the culmination of an astonishing journey for the most successful international team of the modern era.
VIEW FROM SPAIN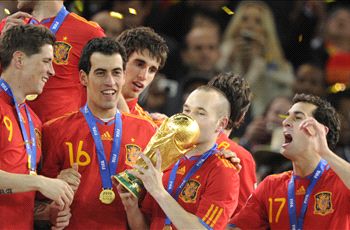 By Ander Bilbao | Goal Spain

Only someone like Andres Iniesta could have scored that goal in the 2010 World Cup final against Netherlands. His words after becoming world champion defined the man who had just become a national hero: "Making the millions of people who have suffered with the national team happy pleased me a lot. The happiness of the people is priceless.

"I never dreamed of scoring a goal in a World Cup final. In that moment I just was thinking about how to hit the ball and where I wanted to put it. After the first control of the ball, I knew it was goal. I knew the defence was not arriving, neither the goalkeeper ... I just had to wait for the falling ball and fulfill Newton's law, only this time the apple was the ball and Newton´s head, my feet," Iniesta told El Pais in September 2010.

He has never won a Ballon d'Or, but he does not care. Iniesta managed to unite an entire country into the same flag and is remembered for it everywhere to this day.

Watch World Cup highlights on One Stadium
Spain, after years of being characterised by fantastic players but never fantastic teams, were favourites to triumph in South Africa at the 2010 World Cup. The generation of Raul had been unceremoniously brought to an end by the late Luis Aragones in 2006, a bold move vindicated by victory at Euro 2008. The World Cup was expected to authenticate the brilliance of this team.
After suffering a stunning loss to Switzerland in the opening match, they overcame every challenge with distinction. In the knockout stages, Portugal, Paraguay, and Germany all fell. Only the Netherlands remained.
The final itself was physical, and the intimidating behaviour of the Dutch represented a deliberate ruse to interrupt the slick Spanish passing game. Nigel De Jong and Mark van Bommel pummelled through Xavi, Xabi Alonso and Iniesta with impunity. Punishment for their actions wasn't forthcoming.
Still, chances for victory came and went. David Villa was denied by a heroic Johnny Heitinga block. Sergio Ramos inexplicably headed over from eight yards out. And, as the match entered extra-time, Cesc Fabregas could only find the legs of Maarten Stekelenburg. Arjen Robben had missed a guilt-edged opportunity for the Oranje. It was tense, and increasingly unclear whether Spain would realise their destiny.
The match stretched deep into extra-time, so deep that teams usually settle for penalty kicks. Not this time. With four minutes remaining, Fabregas pounced on mis-control from Rafael van der Vaart to send Iniesta clear. The ball spun in the air off the end of his foot, and bounced once. It hung for an age, then returned to a height from which Iniesta could strike. Van der Vaart slid in front, attempting to deny him.
In vain.
Iniesta's half-volley is true, and careers into the net past Stekelenburg.
The joy on his face is intense, the sensation of success overwhelming. Starting again from the abyss, and then overcoming the distressing death of Dani Jarque. The defender had suffered a cardiac arrest 10 months previous. Tragedy enveloped the entire squad, but Iniesta in particular. They had been international colleagues at Under 17, 19, and 21 levels; friends. And in that moment, when Spain finally joined football's elite nations, Iniesta remembered that friendship, and celebrated it in front of the watching world.
Speaking after the match, he said, "When the game finished a lot of the difficult moments flashed in front of me. But football sometimes gives back. Every situation has its moment and with this one I felt enormous happiness."
Scoring the winning goal in a World Cup final is special. But to do so with the humbleness and honour of Iniesta makes his effort all the more memorable.