COMMENT
By Carlo Garganese
One year today, the greatest show on Earth will return to Brazil after a 64-year absence. The countdown to the world's biggest sporting event can now truly begin, and the main contenders are already beginning their preparations.
But while Spain, Germany, Italy and the hosts are refining their styles ahead of an assault on the World Cup, the founders of the modern game will be simply hoping to get in and out of South America without disgracing themselves as they did the last time the tournament was held in Brazil.
English football, from a local sense, has never been in such a dire state. In Europe's major championships, the Premier League possesses comfortably the lowest number of players eligible for the country's national team. As of last month, less than 35 per cent of starters in 2012-13 were English. In comparison, Italy's Serie A and Germany's Bundesliga both house 45% of nationals, France's Ligue 1 has 58%, while Spain's La Liga has 59%.
In the current European Under-21 Championship in Israel, the England squad contributed to only 2.28% of the minutes played in the Premier League this past season. The playing time of English Under-21s in the EPL has never been more pitiful. Unlike the majority of other countries, England also have virtually no internationals playing abroad (unless you count Marseille's Joey Barton!), with the entire senior and Under-21 national squads being based domestically.
The result: a talent pool so tiny that the England national team is approaching its most troubled period since the 1970s when, paradoxically, there was actually a decent supply of technically-gifted players despite their failure to qualify for four consecutive major tournaments.
England's recent displays under Roy Hodgson have been utterly depressing. The Three Lions face a scrap to even qualify for the World Cup, as they sit second behind Montenegro – a nation of just over 600,000 people - having only beaten San Marino and Moldova in a modest pool. With Ukraine resting just a point further back with a double-header still to come against the San Marinese, Hodgson's men will likely have to pick at least a point in Kiev in September to avoid the playoffs. It would take a brave man right now to back England to earn a result.
So underwhelming are the current crop that some critics are drawing comparisons with the catastrophic reign of Graham Taylor, who fielded the likes of Keith Curle, Andy Sinton, Tony Daley and Carlton Palmer during the Euro '92 disaster in Sweden before failing to qualify for the 1994 World Cup in the USA.
Never before has there been such a paucity of forward options. There is still an over-reliance on a physically-declining Wayne Rooney. Danny Welbeck is a first-choice squad member despite scoring two goals in 39 games last season for Manchester United; Jermain Defoe isn't guaranteed a starting place at Tottenham, while other recent call-ups Theo Walcott, Andy Carroll, Daniel Sturridge and Wilfried Zaha have seven international goals between them in 40 caps.
SPOT THE ENGLISHMEN | Europe's top scorers in 2012-13

| | | | |
| --- | --- | --- | --- |
| La Liga | Premier League | Bundesliga | Serie A |
| | | | | | | | |
| --- | --- | --- | --- | --- | --- | --- | --- |
| Player | Goals | Player | Goals | Player | Goals | Player | Goals |
| Messi (ARG) | 46 | Van Persie (NED) | 26 | Kiessling (GER) | 25 | Cavani (URU) | 29 |
| Ronaldo (POR) | 34 | Suarez (URU) | 23 | Lew'ski (POL) | 24 | Di Natale (ITA) | 23 |
| Falcao (COL) | 28 | Bale (WAL) | 21 | Meier (GER) | 16 | El Shaarawy (ITA) | 16 |
| Negredo (ESP) | 25 | Benteke (BEL) | 19 | Ibisevic (BIH) | 15 | Osvaldo (ITA) | 16 |
| Soldado (ESP) | 24 | Michu (ESP) | 18 | Mandzukic (CRO) | 15 | Denis (ARG) | 15 |
| Ruben (ESP) | 18 | Lukaku (BEL) | 17 | Reus (GER) | 14 | Klose (GER) | 15 |
| Piti (ESP) | 18 | Ba (SEN) | 15 | Muller (GER) | 13 | Lamela (ARG) | 15 |
| Higuain (ARG) | 16 | Berbatov (BUL) | 15 | Szalai (HUN) | 13 | Pazzini (ITA) | 15 |
| Aduriz (ESP) | 14 | Lambert (ENG) | 15 | Diouf (SEN) | 12 | Bergessio (ARG) | 13 |
| Postiga (POR) | 14 | Lampard (ENG) | 15 | Rudnevs (LAT) | 12 | Gilardino (ITA) | 13 |
Michael Carrick and Frank Lampard, at the combined age of 65, are the current starting centre midfielders and lack any kind of mobility or dynamism to make an impact as a pair, while the centre-back duo of Phil Jagielka and Gary Cahill – although respectable club players - make a mockery of some of the fine English centre-backs of yesteryear. Throughout the squad there are imposters who are simply not England quality.
English footballers have always been ridiculed outside of the British Isles for a lack of technique, but never have England been so incapable of retaining possession – regardless of the opposition. Hodgson's negativity and 4-4-2 formation may exacerbate the problem, but things have deteriorated so much that England's current tactical identity is to keep things tight with 10 men behind the ball and hope to take advantage of a counterattack, set-piece or mistake. It is like watching Greece 2004, only without the victories.
England's embarrassing showing at the Euro Under-21 finals this month - no points and no goals from open play - has demonstrated that there are no youngsters ready to graduate and make a mark for the senior side in Brazil in a year's time. While Italy – already minus the services of Mario Balotelli, Stephan El Shaarawy and Mattia De Sciglio – can provide stars of the calibre of Marco Verratti and Lorenzo Insigne, and while fellow semi-finalists Spain can offer Isco, Thiago and David de Gea, Hodgson is left to feed off scraps.
England's forwards in the defeat to Italy were Connor Wickham, who failed to score in 10 appearances last season for an abominable Sunderland attack, and Marvin Sordell who struggled for game time at second-tier Bolton due to the presence of Kevin Davies and Liverpool flop David N'Gog. Their replacements in the 3-1 loss to Norway were Blackpool's Tom Ince and £15 million [€18m] Manchester United 'wonderkid' Wilfried Zaha, who barely made an impact against Eintracht Braunschweig full-back Omar Elabdellaoui. Both flopped in the humbling by Israel, too.
| | |
| --- | --- |
| | England's current identity is to keep things tight with 10 men behind the ball and hope to take advantage of a counterattack, set-piece or mistake. It's like watching Greece 2004, only without the wins |
The hard truth is that, even taking into account the likes of Jack Wilshere, Alex Oxlade-Chamberlain and Phil Jones - who missed the Euros - England are not producing stars in quantity or of any quality.
The gulf in class between the Euro 2012 quarter-finalists and the leading contenders to win the World Cup has never been so big.
Holders Spain will be justified favourites and continue to churn out potentially world-class stars England can only dream of, the latest being Malaga's much-coveted Isco. The abundance of top quality midfielders in the form of Xavi, Andres Iniesta, David Silva, Cesc Fabregas, Juan Mata and Santi Cazorla is truly frightening, and Spain's second-string midfield is superior to most team's first-choice selections. This guarantees territorial dominance, but the absence of a blue-chip striker, plus the weakening of Clasico duo Barcelona and Real Madrid, does give their rivals some hope.
Germany will be best placed to pounce, following Bayern Munich's recent thumping of Barca in the Champions League, and Dortmund's triumph over Madrid. The psychological impact this will have on a generation of German 'bottlers' will potentially be huge. There is a never-ending list of young, outstanding footballers - Mario Gotze, Marco Reus, Thomas Muller, Toni Kroos, Ilkay Gundogan - to supplement the experience of Bastian Schweinsteiger, Philipp Lahm and Lukas Podolski, who will all have over 100 caps by the time the tournament begins.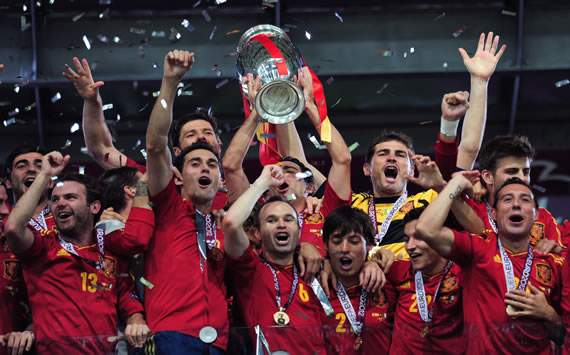 Viva Espana | Spain are favourites to win another trophy, but Germany & Italy are contenders
Euro 2012 runners-up Italy should be considered third favourites. The
Azzurri
combine a fantastic blend of experienced stars like Gianluigi Buffon, Daniele De Rossi and Andrea Pirlo with young upstarts such as Balotelli, El Shaarawy and a possible future Ballon d'Or winner in Verratti. In terms of personnel, only Spain and Germany are superior, although the absence of a natural
trequartista
and the lack of depth in defence is a concern for coach Cesare Prandelli. Italy's chances could also rest on whether Pirlo is still at the top of his game in Brazil at the age of 35.
Elsewhere, with France and Netherlands building for the future, only the two South American giants can be considered realistic winners. Brazil are struggling to find an identity and a top class centre-forward, and have yet to convince critics that poster-boy Neymar is ready to be their leader. However, with the home fans behind them, the number one defender in the world in Thiago Silva and the biggest talent pool to fish from, Brazil will always be a threat.
As will Argentina, who boast the best attacking unit at the World Cup in the form of Lionel Messi, Gonzalo Higuain and Sergio Aguero. Messi has finally transferred his club form to his country, but will need to perform heroics as individually Argentina's defence should not be strong enough to win the World Cup.
A lot can happen in 12 months – injuries, loss of form, the sudden explosion of young, hidden talents – but realistically there are three major contenders for glory in Spain, Germany and Italy with hosts Brazil and the Argentines potentially creating a quintet.
It is England, though, who have the most to worry about. A humiliating experience to rival their infamous defeat to the USA in 1950 awaits Hodgson's troops.
Follow Carlo Garganese on