By
George

Ankers
Football as we know it is finished
And just like that, football finished. The game has gradually shifted over recent years but now the final remnants of the old ways are scattered in the air like an Emmanuel Adebayor penalty.
Every season's end brings retirements but none so defining as Sir Alex Ferguson's. As football charged into modernity like a roid-raged bull spying a saucy lady-cow at the other end of the china shop, the Manchester United manager kept things flexibly old-school.
In 1998, Michael Owen cradled this column-to-be in his arms, pointed it towards football and told it: "This is for you."
Now he, too, has moved past the game. A football without Owen is not a football that
MTS
understands. Without his presence and Ferguson's methods, everything now changes.
If the Premier League is a television show (and it is), killing off its main character is a stark warning to the audience: Nobody and nothing is safe any more. Everything you thought you believed in is there to be shot at. The rules do not have to apply from now on.
With its anchors to the past cast away, football can do whatever it likes now. When David Luiz strides out on to the Stamford Bridge pitch for the first game of 2013-14 wearing a flame-retardant titanium exoskeleton to make him an unstoppable athletic avenger,
MTS
will not bat an eye. It's a new world, baby.
Stories of the season
MTS
evaluates each club's fortunes over 2012-13
PRESS CONFERENCE OF THE SEASON

ROBERTO MANCINI (MANCHESTER CITY)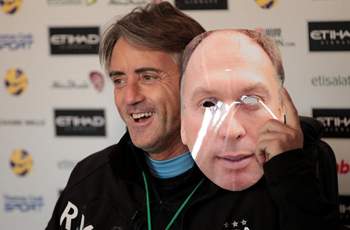 "Do you prefer David or me?" asked the Italian as he approached journalists in a David Platt mask. The irony was that, in the end, Manchester City's answer was "David" but, more than last season's "AGUEROOOO" moment, MTS hopes this is Mancini's legacy to the English game.
Arsenal:
Sold Robin van Persie but finished in the Champions League again with more points than last season. Good enough to improve on last year while still providing people with genuine hilarity like losing to Blackburn. True entertainers.
A+Aston Villa:
Alan Hansen once said that "You'll never win anything with kids"; at long last, he has been vindicated. Not a single trophy.
FChelsea:
A curious blend of the most appealing footballing figures (Oscar, David Luiz, Juan Mata) with the least (John Terry, the anti-Benitez army). Duly punished by Champions League disaster and duly rewarded by Europa League glory.
CEverton:
Convinced Marouane Fellaini and his hair to go silver.
A+++Fulham:
Phoned things in so completely after reaching mid-table safety that the teamsheets for their final few matches were simply 'IOU' notes. Dimitar Berbatov destroyed his credibility with that 'Keep Calm' T-shirt. All in all, a proud club turned lazy.
D-Liverpool:
Started things off with the incredibad shame of 'Being: Liverpool' and Brendan Rodgers's envelopes (
MTS
's money is on the three names being Pepe Reina, Brendan Rodgers and Fate, by the way); rehabilitated their season with the startling success of Inter reject Coutinho and ego Daniel Sturridge. Rodgers will be disappointed that Manchester City thought to use the word 'holistic' before he did, though, okay?
C+
SIGNING OF THE SEASON

EMILE HESKEY (NEWCASTLE JETS)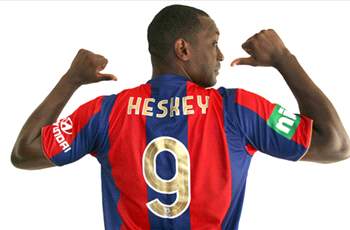 Given the same marquee treatment in joining the A-League as Alessandro Del Piero and, you know what? Nine goals in 23 games. Suck it, haters. The man's an Aussie hero.
Manchester City:
We probably should have twigged when they signed Richard Wright that City might not be trying so hard this season. Let Mario Balotelli go but unearthed a deadpan new comedy gem in Aleksandar Kolarov, the only high point of a sleepwalkingly inadequate season.
DManchester United:
Possibly the most underwhelming dominance of a league that England has ever witnessed. And their home shirt was
terrible
.
C-Newcastle:
Disastrous injury problems? Yes. Homesick captain? Yes. Cheikh Tiote's spectacular fall from grace was no accident, though, nor was Alan Pardew cracking inappropriate jokes like a drunk divorcee meeting his son's in-laws for the first time.
DNorwich City:
For long periods of the season, convinced the ignorant public that Chris Hughton was presumably doing a fine job because he is a nice man. Kept up the facade just long enough to get away with it.
BQPR:
Filmed the longest - but best - ever episode of 'Mythbusters' as they debunked the concept of Harry Redknapp. Self-destruction of breathtaking, awe-inspiring naivety.
A-Reading:
It is not entirely clear that the Royals ever understood that they were not in the Championship anymore - but still finished above QPR.
C+Southampton:
Juxtaposed world-beating performances against all the top teams with vacant rollings-over to the likes of Wigan. LUKE SHAW! But Jos Hooiveld. RICKIE LAMBERT! But the sacking of Nigel Adkins. To be admired and scorned like Clare Balding punching a duck.
C
VILLAIN OF THE SEASON

MARCELLO TROTTA (BRENTFORD)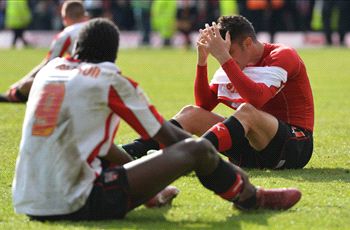 Win an injury-time penalty against your direct promotion rivals on the final day. Insist, as a young loanee from Fulham, that you supercede your regular taker (and captain). Miss. Doncaster run to the other end and score to put you into the play-offs, in which you are defeated. Never show your face in Brentford again?
Stoke City:
Teased us all with a hint of relegation fear but still clung to the Premier League like a combative limpet. Not even any physics-defying Crouchigols to make up for the imposition as Tony Pulis ground out a progress-free year of zilch. Please go away.
FSunderland:
Should be applauded for their efforts to raise the level of intellectual discourse in football, asking pertinent questions like "what makes a fascist, anyway?" and "should this be allowed?". It was certainly more interesting than their football.
B-Tottenham:
Purveyors of the season's most thrilling comebacks, but Andre Villas-Boas's decision to have Sandro injured for several months looks a clear tactical mis-step.
B-West Brom:
Between Peter Odemwingie's one-man transfer roadshow, Liam Ridgewell's toilet-paper substitute and Goran Popov's spitting, the Baggies have really flown under the radar in the unlikeable-egobags stakes. On the beach since December but still club record-breakers. An odd bunch.
C-West Ham:
Did everything short of reactivating his Bebo page to get the best out of Andy Carroll. Almost ludicrously underappreciated success for a promoted team.
MTS
doffs its jester's cap.
AWigan:
The hopeless romantics. Defined as much by their ridiculous yet triumphant 2-2 draw with Tottenham as by their FA Cup triumph. Patronised to within an inch of their lives until there were no more inches left. Goodbye, sweet princes. It's time to be frogs again.
C+-+-+-?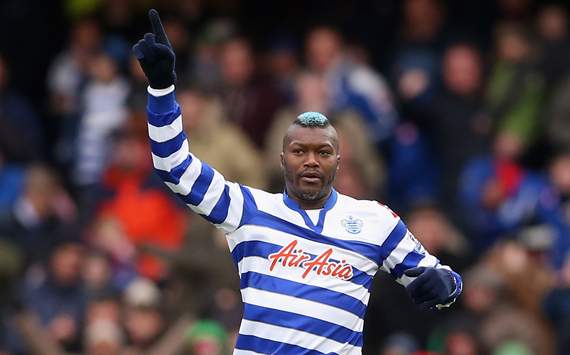 The pinnacle of QPR's achievements this season: Djibril Cisse wins Hair of the Year

Quote of the season

"I love Mario but it is important for him to start to think about his job"
- How did that go, Roberto Mancini?

Team of the Season
ROB ELLIOT

NEWCASTLE
Performed one of the Premier League's best goodwill gestures by getting himself sent off for a ridiculous handball outside his penalty area in a crucial match against QPR. Survival be damned, the Magpies man ensured that 20-year club servant Steve Harper started on Sunday.
| | | | |
| --- | --- | --- | --- |
| YUN SUK-YOON | GARY CALDWELL | VEGARD FORREN | BENOIT ASSOU-EKOTTO |
| | | | |
| QPR | WIGAN | SOUTHAMPTON | TOTTENHAM |
| Sure, Chris Samba was a complete disaster, but for concrete proof of QPR's astonishingly stupid January, look no further than Harry Redknapp's full-back addition, who played not a single minute of the Rs' relegation fight. | Nothing summed up Wigan's adorable naivety better than the lumbering Scot attempting a Franz Beckenbauer impression from the middle of their 71-goal-shipping back three. Don't stop dreaming, Latics. | The Norwegian is comfortably a better defender than Maya Yoshida, Jose Fonte and Jos 'Bloody' Hooiveld. Mauricio Pochettino's refusal to play him even as Saints flirted with the drop can only be pure, hilarious showboating. | Most notable on the pitch for his awesome hair but an impenetrable wall of a different kind: So amazingly immune to the media and the issues in his own sport is he that he had to be informed about Luis Suarez's bite by an interviewer in early May! |
| | | |
| --- | --- | --- |
| NATHAN DYER | STEVE SIDWELL | OSCAR |
| | | |
| SWANSEA CITY | FULHAM | CHELSEA |
| In a Capital One Cup final framed by the utter joy of both teams just to be there at all, the winger bravely dared to change the tone with a spectacular tantrum at not being allowed to complete his hat-trick. We needed some kind of 'baddie' and Dyer delivered. | The thinking man's Lee Cattermole. Shunning his on-the-ball ability to really focus on his thuggery, he outdid himself by earning a red card against Arsenal just 12 minutes after returning from his previous three-game suspension. | Pound for pound, the most delightful player on show in the Premier League this season. Scurrying about, making deft touches and scoring improbable goals - it is as if Diego Maradona died and was reincarnated in the body of a mouse. |
| | | |
| --- | --- | --- |
| WAYNE ROONEY | GARETH BARRY | LUIS SUAREZ |
| | | |
| MANCHESTER UNITED | MANCHESTER CITY | LIVERPOOL |
| Barely a blink after complaining about a lack of ambition and wanting out, now the burger-chompin' utility midfielder/forward/thing is upset because the club have bought better players than him. His internal logic is unarguable. | His perfectly placed own goal against Southampton was the single most natural piece of finishing in the entire Premier League season. Poacher. | A truly astonishing maelstrom of madness. Equal parts scorer of great goals and misser of great chances, the Uruguayan took his traveling circus to an even bigger top by biting a fellow pro for the second time. Shameless but pure theatre. |
MANAGER: ALAN PARDEW

NEWCASTLE
Seven more years!

Mock the Comments
Depending on whether or not you agree with Erwin Schrodinger,
Mock the Weekend
and
What We Learned This Week
are nothing without their readers. It therefore seems only fair to take a moment to celebrate the highest achievers in outrage and bile to be found below the line. Take a deep breath, then, and enjoy the best of the Goal.comments...
First, the praise! "George doing the jug of honey again," wrote Muyiwa Ogundare on September 24. "Effortlessly Exceptional!" Thank you, Muyiwa, although
MTS
has absolutely no idea what you mean.
"Funny...A little racist, but funny," enthused Teddy Nyamjoh on October 8. That's one for the poster.
'FOOTBALL IS DEAD' MOMENT OF THE SEASON

GARETH BALE (TOTTENHAM)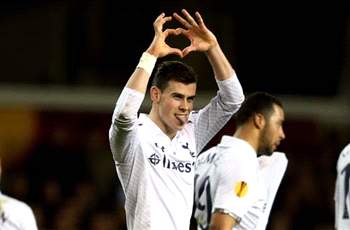 The Spurs star's attempt to legally trademark his nauseating heart-shaped-hands goal celebration truly takes the biscuit for rampant egomania
After a telegram from the soon-to-be-QPR manager on October 15, Ali Ahmad was pleased. "The letter by HURI REDNAP is hilarious STOP," he wrote. "PS: IT IS INSPIRED BY BLACK-ADDER GOES FOURTH STOP." THANK YOU FOR EXPLAINING THE JOKE STOP.
On November 23, John Gerrard went a little far. "Another barnstormer," he remarked. "I would marry you if only you were a woman and young." Thanks?
For some, just the basics were thrilling enough. "
WWLTW WWLTW WWLTW WWLTW WWLTW WWLTW WWLTW
," noted Arvind insightfully on August 24. In October, an Arvind V (the same one, or the fifth of his name?) added: "
WWLTW
what an amazing abbreviation keep it up." So at least the title is good.
Not everything has gone down smoothly, of course. "Mr Ankers, u have a good sense of humour," began Arinze Eze, innocently enough, on March 11. "...but I believe u have ruined once Fans Favourite:
MTW
." Oh.
"You are to football what Ricky Gervais is to Actors," offered an anonymous Goal.commenter, enigmatically, on November 5.
MTS
took this as an insult.
"Why do we need 'What we learned this week'?" wondered Tom Beresford on April 26, matter-of-factly. "It's not as if this is to do with school/college/university." You're on the wrong website, Tom.
Speaking of people looking in the wrong place, an outraged Steve Goh fumed on October 1: "Boring! For a start, I'd say this article lacks quality." Good start. "The advice given to SAF has no wow factor...it can be used on almost any coach who just lost a game. There is no analysis on the wrong tactics or strategy that caused ManU to lose." Hopefully, Steve, you will feel better when Jonathan Wilson takes over the
MTW
reins next season.
TWEET OF THE SEASON

SEAN MORRISON (READING)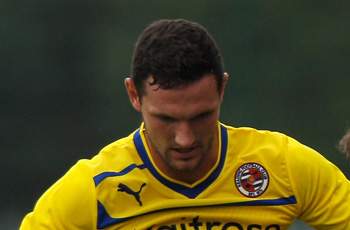 "The crunch of the little nuggets as you bite into them and the flavour of the luscious milk! BAFFLING! Best yet! ... 4/5 #cerealquest"

If this hashtag was the sum total of Reading's contribution to the Premier League (and it was), it was a contribution worth making.
Thankfully, Eric Flange was on hand on April 26 to put
MTS
in its place. "What we learned this week is very occasionally mildly amusing," he offered. "I don't think I've ever actually been close to making any sound when I've read it though. When you write this, do you think it's thigh-slappingly, side-splittingly hilarious? Because it really, really isn't." Clearly.
The gold medal for commitment to anger about some words on the internet, however, must go to serial objector Matt Keirle. "George, the 'humour' in evidence here is laboured, tenuous, and perhaps should not have made it past the conception stage," he fumed on December 14, causing
MTS
to re-evaluate its entire humour-generation process.
"This week you truly are the Sunderland of satirical sports writers (and I use the latter term loosely). Lacking in wit, insight, and concision - not one of your better efforts."
Despite clearly thinking little of this column's charms, Matt stuck around for three months, lying in wait to unleash his Sistine Chapel of venom. "Predictably tenuous, biaised hyperbole by the web's most banal sports 'writer'," he railed on March 18. "Hey (W)anker, perhaps Apple have a comedy app you can upload, save using that mish-mash of petty cynicism and recycled Blackadder analogies you must know yourself is as funny as a Krankies gig in Scunthorpe.
"Seriously George, let someone with a modicum of wit construct the satire. Perhaps you can do some filing, make the teas, change the toilet rolls... Who knows, you might find your true calling." Bravo, sir. A truly magnificent slice of indignation at something which you are utterly without obligation to read.
Follow George

Ankers

on