By
George Ankers
They know what they are
It was what they had all been dreaming about, ever since they were young boys who had just been knocked out of the Champions League. For 10 tub-thumping, logic-defying days, Chelsea hold both European trophies at the same time.
DO YOU KNOW WHAT YOU ARE?
IDEAS FOR NEXT SEASON'S CHELSEA CHANT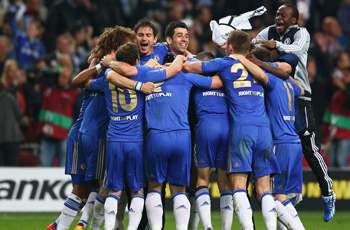 "Champions of Europe, we know what we were!"
"Champions of Europe (ish), we know what we are!"
"Champions of Europe, we know what we wish we still were!"
"Champions of Europe, we know what Bayern Munich/Borussia Dortmund (delete as applicable) are!"
"Champions of Europe, it's sooo last year!"
"Karma-karma-karma-karma karma chameleon..." (Hey, it's catchy. -Ed)
Having won the Europa League at an implausibly 11th hour and Borussia Dortmund and Bayern Munich's big final not to officially depose them of the top prize until May 25, the Blues now enjoy unprecedented total power across the continent.
What does this mean? Has European Union head honcho Herman van Rompuy given them the keys to
all
the cities? Is Ashley Cole now legally entitled to drive sheep through the streets of Bratislava? Can Victor Moses turn all the lights off in Vienna just for a laugh? We should all brace ourselves for a week-and-a-bit-long rampage of power-drunk antics.
While the players get on with that, this would be an excellent opportunity for Blues fans to eat that slice of humble pie. Rafa Benitez has gone and done everything for which you could have hoped this season and, even though you spent all year calling him fat, he'll probably still let you pop that pie in the microwave first because he's a nice man and it would taste better warm.
Now Rafa can sail back across the English channel on a wave of Liverpool fans' bittersweet tears and waltz into, most probably, a job at Paris Saint-Germain. There, his efforts can be properly rewarded with the opportunity to spend a whole season drinking in the life-affirming smell of a place where David Beckham used to be.
For Benfica, more heartbreak. A squillionth European final in a row without winning, the curse of Bela Guttman continues to hold them in its ghostly grip, occasionally squeezing their kidneys maliciously with an otherworldly laugh.
Of course, their fans' tearful lament was nothing compared to
WWLTW
losing £4.79 on its Under 2.5 goals bet thanks to Branislav 'the Manislav' Ivanovic, as Geoff Shreeves so kindly reminded this column immediately after the game.
Photo of the week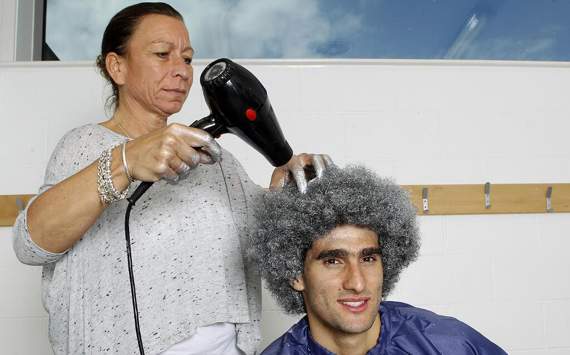 Marouane Fellaini And His Hair dyes his 'fro to match the colour of the medal that he will soon win in the 'Which Everton player will David Moyes take to Manchester United?' Olympics

Beckham: Bigger than the pitch
The football world was brought to a standstill on Thursday when Saint David of Beckham announced his retirement from the game at the end of the season.
DRAMA? WHAT DRAMA?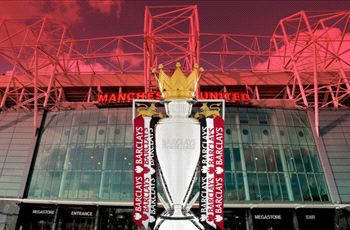 The title and relegation places are all wrapped up and, let's face it, so is fourth place as well. WWLTW finds reasons to get excited about Sunday's Premier League finale
THE BATTLE FOR 10TH: Gasp as West Ham's total gimmie fixture at home to Reading sees them, er, probably not drop below 10th.
THE RACE FOR EIGHTH: Gape in awe as West Brom get tonked by Manchester United in Sir Alex Ferguson's last game while Swansea City fail to take advantage due to having been on the beach since February!
THE QUEST TO PLUMB NEW DEPTHS: Marvel at the bare-faced cojones of Sky Sports's Ed Chamberlin as he desperately tries to say "Super Sunday" with a straight face
In fact, it was more than football. Even
WWLTW
's athletisceptic nan, who sees all sport as "a sinful two-hour abandonment of any worthwhile pursuit", creaked out of her favourite chair to stand and salute her television. England's most expertly mane-styled lion broke free of the cage of pure athletics long ago.
"I just feel it's the right time for me to leave football behind and focus fully on healing the sick*," Beckham told
WWLTW
as a dead dove blinked back to life in his warm, cradling hands and flew away.
"Paris Saint-Germain offered me a one-year contract extension but it would have clashed with the nuclear disarmament talks that I'll be holding with North Korea in October.
"Besides, I'd feel bad if I left the David Beckham Centre For Orphans Who Can't Read Good And Wanna Learn To Do Other Stuff Good Too any more just to go to away games. I'm meant for more than that."
*For clarity of reading,
WWLTW
has removed the 147 total instances of the word "y'know" used by Beckham in our fictional interview.
Imagination is better than reality
So, Mario Balotelli is on Twitter at last. Wahey! Let's get ready for some ANTICS! ... Oh, hang on, is it just going to be him posting poorly framed self-portraits of his hair and typing in garbled txt spk? In other words, just another footballer on Twitter?
Mario Balotelli is not supposed to be just another footballer. The illusion is shattered. It might even have been better if he exclusively posted terrible memes and stolen jokes instead. Now
that
would be how do you a parody account.
Follow George Ankers on