By
George Ankers
White Hart Lane: The Dragons' Den
The interior of an inappropriately post-apocalyptic building. The ghost of Alan Shearer spouts a few cliches about business and beckons the first entrepreneur down the stairs into a basement.
"Hello, dragons. I'm Arsenal Football Club," says the entrepreneur, blinking, wide-eyed. The dragons, five blurred-out representatives of an anonymous Middle Eastern oil consortium, stare back implacably.
"I'm here today to offer you 100 per cent of my business in exchange for an investment of £1.5 billion, if reports are to be believed." Silence. The entrepreneur waits for a nod; it is not received. Adjusting its collar nervously, the entrepreneur continues.
GOOD WEEKEND


Gareth Bale
After being described by Marc Overmars as Tottenham's Thierry Henry, the winger proved the point by scoring for Arsenal and still winning the game. The likeness is uncanny.

Stoke City & West Ham
According to Opta, the ball was in play for a full 10 fewer minutes in their titanic contest than in any of the other Saturday matches. Let no-one deny that they have earned their reputations fair and square.

England
As if a side categorically proven to be better than Brazil weren't already good enough, Jay Bothroyd is coming back into goalscoring form. Options.
"I've brought a prototype of my product here for you to have a look at; it's Tottenham 2-1 Arsenal on Sunday afternoon." Spurs' commemorative DVD of the game is passed around the dragons for inspection.
As the other dragons pore over the match, the first stirs. "What are your projections for the next five financial years?"
"Er," sweats the entrepreneur, "in year one we're looking at fourth place. Then fourth in year two, followed by fourth, fourth and, er..." The entrepreneur scratches its head. It knows this one, but the nerves... "Fourth, I think." A stutter.
The second dragon has spotted a fatal flaw
, notes the disembodied voice of Shearer. "I don't think you've got your numbers right," says the faceless corporate avatar. "I've been looking at your prototype and I just can't see where your projection of fourth is coming from. Look at these goals; identical disasters, twice in as many minutes. It's Groundhog Dayfending."
"I haven't seen this high a line since Procol Harum wrote 'A Whiter Shade of Pale'," says the token grumpy dragon. "I wouldn't touch this business with a barge pole. I'm out – even more than you are in the Champions League."
The entrepreneur, defeated, slinks out. All its life savings into Thomas Vermaelen, for nothing.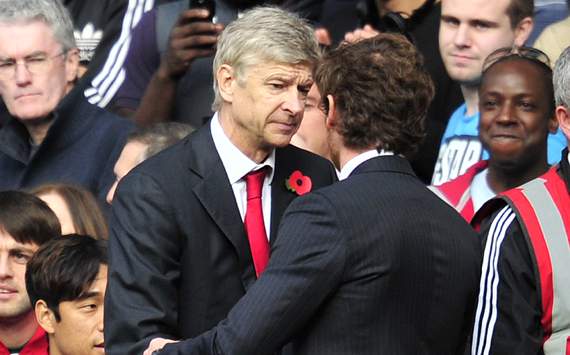 "Where next for funding? I can hardly ask for a Bale-out..."

Quote of the weekend

"It is difficult when you play with love"
- Patrice Evra makes a tentative first step into his post-retirement career with the lyrics of his debut pop record
Catharsis
Seven-and-a-bit-years since he was last at St Mary's Stadium, Southampton fans could hardly suppress their glee at the chance to finally get one back over Harry Redknapp.
The man who had defected from hated rivals Portsmouth, relegated them, then defected back again, before going on to roll around in various pools of cash while the Saints floundered was back. And he was coming in charge of the league's worst team. Two games previously, Mauricio Pochettino's men had thrashed Manchester City.
The result was clear. To a symphony of jeering and booing, Redknapp was going to have his avatar-team of overpaid relegation bait thumped. At last, retribution.
BAD WEEKEND


Chelsea boo-boys
"We were saying 'Boo-a'!"

Reading
Brian McDermott's men continue to endear themselves with the undaunted bravery of a wide-eyed kitten - but, if they don't start breaking out that kind of bravery before going 3-0 down, the kitten is going to drown. Both metaphorically and literally, nobody wants to see that.

Manchester United
Played a full-strength side on Saturday and kept back the faded veteran for a ceremonial run-out in a crucial Tuesday showdown. On the same day, Real Madrid rested Cristiano Ronaldo. What could possibly go wrong?
Whoops. Out of sync with the feral crowd, Southampton were, Gaston Ramirez aside, as ruthless as the baseball hall of fame. They were duly merked. Now QPR have a lifeline and the Saints are closer to the drop than they seemed to previously realise. Might have to take a rain-check on the catharsis.
A welcome change of wardrobe
Far be it from
MTW
to assume the role of fashion police ... but allow
MTW
to assume the role of fashion police. Now, an exclusive report from the Liverpool catwalk as Brendan Rodgers' catalogue of sporty hunks strutted their stuff at the DW Stadium exhibition.
As ever, supermodel Luis Suarez drew all the cameras and set the clothing agenda for the second year running. When he was last here, 15 months ago, it was all about the T-shirts. You could hardly move for his signature white-with-red-silhouette design on the streets of Wigan.
But T-shirts? They're so last season, darling! Now it's all about hats. Some might say that Suarez was only following the trend set earlier that day by a hot new Japanese designer called Shinji Kagawa but the Liverpool pageant was on TV, so the public will never know.
That's the "Player of the Year" collection by Luis Suarez; you probably shouldn't be seen dead in it.
Follow George

Ankers

on