By
George Ankers
The unluckiest man in the world
Fabio Borini (Liverpool)
Fabio Borini was woken up by a steady drip, drip, drip of water onto his face. He opened one eye and a drop from the leaky ceiling fell into it. "Oh, crumbs," he sighed. "I only just had the house surveyed."
Sleepily, he turned towards his alarm clock. It was turned off. "Fiddlenozzles!" the Italian exclaimed, "my alarm! What time is it?" Scrabbling for his phone, Borini switched it on and saw that he had overslept by 45 minutes. "I can't believe it! That's the third time this week!"
The Liverpool striker scrambled out of bed, stubbing his toe in his hurry.
GOOD WEEKEND


Brendan Rodgers
Usually when B-Rod says silly things like "you can live without water for so many days but you can't live a second without hope," his team go on to throw pies at each other's faces for 90 minutes and make him look stupid. This time people had to bite their tongues. He will be ordering that fortune cookie again, MTW suspects.

Matt Smith
The Oldham striker's heroic injury-time equaliser against Everton might even bring him enough attention to be able to Google himself and find a result about him on the eighth page.

Sergio Ramos
Another game, another suspension. As a member of the all-conquering Spain team, the Real Madrid defender has very little in the game left to win, so he might as well pursue the record for most red cards in an entire career. Hey, a win's a win.
Just as he took out his phone again to text Brendan Rodgers a quick apology, he slipped on a stray piece of paper that had been blown across the floor by the breeze from the barely open window. The device flew out of the youngster's hand as he tripped and landed underneath another leak from the ceiling, the water instantly frying its circuits beyond repair.
Groaning, Borini gave up on calling ahead, picked himself up and dashed into the shower. Unfortunately, the brand-new boiler had packed it in overnight and he was instantly doused with a jet of icy-cold water. "Eeeek!" the forward screamed as he recoiled from the spray.
It just so happened that the next-door neighbour's creepily intelligent but poorly guarded parrot had crept in through the window just in time to hear Borini's high-pitched shriek. The bird proudly began imitating the noise, shrilly repeating it over and over again in the 21-year-old's ear.
Close to tears, the Reds forward rustled through his wardrobe but his underwear drawer was inexplicably empty. Borini wailed, put on a pair of his ex-girlfriend's knickers that were lying forgotten in the back, threw on the rest, and rushed out of the door.
Before his foot hit the doorstep, it was plunged into the excretal offerings of a cow which had escaped from a nearby paddock. Turning back dejectedly to change his shoes, Borini realised that he had shut the door without picking up his keys. He sighed. Just another Saturday.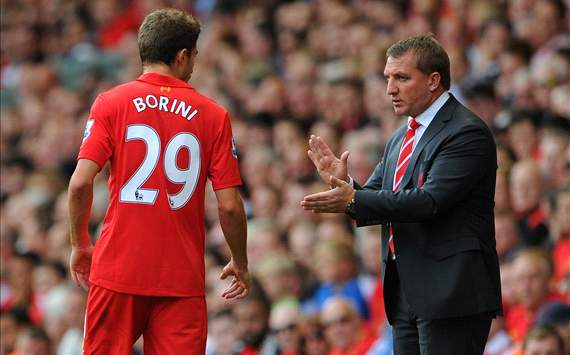 "Yes, Fabio, just stand still. That's probably the safest choice."

Quote of the weekend

"For me, [Fernando Torres] is still one of the best strikers in the world"
- MTW would like to live in Yossi Benayoun's world
Arsenal play chicken against Blackburn
Puk-puk-puk ... puk-aw!
So, a limp Arsenal side were knocked out of the cup by a lower-league team who wanted it more? Did not see that one coming. The fact that their slayers were Blackburn, the farce to the Gunners' black comedy, only made it more eye-rollingly predictable.
There was a nice bookend for the laughably run Rovers. Whereas, last season, the emergence of a chicken onto the Ewood Park pitch heralded the confirmation of their relegation, at the Emirates Stadium this role was played by Gervinho, the chicken who timidly saw in their greatest achievement of the last few years.
BAD WEEKEND


Swansea City
With a full week between their clash with Liverpool and the Capital One Cup final, resting players always looked a tad overcompensatory. Luckily, it is a well-known psychological fact that being royally woohoo-ed immediately prior to your biggest game in years is extremely helpful. Well, probably.

Nathan Ake
A permanent fixture on the Chelsea bench in recent weeks, the 17-year-old must have thought that a home time with Brentford would be his chance. Instead Rafa Benitez ditched him from the matchday squad and brought on bright-futured youngster Yossi Benayoun for 15 minutes of much-needed experience at 3-0 up.

Harlee Dean
Yes, Stamford Bridge is an intimidating place and yes, Chelsea's continued attacks would put have even a Premier League side worried ... but the Brentford defender's stepover freakout when he jumped over Oscar's goalbound shot was dafter than an elephant on a rollercoaster.
In fact, Arsenal's whole gameplan resembled an 11-versus-11 game of chicken. Advance through the middle third, threaten the goal ... swerve away at the last moment!
Indeed, if that was their strategy, then well played. They almost had
MTW
fooled into believing that they really did want to score a goal.
Party like it is 2011-12
Manchester City
Cast your mind back, reader, and remember if you can a Manchester City team who routinely dispatched their inferiors with crushing efficiency. If you were not good enough, you could not match them; it was a simpler time.
Those days, of course, are behind us. They left, along with Nigel de Jong, the dream of Robin van Persie in a blue shirt and Roberto Mancini's dignity (where did he even GET a David Platt mask?). But it was nice to have a trip down memory lane all the same.
Some had suggested that, given their poor form of late, Manchester City's clash with Leeds United was an upset in the making. That proved to be a labelling error almost as grave as supermarket beefburgers.
It was as if Mancini had persuaded Good David Silva and Good Yaya Toure to return in place of their more recently seen twin brothers for a special, underdog-thumping reunion party. It was a pleasure to see them back; er, where was it they had gone for the last few months again?
There was also a nice bonus as Leeds boss Neil Warnock got pretty much what he deserved for his yakking pre-match about how Mancini could never do his job. "I deserve a medal," Colin Anagram bleated as he pre-empted his own sacking after the game. Well, Neil, here is the
MTW
Medal for Outstanding Services to Being Quiet and Going Away. It is yours if you want it.
Follow George Ankers on