Footballers are always hungry for success but it's more of a lasting legacy that
Michael Owen
is targeting these days, while
Gareth Bale
has been busy saluting the efforts of his team-mates - AKA his left and right foot.
Elsewhere, Alejandro Bedoya hopes to comfort to those who have been "friend-zoned", while Sergio Aguero and Wesley Sneijder send their more serious sympathy to the injured Diego Milito.
So what are we waiting for, let's crack on...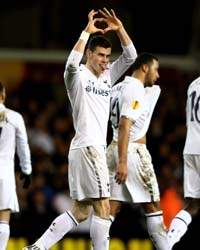 "Training for the 2028 Olympics! #startthemyoung'"
Stoke City
striker
Michael Owen
reveals what he gets up to when he is not watching replays of his solitary strike this season, posting a picture of his two daughters sprinting in the garden. Don't think that
WOTT
isn't onto you, Michael, you just want to keep the BBC Sports Personality of the Year award in the family!
"Good win last night to take to Lyon, nice to score again but it was a great team effort"
Gareth Bale
(pictured right) salutes the "team effort" of Gareth Bale FC or, as they prefer to be known,
Tottenham
).
"I actually cant believe ppl find lying so easy its scary"
Newcastle
defender
Danny Simpson
casts his disapproving eye over modern society.
WOTT
would pass comment but it doesn't want to lie to you...
"Hope you all had a good Valentine's Day! Moment of silence though for my brothers (and sisters) who got the "friend zone" talk! Lol"
With the wonderful (or nightmarish, depending on your relationship status) Valentine's Day having passed on Thursday, former
Rangers
man
Alejandro Bedoya
expresses his sympathy for victims of the terrible phenomenon. Let's face it, we've all been there.
"All my encouragement and support to Diego Milito. Be strong and get well soon! #ForzaDiegoMilito"
Manchester City
striker
Sergio Aguero
tweets his sympathy for fellow Argentine
Diego Milito
after the
Inter
forward suffered a cruciate ligament injury against
Cluj
in the
Europa League
on Thursday.
"All my support to Diego Milito... Stay strong hermano!!!! Mucho animo. #ForzaDiegoMilito"
Recently departed team-mate
Wesley Sneijder
joins in the chorus of support for the stricken striker.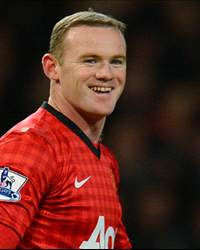 "Finished sons of anarchy season 4. Is series 5 out on dvd yet???l"
Manchester United
's
Wayne Rooney
enjoys some quality TV ... Wayne, don't you have a certain match against Real Madrid to be preparing for?
"Goodbye Dubai. Miss you already #lovethisweather"
From Dubai on Thursday to Liverpool on Sunday... No wonder
Swansea City
's
Jonathan de Guzman
is worrying about the weather!
"Morning all slight lie in today im sorry-training later FA cup 5th round vs Oldham tomorrow last time I played there they had plastic pitch!"
Everton
captain
Phil Neville
wonders if Oldham have left the Dark Ages yet...