By
George Ankers
What was Gareth Barry thinking?
It will probably not prove the decisive moment when Manchester City gave up their hopes of retaining the Premier League – that, in spirit at least, was when they signed Richard Wright. But Gareth Barry's bizarrely clinical own goal to seal a comprehensive 3-1 defeat to Southampton will be remembered long after the title is wrapped up (so, March).
But why on earth did he do it? What drove an otherwise rational man to suddenly, under no pressure, stab his best finish for years precisely into his own bottom corner?
GOOD WEEKEND


Rafa Benitez
He's won a trophy for Chelsea! Well, sort of. The Spaniard, needing any credit he can find at Stamford Bridge, should be shouting from the rooftops about how, thanks to him, Victor Moses and John Obi Mikel were so desperate to stay away from the club as long as possible that they won the whole ruddy Afcon!

Robin van Persie
Scored the second goal against Everton which has, let's face it, secured Manchester United the title. Now free to put his feet up and, apart from the occasional summons for a Champions League tie, pursue an interest in building model aeroplanes or breeding racing snails until August.

QPR
Mark Hughes lost 5-0 to Swansea City on opening weekend. Saturday: Only 4-1. Harry Redknapp's turned it around!
Luckily,
MTW
has had an exclusive word with Agnes 'Crazy Eye' Windle, who claims to be a "psychic therapist" to between 50 and zero Premier League stars, one of whom may potentially be Barry. For a modest fee, she was happy to outline the possibilities of what might have been running through the friendly-firing midfielder's head.
1) Barry is a huge fan of Edin Dzeko and wanted to emulate his hero by scoring in the same net as the Bosnian had in the first half. "It would be worth conceding a goal in order to feel so inextricably connected by deed to Dzeko," suggests Agnes.
2) Nobody had told the England midfielder that the two teams had swapped ends at half-time. Footballers are not the sharpest tools in the shed and need reminders sometimes. "I sense confusion," Agnes murmurs vaguely.
3) Ever since Roberto Mancini turned his Italian nose up at Barry's "totes amaze" impression of Amy from 'The Only Way Is Essex', the 31-year-old has been seeking an opportunity to force the manager's sacking. "I might have felt a voice cry out: 'Aha!' at that moment," offers Crazy Eye. "I don't really remember."
4) Scott Sinclair, for want of anything better to do these days, bet Barry £200,000 that he would be too chicken to score an own goal.
5) "Jupiter, the footballer's planet, was out of alignment with Mars, or, I dunno, something like that," snaps Agnes. "Maybe he's just pants. Now pay up and get out, it's time for 'Countryfile'."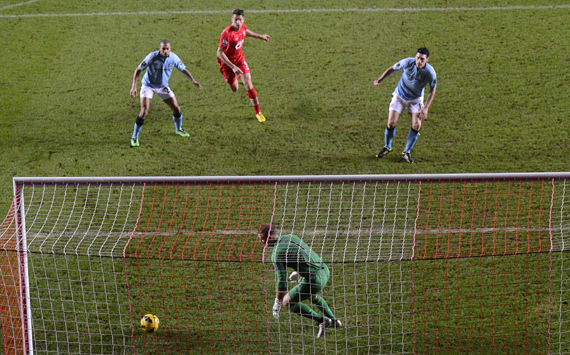 "You owe me five minutes' wages, Scott!"

Quote of the weekend

"In last game at st marys puncheon had to go off for a no2 and came back on a few mins later, after goal 2day he pretended to wipe his bottom"
- Southampton legend Matt Le Tissier helpfully puts into words a celebration which we were all happier when it went undescribed
Wei, mann?
At Barry's former club, meanwhile, Andreas Weimann could have done with a bit of the old Gareth magic up front as he missed an open goal the size of Canada against West Ham.
The standout moment of a first 45 minutes so face-scratchingly bad that an end-all-football party had been formed, run for election in Iceland and won seven seats in parliament before half-time, the Austrian will never miss a chance that good again. Mainly because Aston Villa seem unlikely to ever create any chances again.
BAD WEEKEND


David Moyes
The Everton manager made an irresistible case to take over at any and all top-four clubs come the end of the season with a record-extending loss to Manchester United. Total wins away at Old Trafford, Emirates Stadium, Stamford Bridge and Anfield: Zero out of 48. Hire that man!

Neymar
They said Wednesday was just a blip but the so-called next big thing once again failed to score against English opposition. If he leaves Santos for Barcelona or Bayern Munich before even a token attempt to Do It On A Wet And Windy Tuesday At Stoke, shame on him.

Liverpool
Not a single goal from the Luis Suarez-Daniel Sturridge axis this weekend. Where's your plan B, eh, Brendan?
Yes, they scored two to beat West Ham on Sunday, but Paul Lambert will presumably be furious with his players. The Scot made it clear to his side that goals were strictly not on the agenda by leaving out Darren Bent in favour of a randomly generated youngster from 'Football Manager'.
With net-evading "shots" of that calibre, Weimann is clearly buying into the philosophy and will be captain by Christmas.
Surpassing himself
Gareth Bale (Tottenham)
After yet another sublime piece of beating what's in front of him, stirring himself for precisely five minutes out of the total 90 in order to slap Newcastle down, Gareth Bale is attracting all sorts of hype.
With Cristiano Ronaldo and Lionel Messi now specks on the horizon behind him, the Tottenham winger is fast closing in on the world's best player, according to one top-level pundit.
"Gareth's a top, top, top, top ... [10 minutes later] ... top player," enthused
Sky Sports
' Jamie Redknapp after the match.
"You look at him now and I think you've got to say he's absolutely up there alongside Gareth Bale at the very, very top, maybe even past him.
"Is there anyone better in the world right now? For me, he hasn't got any weaknesses, although his right foot is useless. It's an absolute scandal that he wasn't in the England squad against Brazil."
Follow George Ankers on