For once, the discourse on Twitter over the past 24 hours has been dominated by talk of more worthy subjects.
Be it touching tributes on the 55th anniversary of the Munich air disaster, or England legend Ashley Cole's 100th cap - there are plenty of heartfelt, sincere tweets doing the rounds.
Don't worry though, wantaway West Brom striker Peter Odemwingie is here to ensure that out-of-touch footballers don't go and ruin things by making good names for themselves.
From broken noses and holidays to houses prices in Aberdeen, you'll find all this and more in Wednesday's edition of Word on the Tweet...
"'Fine and dandy: Peter Odemwingie WON'T have West Brom salary docked over transfer deadline-day farce' … if true I am happy"
Following the collapse of a potentially lucrative move to
QPR
,
Peter Odemwingie
rejoices over the fact that he might not have to take yet another financial hit. Money money money.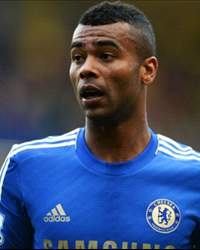 "Whatever you think of Ashley cole off the pitch shouldn't deter the fact he is class on it... 100 caps is an unbelievable achievement"
Oh that's nice. Ahead of
Ashley Cole
's 100th international cap against
Brazil
,
Liverpool
legend
Robbie Fowler
takes the time to give the most back-handed compliment ever to the
Chelsea
full-back.
"Congratulations to @TheRealAC3 on winning his 100th cap. One of the golden generation that always delivered in tournaments. Top player!"
Awh look,
Gary Lineker
is getting in on the act too. Isn't Twitter such a lovely place when we all get along.
"Congrats 2 my brotha @TheRealAC3 on your 100caps proud of you bro!! #100notout #salute #Legend bless #BunchOfCaps lololl"
Well, well, well, isn't Ashley a popular boy this morning?
QPR
midfielder, and Cole's former
Chelsea
and
England
team-mate
Shaun Wright-Phillips
is the latest player to pay tribute to the Three Lions centurion.
"Congrats to the greatest left Back England has ever produced. @TheRealAC3 100 caps and still over lapping for fun. #legend"
Oh come on now, this is getting boring. Yes we get it, Ashley is a fine footballer, but you're multi-million pound footballers. I'm sure you all have mobile phones. Doesn't anyone text anymore? Another former
Chelsea
team-mate pays tribute to Cole, this time it's
Fulham
's
Steve Sidwell
.
"Congratulations to @TheRealAC3 for making his 100th cap tonight for England! What an achievement!"
Give me strength, Ashley won't know what to do with himself. He'll be quite confused getting all these nice mentions as opposed to the usual abuse. Enough of the love-in please.
Josh McEachra
n, you're still a
Chelsea
player, just text the boy. Nice gesture though. Not quite in the Lineker or Fowler league but still nice.
"My little girl screaming "Daaaaaaad... Daaaaaaad" at 6:01am is not the kind of alarm clock you can push off the side table + turn over from!!"
Ah thank you
Rio Ferdinand
, someone who realises today isn't just about
Ashley Cole
. Though I doubt
Manchester United
defender is likely to want to wish his
Chelsea
counter-part and friend of former
England
captain
John Terry
well. Especially not when he's Mr grumpy guts after being woken up at 6 o'clock this morning.
"Remembrance for the #MunichDisaster / anniversary today 06/02/1958. #BusbyBabes"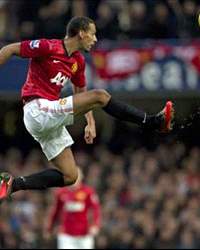 Rio Ferdinand
remembers those who died in the Munich Air Disaster 55 years ago today.
"Just found out Aberdeen is the 3rd most expensive place in property market ....... Is that true ?"
Norwich City
's
Robert Snodgrass
clearly hasn't been to Aberdeen recently.
"Thank you all for the messages. My nose looks better already. I'll look like "demba ba" again very soon lol"
As opposed to what exactly?
Chelsea
striker
Demba Ba
seems to forget that broken nose or not, he still is, was and always will be
Demba Ba
.
"Honestly Hope Ryanair Go Under Quickly!€60 to cancel ur boarding card!To cancel themmm push the cancel button and it costs €60 #Robbery"
Reading
striker
Noel Hunt
complaining about €60. Really Noel, now I know your wages are paid in a different currency to what you're used to, your contract is up at the end of the season and you're not currently getting your appearance bonuses thanks to a certain Mr
Le Fondre
, but I'm pretty sure you can spare €60 from however many thousands of pounds a week it is you earn.
"Meeting with our wonderful exec chairman been cancelled #surprisesurprise #somethingtohidenicola"
Southampton
executive chairman
Nicola Cortese
finds yet another way to upset club legend
Matthew Le Tisser
. I'd be careful if I were you Nicola, upset Le Tiss too much and he might sit on you!