Restructuring the Scottish football league system is the only way to ensure a fairer model of play and money distribution, says
Scottish Premier League
chief executive Neil Doncaster.
Plans to change the divisions into a 12-12-18 structure were given the go-ahead by SPL and Scottish Football League sides in meetings last month, with another vote to come in March to confirm the changes.
The new plans ensure a play-off system that allows more movement between the tiers, and crucially for many clubs, a fairer distribution of wealth given Celtic and Rangers' traditional grip on the market until the latter's recent demise.
"Fans tell us they want a single merged league, an all-through and more equitable distribution model, play-offs, a pyramid structure, significantly more relegation and promotion, and more meaningful games, he told
BBC Radio Scotland's
'Sportsound'.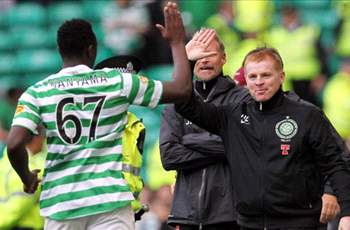 "What it will give you is real tension in the second half of the season"
"The only way we can achieve that is through consensus and we are only going to get consensus through this model.
"If people want these changes, that everyone says they want, we need consensus and the vast majority of the 42 clubs to vote in favour of the package.
"There were some clubs that would perhaps want a bigger league. But they know we need consensus. If you put a 14-team model on the table you're not going to get consensus."
Under the new proposals, the top two leagues would split into three leagues (Premier Division, Championship and National League) of eight after 22 matches with the points being reset to zero.
The top eight teams would then compete for the title and European places, the middle eight compete for promotion and relegation in and out of the Premier Division, and the bottom eight fight to stay out of the National League.
And Doncaster believes the added drama would be beneficial to Scottish football in attracting more sponsors and television rights deals, and called on SPL clubs to ratify the agreement in order to save football in Scotland.
"There will be far more meaningful games that fans want to go to. What it will give you is real tension in the second half of the season," he continued. "Every club in the middle eight has 14 games to determine their future.
"[The SPL clubs] want a rule book in front of them, they want to know exactly what's in place and what it means for them.
"You can't vote on a concept - you can vote on a rule book. That is the only point it is relevant, that's when it will be binding.
"If the clubs vote against it, it won't happen. It will be the status quo and that's not what people want."