By
George Ankers
January: A Premier League poem
Villa? Diame? Arsenal's problems addressed?
No, just Monreal, a poor window at best,
Embarrassing cup exits and relegation fear,
Meagre signings mean Villa look doomed this year,
Buy Ba for cheap and sell Sturridge for double,
Yet still starting Torres; that's Chelsea's trouble,
A ducky knee meant Everton won't play Fer,
But at least they kept Fellaini there,
What we learned on deadline day...


Player power does, thankfully, appear to have some limits. The worst part of Peter Odemwingie's fugitive dash to Loftus Road was the feeling of inevitability that he would get his way in the end and West Brom would cave. But they didn't - leaving the Nigerian looking like a mad tramp, shouting at the moon about a transfer that didn't exist.
Frimpong's at Fulham to warm the #BENCH,
But missing out on Huddlestone must be a wrench,
Sturridge started well and Coutinho changed his mind,
Liverpool's transfer policy has been much refined!
Richest club in the land? Well, if you say so,
All Man City did was watch Balotelli go,
Fergie hates the window but he snapped up Zaha,
He'll leave Palace in June after one last hurrah,
Sacre bleu! Look at the business Newcastle have done,
No fewer than five have joined from Ligue 1,
Gary Hooper seemed the man to suit Hughton's needs,
But Celtic wouldn't sell so he turned back to Leeds,
Didn't Redknapp want to stop overpaying his men?
Still, he has to make relegation an 'if', not 'when',
Reading signed Carrico in an unexpected deal,
While Akpan is proving an under-the-radar steal,
What we learned on deadline day...


World admonishes Premier League clubs for leaving it too late in transfer windows to do good business. Premier League clubs get most of their business out of the way before deadline day. World bemoans lack of deals in Premier League on deadline day. Football; the game you can't win.
Forren signed up but Saints chopped their coach,
Their biggest transfer's to the Pochettino approach,
Much Edu about nothing as Maurice left Stoke,
The Potters grabbed Butland to prove they're no joke,
Sunderland signed Graham, though the crowd weren't keen,
While Alfred N'Diaye looks a proper machine,
The Swans loaned out Lita and sold Graham too,
Hang on,
WWLTW
just got deja vu,
No striker? No sweat! Spurs snapped up Holtby,
Paid £1.5 million to get him in early,
Odemwingie had a tantrum but the Baggies held firm,
Relieved that Lukaku's loan will last the full term,
Pogatetz and Chamakh? Is Allardyce a troll?
At least there's the feelgood in bringing back Cole,
A homecoming, too, for the Latics of Wigan,
United with the maverick Scharner again.
Photo of the week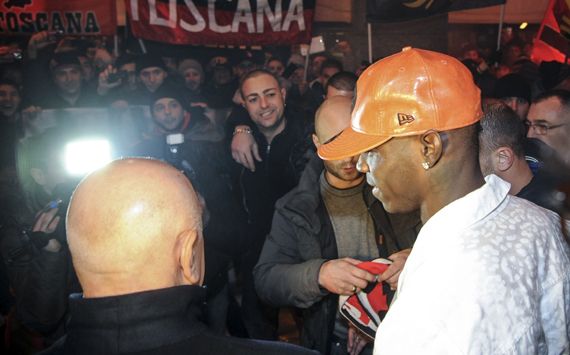 WWLTW would offer a funny caption here but can barely see its keyboard through a waterfall of tears

Daniel Levy has turned over a new leaf
It is still possible that, even as you read this column, Tottenham chairman Daniel Levy is groggily coming to, rubbing his eyes and sitting up in a panic as he realises that his alarm clock failed to go off. He may then rush off and unveil Gonzalo Higuain in an inexplicably legal late swoop.
More likely, though, is that there was a deliberate refusal to invoke his now-memetic schtick of last-minute negotiatory miracles. Spurs bottled it.
The unsuccessful Leandro Damiao bid doesn't count - Levy does that every window and it never works. At this stage the customary insufficient offer is a habit, a physical tic that the north Londoners do on impulse. Refrain and they would have come down with the shivers.
What we will learn in the summer...


Are Tottenham capable of making a bid for Leandro Damiao that has a chance of being completed before a transfer deadline?

How many times does Chris Hughton have to had a bid rejected before he realises that he is not going to get what he wants?

And whatever happened to Florent Malouda, anyway?
We may have instead witnessed a change of tactic from Levy in a bid to maintain his reputation as master of the unpredictable. You expect him to snap somebody up late? Wrong! Here he is, signing Lewis Holtby a whole eight months before the summer transfer deadline.
This new, uber-prompt chairman will now have to keep on upping his game to confirm his supernatural powers. This June, look forward to the confirmation that Neymar will move to White Hart Lane in January 2015 while Thiago Messi signs a pre-contract deal and Tottenham put in an early bid for the yet-to-be-conceived child of Jack Wilshere.
Liverpool: Suspiciously sensible
Daniel Sturridge: Deal agreed before the window even opened, knows Brendan Rodgers well, slotted in and scoring immediately.
WWLTW
has less faith in the former Chelsea man's decision-making than Harry Redknapp has discretion but it's an undeniably good start.
Philippe Coutinho: Already a Brazil international, able to offer more bite in attacking midfield than Steven Gerrard can any more, half as expensive as Stewart Downing. A youngster who will be given the time to grow into a key role at Anfield. Excellent business.
Is it just
WWLTW
or is this all far too sensible from Liverpool? No panic buys and no significant overspending?
On a pretty tame deadline day, we could all have done with a hilarious £40 million impulse purchase on Adam Le Fondre, who played well for 10 minutes the night before, to lighten the mood. But the Reds didn't sign him, not even once.
Is this part of a larger plot? Will Blackpool only sell Tom Ince in the summer if they get Coutinho plus £10m coming the other way?
WWLTW
demands that we be told the full story. Nobody gave Liverpool permission to stop being a comedy club.
Follow George Ankers on