By
George Ankers
How to fix Arsenal
Chin up, Arsenal fans. At Stamford Bridge on Sunday, the Gunners may well have produced a first-half performance that was as slack as Keanu Reeves's face – but the expressionless wonder usually gurns on for a lot longer than just 45 minutes.
One might argue that, having only recovered to a 2-1 defeat from their half-time deficit, Arsene Wenger had the right idea. After all, it has become apparent from Friday's events on the south coast that to better such a result against Chelsea is to bring upon yourself a bad case of spontaneous non-voluntary unemployment. No-one would begrudge a mite of managerial paranoia these days.
GOOD WEEKEND


Adam Le Fondre
Two goals to snatch Reading victory from the jaws of defeat against Newcastle: Not bad. Having a name that sounds French so that the Magpies might accidentally buy you in the event that they stay up at the Royals' expense: Even better.

Aaron Lennon
These days, skinning Patrice Evra is easier than guessing Geoff Hurst's pin number ... but Lennon makes it look even easier than most.

Michael Owen
A goal! A goal! Michael Owen did a goal! No, honest, he really did!
With that particular overachieving bullet dodged, however, Arsenal will actually have to do better next time. Luckily,
MTW
is on hand with a few helpful tips which should have things turned around quick as a flash.
1) Sit down with Wojciech Szczesny and explain again the difference between a goalkeeper and an overexcitable puppy. Make sure that he has them in the right order.
2) Find out exactly who Francis Coquelin is, where he came from and what it is that he is supposed to do.
3) For the love of all that is good and true, just play Theo Walcott as a centre forward already.
4) Keep coyly hinting at press conferences that rumours linking you with an unfeasibly hefty bid for Edinson Cavani might have some truth in them. Fans will appreciate your willingness to let them dream even when it is eventually revealed to be total hogwash; you will be rewarded with louder, more inspirational support.
5) Replace Bacary Sagna with a portaloo.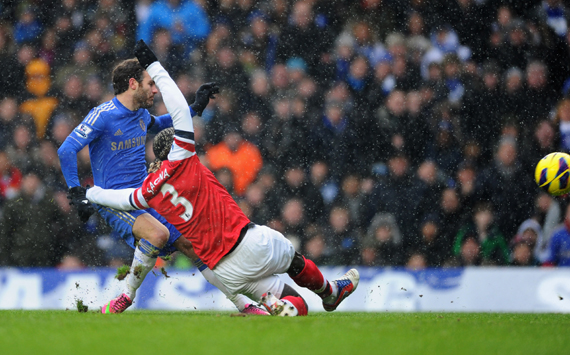 Hands up if you're a worse right-back than Carl Jenkinson!

Quote of the weekend

"I'd love nothing better than to see him in a red shirt"
- Well, Wesley Sneijder's new Galatasaray shirt is half-red; will that do, Steven Gerrard?
A hard man to please
Nicola Cortese (Southampton)
After a daring night-time raid of the St Mary's Stadium filing cabinets,
MTW
has obtained a copy of the checklist against which Southampton chairman Nicola Cortese examined Nigel Adkins's performance as manager.


[x] Year one: Promotion from League One[x] Year two: Promotion from Championship[ ] Year three: Promotion from Premier League (note to self: find out what next league up is called)[x] Top half of the Premier League form table[x] Higher win percentage at club in over 100 years


BAD WEEKEND


Communal decision-making
First Ramires cynically holds the ball up to win a penalty rather than just gloriously blast home into a vastly empty net - then, 20 seconds later, Martin Atkinson laws-defying hands Wojciech Szczesny only a yellow card for denying a clear goalscoring opportunity. From joy-sacrificing efficiency to inane compromise of sense in quick succession; both parties need to take a long, hard look at themselves.

Luis Suarez
Liverpool score five goals against Norwich City and the Uruguayan uberpoacher only nets one of those? You are losing your touch, Luis.

Managers
Think Nigel Adkins had it bad? It gets worse. Olympiakos fired coach Leonardo Jardim on the same day as the Saints boss was told to march on out - despite the Greek side being 10 points clear at the top of the league and in the Europa League round of 32. Still, he probably had it coming.
[ ] Cool beard[ ] Win any Nobel Prize[ ] Bring peace to Middle East[x] Tell difference between Pepsi and Coke

[ ] Will dance 'Gangnam Style' if I give him biscuits
[ ] Beat Wigan at home


Getting the excuses in early

Loic Remy (QPR)
Loic Remy, as we know, has not joined certain-to-be-relegated QPR just to pick up six months of astronomical wages before activating a painless release clause.
We know this because the Frenchman scored almost immediately on debut, netting a vital goal against West Ham in a statement of intent. In no way will the 26-year-old be putting effort into making a good first impression and then coasting on excuses until June as soon as their position becomes any more hopeless than it already is.
"When I'm 100 per cent I can do very good things," Remy declared after the game. Excellent! We look forward to that. Oh? The sentence isn't finished yet?
"...But when there's something not right in my head, something bothering me, then it becomes a bit difficult..." Oh. Well, that's obviously referring just to really serious, life-affecting changes and is unlikely to have any relevance.
"...The physios say to me that I'm like a Formula One car. Whenever I've got a small problem, it's straight into the pits." Uh-oh.
To recap: Everything will be fine ... until Remy breaks a fingernail during a game. Or somebody takes his parking space at the training round. Or Yann M'Vila, he of the screws-loose temperament that scared away elite clubs, gets anywhere near Loftus Road - which would never happen, of course;
MTW
is only kidding.
Oh? "We're still working on it," quoth Harry Redknapp. Whoops.
Follow George Ankers on