By
George Ankers
The Premier League's biggest fan
The news that Pep Guardiola is to take over at Bayern Munich has been greeted by some as a damning snub to the Premier League. Despite batting his eyelids at the self-styled 'greatest league in the history of the universe', the tastefully sweatered philosophocoach may, it is said, have dealt the blow that loosens England's grasp on world dominance.`
So they say – but nothing could not be further from the truth. Behold the reasons why Guardiola's
Deutscherodyssee
is in fact nothing but the greatest compliment to the Prem Party...
1) Chased by so many Premier League clubs, Pep could not bear to favour one over the others, so virtuous and worthy of respect are they all.
What Fulham learned this week...


A bear is a bear, even if it is a giant Dutch teddy bear called Martin Jol, and poking bears rarely goes down well. Refusing to offer an extension to his contract after a series of disagreements, the Cottagers now find themselves with a disgruntled grizzly on their hands. At least there's a good chance that Dimitar Berbatov has a collection of gourmet honeys in his kitchen, though, so WWLTW is hopeful that Big Uncle Martin can be pacified.
2) Pep dare not let his being in the picturesque lands of England ever become normal or routine. Limiting himself to infrequent visits in the Champions League will better preserve the sense of wonder held by the country.
3) Rumour has reached Pep that the Prime Minister of Premfacery himself, Richard Scudamore, is secretly a Bayern fan. The Catalan would do anything to please such a bastion of integrity.
4) Many Premier League stars would never dream of signing for a club in a rival division. At Bayern, Pep could unite all of his heroes (including such luminaries as Wayne Rooney, Juan Mata and Jack Colback) in a fantasy-football style
wunderteam
.
5) The greatest league in the world is already at such a zenith of greatness that there is not a single way in which Pep could improve it. He would rather gaze from afar at its total perfection than risk ruining it. What an English hero he is.
Photo of the week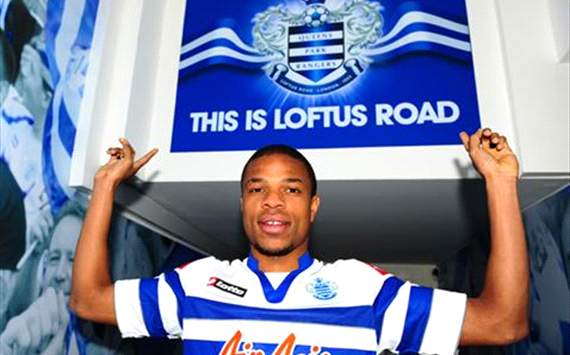 Loic Remy smiles before spray-painting "until I bleed your club so dry with your crazy dream-wages that it is repossessed and turned into a donkey reserve" under the sign

Luis Suarez: The Scouse Whisperer
Many denizens of Liverpool will tell you that being a Scouser is a very different thing to being English or British, that they feel a nation apart.
WWLTW
is not here to make any geopolitical judgements but it is clear, at least, that there is a language barrier between the fine city and the rest of the country.
Luis Suarez is our linguistic patient zero, the man in whom the differences are most clearly highlighted. For, when the Uruguayan says "I invented a foul", the Premier League population hear wildly different things.
Across most of the country, those words translate as: "I'm a walking PR disaster! Please add 'deliberately breaks the rules' to your vast list of quarrels with me". In Liverpool, they hear: "Goals goals goals I am your best player by a comical margin goals goals goals".
What we will learn this weekend...


Enraged by Pep Guardiola's ultimate refusal, this should be the weekend in which we finally see Roman Abramovich's true colours. One of two things is likely to happen; either the Russian roublemeister will turn green, rip his clothes off and Hulk a path of wanton destruction across Stamford Bridge, or he will at last embrace his inner Bond villain and start feeding visiting Arsenal players to a tank full of piranhas. Either way, it'll be worth watching.
The silver-tongued Suarez knows just how to address his Scouse fans in a way that makes them believe everything he says and see it in the best possible light. This way is, of course, "any way at all".
So, when he spouted brainlessly that "Manchester United control the media" – a conceit more widespread and ridiculous than Nicki Minaj – a legion of dunderheads echoed his cry. Now even Brendan Rodgers is in on it, apparently, for daring to give him a verbal clip round the ear for his painful lack of tact.
In fact, to show the Red ruffian just how wrong he is about United's vicelike grip on what the media say, allow
WWLTW
to prove otherwise...
Did you know that Michael Carrick
[REDACTED – Ed.]
Don't get too comfy with the new (old) name
It was a week in which Demba Ba scored again for his new team, Fabricio Coloccini continued to teeter towards a move back to Argentina, Cheikh Tiote took off for the Africa Cup of Nations, Hatem Ben Arfa revealed his desire to join "Chelsea, Arsenal and Liverpool", Loic Remy chased the dollar-signs to QPR and the entire concept of goals deserted Newcastle at Carrow Road.
At this rate, it would be no surprise if St James himself turned up at his titular Park and asked politely if they could take his name off all the signs. "Sorry, lads," he may well squeak, "but the boys at St James' Loftus Road offered me such a good deal."
Follow George Ankers on