On a busy weekend of sporting action, there were a few highlights to be found on the box, and of course, the world of football just could not stop tweeting about it all.
Whether it was Barcelona facing off against Atletico Madrid, with
El Tigre
(or Falcao, as he's generally known) doing battle with the best footballer who ever did kick a football Lionel Messi, or the BBC's annual Sports Personality of the Year Award, you just could not escape the two on Twitter.
And so, we delve into the murky world of the
Word on the Tweet
...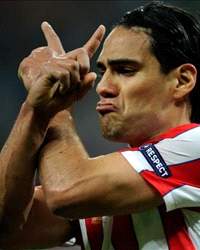 "Falcao is the best number 9 in the world. Amazing"
Jose Enrique
was one of those keeping up with the events in La Liga, as the Colombian striker launched his side into the lead with the prettiest dink you ever did see.
"Oh wow adriano stop itt!!!!!!!!!"
Not to be outdone though,
Barcelona
were soon back on level terms thanks to a wonderstrike from
Adriano
which
Ravel Morrison
(currently on loan at
Birmingham City
from
West Ham
) was certainly pleased to see.
"Don't even have to say his name 90 goals............ Wow"
But alas, you just cannot keep the goalscoring machine that is
Messi
down, with
Aston Villa
midfielder
Gary Gardner
saying what we were all thinking. Almost.
"@sylvaind15tin happy birthday MuMu Ur my role model God Bless You"
Steven Pienaar
wishes... Mumu...(?) a happy birthday.
Sylvain Distin
, I'm sure, knows exactly what the South African midfielder is talking about.
"Thanks for all your kind birthday messages. Just for the record, I turned 25, not 35 today... I wish ha ha ha"
Meanwhile,
Distin
dispells rumours that he could be lacking a yard of pace by jumping in a time machine.
"Congratulations to Bradley Wiggins winning #Spoty"
Rio Ferdinand
was among the first to send well wishes to the winner of the Sports Personality award (or Spoty, as all the cool kids are calling it).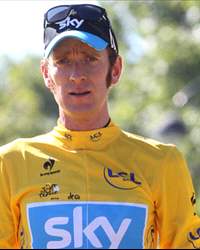 "Bradley wiggins is my hero #EnjoyOurKid"
Leicester City
defender
Zak Whitbread
was in a jovial mood after meeting his hero and the man bringing back mutton-chop sideburns.
"What an unbelievable night. Only surprise was that Mo didn't make the Top 3. Had a lump in my throat most of the night. What a sporting year"
Michael Owen
reveals his surprise that multiple Olympic gold medallist Mo Farah wasn't in the running for the award.
"It's an honor to be at the BBC gala with @VincentKompany to represent @MCFC as Premier League champions!"
While
Sergio Aguero
was just happy to be there for one of the strangest moments of the night as the audience engaged in a Poznan-style celebration to welcome the Argentine, Vincent Kompany, and the Premier League title.
"Well done England's cricketers on winning the test series in India. Brilliant end to a sensational sporting year."
And to round things off,
Gary Lineker
had his mind on things besides football with the England cricket team breaking a 28-year hoodoo in India.