By
George Ankers
Put a sock in it
Brendan Rodgers
Oh, Brendan. You were
that close
to having dug Liverpool out of 'openly hilarious' status. That close.
Having cajoled a more-than-passable Jairzinho impression out of Glen Johnson only a week ago, not to mention finding a use for Joe Cole beyond that of a cumbersome paperweight, Rodgers' stock was high.
Considering the standard of defending in the Premier League, many noted, Liverpool's improving sequence of form could yet make them top-four contenders. A plausible conclusion on the available evidence.
GOOD WEEKEND


Jack Wilshere
The young midfielder is keen to sign a new contract at Arsenal. Great to see a young English prospect willing to develop at a lower-league club.

Marouane Fellaini's hair
If the Belgian brawler had a short back and sides rather than the 'Fro of Fortune, he would be public enemy No.1. Instead: Loveable maniac.

Robin van Persie
The Manchester United sharpshooter sells more XXL replica shirts in North America than any other Premier League player. No mean feat when the Red Devils' home kit this season is among mankind's worst atrocities.
It's great to have such things said about your team, of course, but B-Rod is clearly yet to learn the First Law of Aspirational Mid-Table Premodynamics: Play down expectations.
(The Second Law, by the way, is 'Sign Peter Crouch' – scientifically speaking, it will be interesting to see how that one plays out next summer.)
When your players are being talked up but the table still has you well away from your target, the sensible manager bangs on and on and on about focusing on putting in the work before getting carried away.
Nobody enjoys listening to it and, doubtless, managers do not enjoy saying it, but it is psychology at its most basic. Not only do you keep your players on track but you also avoid looking like a fool when things go wrong.
So Rodgers' wondering, almost absent-mindedly, before facing Aston Villa that the Reds could finish as high as second was nailed on to blow up in his face as quickly as possible.
MTW
would have understood completely if the Liverpool players had thrown the game just for comic effect.
Lesson learned, then, eh Brendan? Turn off the reactionary enthusiasm. Start churning out those by-the-numbers stock phrases. Goodness knows you love a buzzword...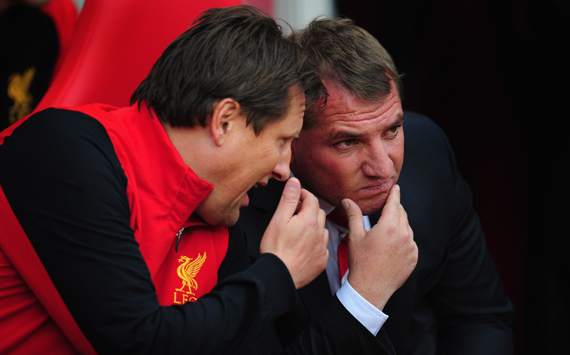 "Repeat after me, Brendan: 'One game at a time...'"
Quote of the weekend

"Hate to see diving in the prem. stay on your feet shawcross"
- Robert Huth skewers Ryan Shawcross on Twitter after his Stoke City team-mate was beaten, murdered and thrown in the nearest river by Marouane Fellaini and his hair
MTW Mailbag
Dear Netizen,

This is a missing persons notice. We have been informed by a Mr Redknapp of Loftus Road that a young man named ADEL TAARABT has been missing from his home in London for several weeks.

Mr Taarabt, a 23-year-old of Moroccan descent and athletic build, has not been seen since Mr Redknapp moved into the area.

"There's a fella hangin' around who doesn't look no different from Adel but there's no way they're the same lad," our concerned informer told us.


BAD WEEKEND


Fernando Torres
Whoops. False alarm again. Sorry about that. Must have eaten something funny. Still, at least the world is ending on December 21 and his torment will finally be over.

Brazilian football fans
Those "Champions of Everywhere, we know what we are" chants from Corinthians are going to get hellish and irritating for everyone else over the next few months.

People looking at recent results, shrugging and betting on Wigan being relegated
You've been here before. You know it won't end well for you.
If you or anyone you know can offer any information as to where the real Mr Taarabt may be found, please call the hotline (0800-ANEWMAN). According to witnesses, the subject may be dressed as a giant fruitcake.

Don't have nightmares,

The Metropolitan Police


Nasri injury has Man City worried

In the miracle-sodden Christmas season, it is important to remember that bad things do still happen to good people despite the goodwill in the air.
For Manchester City, the news that Samir Nasri had picked up a groin injury against Newcastle prompted winter worries that chilled staff at the Etihad Stadium right to the bone.
"We're all in shock," Deirdre Beefhammer, City's tea lady and Head of International Espionage, told
MTW
. "There's a very real threat that Samir could be back in time for the Reading game on Saturday. I don't know what we'd do then.
"Roberto Mancini would almost certainly play him, if fit, in as many of our winter fixtures as possible. It's got everyone on edge and you just don't want that at this time of year.
"We've got some tough away games coming up and the prospect of Samir holding us back through those ... well, it just doesn't bear thinking about, really. It's put me right off my egg nog."
Follow George Ankers on