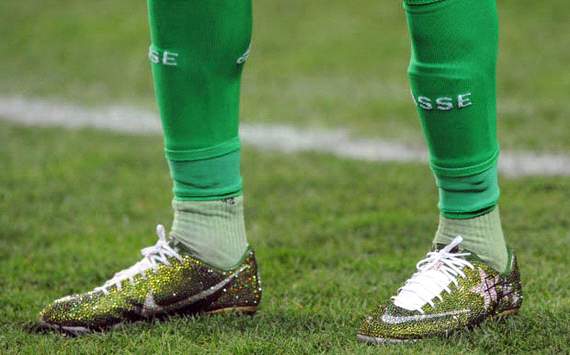 Yes, they are a pair of crystal-encrusted boots were worn by Saint-Etienne striker Pierre-Emerick Aubameyang on Sunday while warming up for their clash with Lyon.
The sparkling Nike Vapors that the Gabon international, 23, strutted cost £2,500 according to Gentside Sport.
The glittering effect was created using 4,000 Swarovski crystals which took 50 hours to complete by Orravan Design.
Saint-Etienne lost the derby 1-0 against the 10 men of Lyon, so perhaps Aubameyang should have taken a chance and brought a bit of glitz and glamour to the Ligue 1 clash!
Extra Time believes it's only a matter of time before the fashionistas of the footballing world - Cristiano Ronaldo and Co. - hear about this stunt and decide to push it further by wearing the boots during the actual match.
Or perhaps it is inevitable that attention-seeking superstars throw aside their crystal boots and replace them with ones fitted with pure gold studs or with diamonds encrusted around the edges!