By
George Ankers
Harry Redknapp renders all life essentially meaningless
Ahhh, Harry Redknapp is back in Premier League management. It's like putting on your favourite woolly jumper for the first time since last winter. Except that your jumper covers your whole face and you have to wind down a window over your mouth to be able to speak through it.
And, while you wear that jumper, people keep asking you if you plan to buy any matching gloves. "Do these go with the pattern?" they ask, shoving the pair roughly in your face. Then they point at passers-by. "What about their gloves? Or theirs?"
MTW
did not welcome Redknapp's appointment at QPR as enthusiastically as some. The news served mainly as a way to remind this column of its own mortality.
GOOD WEEKEND


Sean Morrison
The Reading defender recently gave Twitter its greatest ever footballer hashtag - his breakfast-evaluating #cerealquest - and followed it up with a superb goal celebration. Forget Wayne Rooney; this is a player who you can really idolise.

Nicola Cortese
Strongarming Southampton into spending all their pocket money on Gaston Ramirez rather than a new defence looked riskier than a convention of world-domination-themed board-gamers when the Uruguayan quickly got injured; his twinkle-toed man-of-the-match performance against Newcastle must have settled a few of the chairman's nerves.

Andy Carroll
His first goal for West Ham removes a monkey from his back; the collective noun for his remaining spinal apes can be downgraded from 'zoo' to 'cluster'.
It was a move that we all saw coming from such a long way off. Even the process of the news breaking was staggered so gradually as to make the "BREAKING:" Twitter prefix utterly redundant. It just happened continuously over a 24-hour period, having been telegraphed in a two-plus-two manner for months. This job was made for him.
A journalist even called Mark Hughes "Harry" to his face in a press conference, a full two weeks before the Welshman lost his job. How was that allowed to happen? Football has just accepted this transition as preordained fact.
Hughes did not even respond with any violence, a pretty sure sign that he knew it just as well as all of us. Tony Fernandes backed his incumbent boss so vigorously and frequently that he might as well have tagged his Twitter biography with the disclaimer: "Parody".
And so the obvious has come to pass and all that
MTW
can think about is the inevitability of destiny. Our future is not in our hands.
This column was going to go for a run on Sunday morning but, just as it laced its shoes, it thought: "What's the point? Harry Redknapp is QPR manager now. If
MTW
is meant to lose weight, it'll happen anyway." It ate a doughnut instead.
Redknapp had to become the manager of QPR. There is no free will. All things must die.
MTW
probably won't ever fit into that waistcoat. Hooray for football; bringer of escapist joy.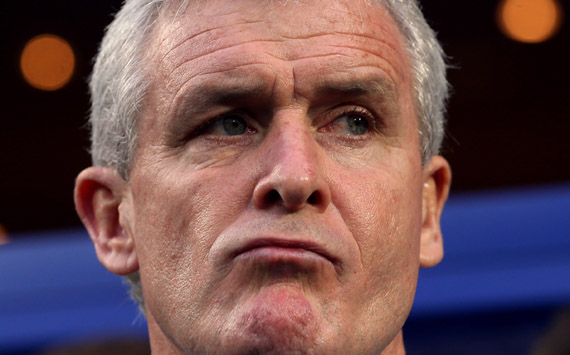 "I think I'll go and sit in my pants on the couch and cry for ever and ever"
Quote of the weekend

"David could still be a great asset to anyone"
- For goodness' sake. It takes less than 24 hours in the QPR job for Harry Redknapp to start coyly discussing transfer targets like a certain Mr Beckham

MTW Mailbag
Dear
MTW
,

I've ffffound the c-cure for th' hangover frrrrom the Eur... Errop ... whatever ... League. Itsss ... see, the secret is: Ssssshtay DRUNK!
BAD WEEKEND


Sir Alex Ferguson
After a week in which we all credit the Manchester United boss' extraordinary longevity, signs of senility started to show themselves. No, Sir Alex! DON'T keep rotating Anders Lindegaard and David de Gea! We've been over this just a couple of weeks ago! He'll be having conversations with the statue next.

Charlie Adam
Two home games, two winning goals. Yet, still, Michael Owen's moustache is the most talked-about thing at Stoke City.

Arsenal
Only one shot on target against Aston Villa - and even that was just a well-aimed jibe from wisecracking Lukas Podolski about Barry Bannan's hair colour.
I-I-I lllllLOVE you. Yer me best friend.

A. Villas-Boas, London
Dr Rafa is in

"No, no, Roberto. This just won't do," Chelsea owner Roman Abramovich fumed as he took the Italian into his office on Wednesday.
"I can't stand this mess! What's all this about? Who are these people? Juan Mata? Oscar? Where's that guy's last name?" Flustered and close to hyperventilation, the cuddly Russian gripped the back of his swivel-chair and paused before spluttering: "E-Eden Hazard? What sort of name is that anyway?"
His eyes bugged out and his nostrils flared. "And the football! It's dizzying! I know I look like a gangly teenager who's just discovered facial hair but I'm older than I seem – all these fizzing passes and close interplay is terrible for my blood pressure. I need dull, Roberto, and you can't give it to me."
"No, boss!" wailed the odd-looking man*. "I can change! I can untie Florent Malouda and let him out of the dungeon!" But it was too late.
On Sunday afternoon, Stamford Bridge was silent. Thousands sat rigid, paralysed by the dirge of a 0-0 so funereal that they were laying flowers by the corner flags. Across the country, football fans were comatose after three of the four televised matches that weekend were as goalless as a gap-year student.
One man sat contentedly, breathing deeply and smiling. "Aaah, that's more like it," sighed Abramovich. "I can't wait until we can lure that Guardiola fellow from AC Milan."
*He is odd-looking, isn't he?
Follow George Ankers on