By
George Ankers
There is nothing that Zlatan can't do
Zlatan Ibrahimovic can do with an orange anything that Cristiano Ronaldo can do with a football. Zlatan Ibrahimovic can turn water into wine. Zlatan Ibrahimovic can believe it's not butter.
Zlatan Ibrahimovic can finish a Sudoku using only six numbers. Zlatan Ibrahimovic can speak Esperanto. Zlatan Ibrahimovic can sit through an episode of 'My Super Sweet 16' without resorting to self-harm.
Zlatan Ibrahimovic can lick his elbow. Zlatan Ibrahimovic can climb up walls. Zlatan Ibrahimovic can pop a tube of Pringles and then stop.
Zlatan Ibrahimovic can hit seven runs off one ball in cricket. Zlatan Ibrahimovic can turn a temporary tattoo permanent. Zlatan Ibrahimovic can speak Dog.
What else we learned this week...


Footballers should not be told how many international caps they have. Reaching 100 only encouraged Steven Gerrard to go even more into "all-about-me" mode than usual, his relentless desperation to shoot from anywhere for a fairytale goal summing up too many of the 99 caps that preceded it.
Zlatan Ibrahimovic can watch a pot boil. Zlatan Ibrahimovic can count to 10 on one hand. Zlatan Ibrahimovic can hold his breath underwater indefinitely.
Zlatan Ibrahimovic can understand what Bubbles from 'The Wire' is saying without subtitles. Zlatan Ibrahimovic can simply walk into Mordor. Zlatan Ibrahimovic can fix it quicker than Bob the Builder.
Zlatan Ibrahimovic can speak Unicorn. Zlatan Ibrahimovic can tell the difference between Pepsi and Coke. Zlatan Ibrahimovic can envision and then score an overhead kick from 30 yards out on the wing.
Still overrated, mind.
Photo of the week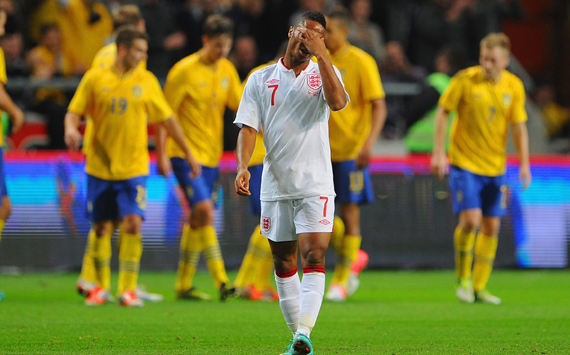 "And a week in Jamaica would have been lovely at this time of year..."

Joe Hart: Not all that
There are two ways in which you can look at this... Either Joe Hart has added some much-needed creativity to his game by providing more assists, or he's nowhere near as good as some would have you think.
English fans and media like to cling on to the notion that there is some kind of "world-class" talent in the national team. It gives them comfort, like a cup-a-soup, a warm blanket and a comedy DVD box-set do for
WWLTW
when it has a cold. And boy, have England's noses been running in recent years.
For a while, Wayne Rooney was the man trumpeted wildly even if all the evidence suggested that he wasn't actually doing very much for the national cause. Sometime in 2012, however, that torch was thrust unceremoniously into the hands of Joe Hart.
Acutely aware that there were absolutely no other vaguely competent goalkeepers in the land, advocates talked the Manchester City star up like there was no tomorrow. One very good season, a few great saves and a refreshing honesty in interviews apparently added up to him being on the same level as Gianluigi Buffon, Iker Casillas and Manuel Neuer.
What we will learn this weekend...


When two sides packed full of international stars all burned out by pointless midweek globetrotting are put in the traditionally anaemic 12.45GMT kick-off, we will learn that yes; it is possible to ruin the north London derby. Moving games for TV audiences is all very well but who actually wants to watch players at 50 per cent?
WWLTW
rates Joe Hart but this season he has been more bad than good. A culture of no competition and no criticism has unsurprisingly produced errors more frequently than performances such as his herculean effort against Dortmund.
A nice, healthy kick up the backside by capping Celtic's impressive Fraser Forster at the next opportunity wouldn't go amiss – as long as nobody labels HIM 'the next Dino Zoff'.
Neymar is just a Brazilian Charlie Adam
Yes, yes, he scores bagfuls of goals with the practised ease of a neurosurgeon tweaking his millionth career brain.
But, with his frankly hilarious attempt at taking a penalty for Brazil against Colombia in the wee hours of Thursday morning skied so high that it looked like an attempt to make contact with alien life, is Neymar not just a samba version of Charlie Adam?
A level above Sergio Ramos' patented penalty parody, the
Selecao
sizzler should have known what was coming when he started his run-up with a deplorable 'Strictly Come Dancing'-style sideways jig. Off it flew, above two or even three hypothetical goals, just like the now-Stoke City man's viral megafail in last season's Capital One Cup final.
He may have a little more raw talent than Charlie 'the Dundee Dazzler' Adam but we'll have
Neymar
of that, son.
Follow George Ankers on