By
George Ankers
Barcelona's patented preaching to the irritated
"You can take our ball ... but you can never take our freedom!" shouted absolutely nobody at all on Wednesday night, as that would be the sort of demeaning national stereotype to which
WWLTW
has categorically never played. No, sir! Ahem.
It is a shame that nobody shouted such a thing, however, as it would have made a superb point about Celtic's defeat of Barcelona.
In an even more exaggerated dominance than usual, the visiting Catalans had 83.6 per cent of the possession at Celtic Park. They completed nearly 1000 passes, more than six times the amount that the home side could boast.
It is an approach for which Barca have been lauded extensively by football observers everywhere. They hold the ball for three straight minutes in midfield and the "ooohs" and "aaahs" start on Twitter, bouncing from viewer to viewer to viewer to viewer to viewer like ... you can probably finish that simile yourself.
Tiki-taka has long since stopped being a tactic. It is now a cult, protected by its servants with feral vigour rarely seen outside of Twilight fans (who themselves are rarely seen outside).
What we weren't allowed to learn this week...


The hilarious power cut in Braga on Wednesday was a gigantic missed opportunity for football. Instead of waiting 10 minutes to resume under 'normal' conditions, the match should have been allowed to continue. The true greatness of the likes of Robin van Persie would have been properly tested by being forced to play in the dark.
Sure, Barcelona regularly demolish all comers in La Liga – and plenty in the Champions League, as well. But, when finances are so uncompetitively skewed as they are in Spain, that is to be expected.
This makes a lot of people go gooey-eyed when they see the possession percentages, regularly found in the 60s and 70s. But the stat that really matters is goals and, it turns out, you only need 16.4% of the ball to be exactly 100% better at scoring.
This happens now and then because the evangelistic Barca have steadfastly refused to invest in any kind of Plan B in the belief that it would somehow cheapen football, belittle the Catalunyan people and possibly also end the world.
Well, congratulations, Blaugrana. The sky may not be falling but stubbornly losing is a lot uglier than you make it look.
Photo of the week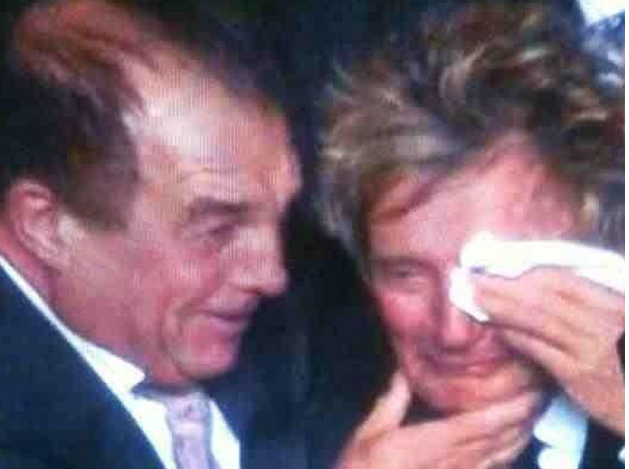 Rod Stewart reacts to news that Federico Macheda is set to leave Manchester United (probably)

What's keeping Tottenham? Nothing
Whatever happened to the controversy over Andre Villas-Boas' goalkeeping selection?
For weeks and weeks now we have been hearing endless whining about how Brad Friedel is good but not as good as Hugo Lloris would be if given the No.1 role. On and on it went as the Tottenham boss delayed dropping his incumbent keeper until he did something for which it would be worth being dropped.
And now, in the space of five days, both have now conspired to prove themselves past it and useless, respectively. Well done, all involved.
Against Wigan, Friedel punched a ball about as hard as a pensioner can be expected to punch anything and Spurs consequently lost the match. It gave Lloris a way into the side.
What we will learn this weekend...

Look out for Chelsea, who proved themselves in midweek acutely able to win games that they should have lost, meeting Liverpool, who have repeatedly proven themselves uncannily capable of losing games that they should win. We will finally learn what happens when the opposite of an unstoppable force meets the opposite of an immovable object.
Missing an open goal is usually a good thing for keepers but not on this metaphorical occasion. The Frenchman made himself look all kinds of stupide against Maribor, offering a suicidal pass to the under-pressure Kyle Naughton on the flank, then looking surprised when he received an even worse ball back and gently kicked it against the onrushing striker for an easy goal.
Clearly, this whole debate has been a complete waste of time. Spurs will have to bin both of these dunderheads and search for a new goalkeeper altogether. Maybe another two – obviously putting them in direct, unnecessary competition really brings out the best in both.
Either way, Carlo Cudicini must be pretty narked off.
Quality gets its rewards in the end
Jermain Defoe may be a little peeved, as well. Overlooked by England in favour of Daniel Sturridge, who was briefly useful as a left-wing shock trooper in the autumn of 2011 but has been all talk and no walk ever since, the striker has been very harshly done by.
WWLTW
has not got time to keep moaning about that, though. It has party preparations to make.
There are fanfares to be parped out of trumpets, banquets to be roasted and giant banners reading: "Welcome to the England squad, Leon Osman" to be displayed. That last part will not take long to get ready – they have been hung up expectantly on this column's wall since 2006.
The owl-like Roy Hodgson picks some strange players sometimes and hoots blabbermouthishly on public transport too often but it is genuinely delightful to see a long-unsung hero rewarded. So the cake's on
WWLTW
. Hooray!
Follow George Ankers on