By
George Ankers
Come back, Capital One Cup; all is forgiven
Wasn't the Capital One Cup supposed to be an inconvenience?
Not long ago, people would laugh if you expressed any kind of desire to win the runt of the English trophy litter. The Mickey Mouse Cup, they used to call it. Well, between this and buying the rights to Star Wars, ol' Mickey has had quite the week.
WWLTW
had got used to the Capital One Cup meaning nothing. It had other plans this week. Football is a relentless beast and this column had quite happily written the competition off as a chance to catch up on the rest of life's business.
But it had to put its teach-yourself-beatboxing book straight back down again when Reading 5-7 Arsenal grabbed its attention like Vinnie Jones saying hello to Paul Gascoigne. The next day's Chelsea 5-4 Manchester United rudely interrupted its tai chi.
It tried not to care – but how could you not get swept up in such total nonsense? Sure, apart from one quite hideous 0-0 in Wigan (which still turned up a remarkable upset for League Two Bradford City), it was a defending bomb-site. But that's OK.
What Everton learned this week...


The Toffees are just a frustrating, anti-football side. No, really. It came as news to them, after Kevin Mirallas tore Andre Wisdom to shreds with the ball on the ground on Sunday, but Liverpool captain Steven Gerrard helpfully stepped in with a lecture on long passing. What a relief! No longer must Everton continue to live a lie.
As England's best operated with back fours apparently comprised of the drunkest revellers from nearby Hallowe'en parties, football's indifference to the Capital One Cup soared off the top of the charts only to reappear right at the bottom again.
After months of wall-to-wall depression as the sport danced a merry jig down a backward path on social issues, we all deserved a week of madcap meaninglessness to remind us that football is supposed to be fun at its core.
Serious documentaries are fine and intellectual and all that but now and then you just want to watch things blow up while shoving popcorn into your mouth. If this competition will be the 'Commando' to the last 12 months' 'The Colour Purple',
WWLTW
doesn't mind it sticking around after all.
And just think – if Arsenal will push for seven goals in a competition that is admittedly their fifth priority, how many are they about to start scoring when it really matters?
Photo of the week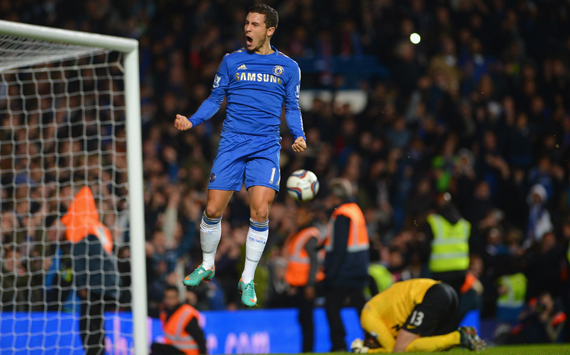 If Eden Hazard can actually FLY, Chelsea should be disappointed with just the five goals...

There's revolution ahead in the Nani state
There is still a sizeable portion of Manchester United fans who think that Nani is a world-class footballer.
These are the sort of people who add themselves into Fifa 13 as Pele-bothering wonderkids, prefer Cristiano Ronaldo to Lionel Messi, and like Transformers 2. They are irreparable, industrial fools.
Bad news for these guys, then, as they will soon have to become "die-hard" supporters of Zenit St Petersburg, Besiktas, West Ham or wherever it is to which the winger gets shipped out. Because, make no mistake, Nani is offskis.
What we will learn this weekend...


The fate of Mark Hughes! If QPR's megabucks forward line can't finally find a win against a Reading side who threw THAT lead away on Tuesday, it must be curtains for the big man. That, plus the fact that Shaun Derry's Movember contribution last season was an old-style fighter-pilot spectacular, make Sunday lunchtime's kick-off the must-watch match of the weekend.
The yea-sayers will point loudly and gratingly towards his admittedly quite stunning finish on Wednesday as proof of his value. The intermittent flashes of genius, though, are why the endless long-range hoicks into Row Z are so infuriating.
True to form, the Portuguese undermined his moment of glory by handing Chelsea the initiative late on in normal time. His selfish dash forward, doubtless with a view to stepover or three, prompted the sort of public anger from Sir Alex Ferguson not often shown.
The Scot's patience, which has been far longer than
WWLTW
's, appears to have snapped for good. Expect to see Nani on a plane as early as January – and don't be surprised if the aircraft collides with one of his still-lifting 40-yarders at 10,000 feet.
All things considered, United probably would have been better off hiring Nanny McPhee from the get-go. At least she might have been able to sort Ravel Morrison out before it was too late.
A recently imported, totally untested 18-year-old is not a suitable second-choice striker and Liverpool are still utter birdbrains for having put themselves in such a situation
'Nuff said.
Follow George Ankers on