By
George Ankers
Arsenal need to offer better value for money
One thousand, nine hundred and fifty-five pounds. That's £1955. Picture that amount of money in your mind. Imagine it in the five-, 10- and 20-pound bills that define most of our day-to-day existences. You are now imagining quite a hefty pile of money.
That pile of tinted paper is what Arsenal charge for the most expensive season ticket in British football, a
BBC
survey revealed on Thursday.
Make no mistake:
WWLTW
likes football. This column thinks that football is right up there with mashed potato, curly straws and Louis Armstrong's 'What a Wonderful World' as one of the best things that the world has to offer.
But £1955 for even the best seat in the house at a football ground? To watch Vito Mannone? That's right up there with Fox's unjust cancellation of American space-western TV show 'Firefly' in 2002 as one of humanity's lowest points.
Many Gunners fans have been irritated for some time at the high prices being charged for not a lot of obvious spending increases on the team. Some are restless. They want more for their money. And
WWLTW
agrees.
What West Ham learned this week...

Sam Allardyce can clearly look forward to a sweet bargain price on Andy Carroll this summer if the Hammers stay up. With Brendan Rodgers ruling out a recall for the intermittently apocalyptic striker despite being forced to name his hamster, Mr Giggles, on the bench as an emergency forward on Saturday, the beanpole's time-cake at Anfield could not be more cooked.
If Arsenal are set on demanding such hefty sums for the privilege of a trip to the Emirates Stadium, they should back it up with a bit of extra value for money. For £1955,
WWLTW
wants Abou Diaby to sit next to it, pointing out interesting things about the game as it is being played (let's face it, chances are that he won't be fit enough to be actually out there on any given matchday).
For £1955,
WWLTW
wants Mikel Arteta to whisk it into the stadium via a less crowded entrance, taking off his Gunners-colours jacket to lay over any wet patches on the floor as it walks up. For £1955,
WWLTW
wants Emmanuel Frimpong to hand out some free '#DENCH' merchandise at the end of the game. (Actually, he can keep the baseball cap. Thanks but no thanks.)
Arsenal aren't the only offenders, of course. At £4, Leeds United market the country's most costly matchday programme. Mind you, someone has to fund Ken Bates' debilitating caviar habit. The man works hard.
Photo of the week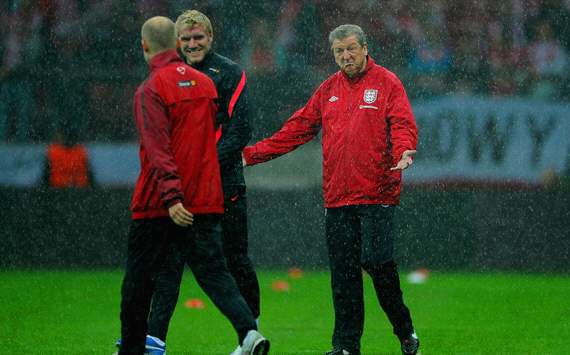 "Anyone got any idea what Tom Cleverley actually does?"

England's FA might not be all that bad
Everyone loves a good moan about the Football Association every now again. It's cathartic. In fact, if you'll excuse
WWLTW
for a second ... THE FA IS RUN BY FLUFF-GUTTED AGE-ZOMBIES!
Ah, that felt better. Where were we?
Yes. The FA. Bad, sure, but maybe not as bad as it could be. England's senior and Under-21s sides this week both witnessed some truly magnificent administration on behalf of Poland and Serbia, respectively.
Congratulations must be extended in particular to the Polish, who actually managed to get a game postponed due to rain in a stadium with a roof.
"We can't close the roof because of the rain," is a thing that was literally said by people who meant it seriously and were not kidding. And so play was called off due to the rain. It was as if cricket had finally taken off in Eastern Europe. (Actually, are we sure that the Polish FA isn't run by the England and Wales Cricket Board? It would explain why they were able to out-incompetent the FA...) Anyway, luckily the match was well worth the wait in the end. Oh.
What we will learn this weekend...


...That it's absolutely, definitely nothing personal between Andre Villas-Boas and Chelsea. "No, of course it's not about revenge," the Portuguese will declare in his pre-match TV interview. "Why, did they say anything about me? Did they seem scared? I mean, er, ha! I don't care! Chelsea who? As if! Right?" Expect the hoarse whisperer to bring himself on if it's still level pegging with five minutes to go.
Serbia's governing body, meanwhile, buried its head so far under the sand over the issue of clearly audible racial abuse that it will be shaking grains out of its ears for weeks, no matter how many showers it takes.
Wait, what's that you say? The FA has opted to ditch actually-making-something-of-a-difference chairman David Bernstein for having the gall to turn 70? Oh, for crying out loud...
A poem for John Terry 2: Poem Harder
O, JT,
Why dost thine internal disciplinary action must needs be clandestine?
What foulest reckoning hath been passed by thy liege?
Hast thou been compelled to hand thy captain's armband in?
Or banished to the Naughty Step at Stamford Bridge?
O, JT,
Wilst thou forego thine material gains for two-score days?
Or have balls propelled at thy backside while standing in goal?
Perchance permit an intern to shoot thee in thy face?
No, wait, such is the remit of young master Cole,
O, JT,
The land vigils on even through your contrition,
"Disappointment" but no word for Anton to boot,
Forgive this poem its Shakespearian diction,
But a 16th-century tone wouldst appear to thee suit.
Follow George Ankers on