It's fair to say that footballers on Twitter have been a hot topic of discussion in recent days. Foul-mouthed messages from
Ashley Cole
and
Ryan Bertrand
have caused some embarrassment for all concerned as everyone gets all worked up about it.
Congratulations, then, to Stoke City's Jermaine Pennant, who was too busy sitting on the bench to notice the furore and got explicit as he revealed that he was about to leave on loan.
Elsewhere on the social network, Reading forward Noel Hunt just wants everyone to stay healthy and Manchester City's John Guidetti fancies a new tattoo - it's all here in
Goal.com
's
Word on the Tweet
.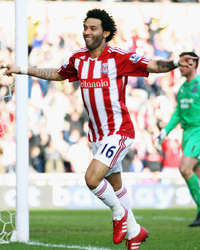 "To all the stokies I have some news for you all...... I did say ill always be honest so after training I will tell you
"I'll tell you now f%#k it......"


Jermaine Pennant
, about to announce his imminent departure from
Stoke City
to
Wolves
on loan, may not have paid any attention to the
Ashley Cole
story recently...
"Morning all! Just looking out my window and it looks quite breezy out there!! Wrap up well tweeps! Don't want anyone complaining of the flu! "
Is
WOTT
the only one suspecting that
Noel Hunt
has noticed someone in the
Reading
squad who likes to complain of the sniffles?
"Okey The best #tattoo place in #Manchester any1 ? :)"
Manchester City
prospect
John Guidetti
wants some new ink, eh?
WOTT
recommends an image of Vincent Kompany riding a motorcycle over a pit of fire. Or a butterfly.
"Training done
off for the weekend. On way up to Glasgow to go see kevin Bridges tonight should be class!!"
If
West Brom
midfielder
Graham Dorrans
wants a laugh, it's probably cheaper to stay in and watch
San Marino
attempt to defend.
"Il fait trop chaud à dakar"
Senegal
forward
Demba Ba
complains in French about the weather being too warm in his home country. You've spent too long in
Newcastle
, big horse.
"Happy Birthday to big Shols! 31 now he's really kicking on...still got a few more derby dates left in him though #mackemslayer #finewine"
Sammy Ameobi
congratulates his sibling and fellow
Newcastle
man Shola in that inimitable couldn't-quite-make-it-a-full-compliment brotherly way.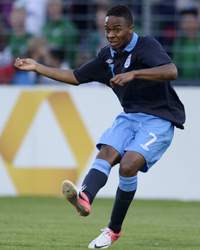 "Think I might have a nice big roast dinner as it my bday :)"
Fair play,
Henri Lansbury
, you've earned it. Hopefully
Nottingham Forest
won't mind.
"Big game tonight all the lads are buzzing and ready to go!!!! #EnglandU21 #LetsGetAWin"
Is
Liverpool
's
Raheem Sterling
old enough to be on Twitter yet?
"Does anyone know the feeling that he has to do a 30K run in preparation for a marathon but weather and wind are not making it easy to start?"
Being a sublime specimen of humanity at its athletic peak,
WOTT
is unable to sympathise with such mortal concerns. Sorry,
Edwin van der Sar
.
"Did anyone watch the #planecrash last night? Was it any good?"
Insert your own 'winger' joke about
Wayne Routledge
here.