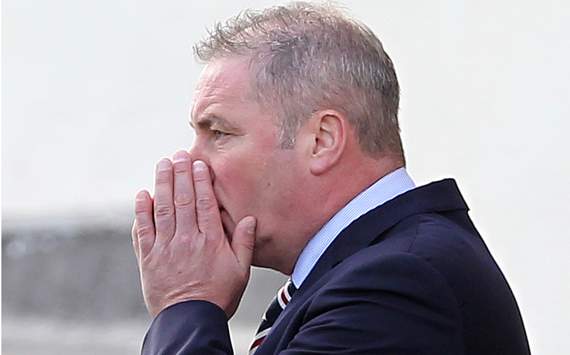 By
Chris Myson
It was a dreadful weekend for Rangers boss Ally McCoist, who saw the pressure on his side increase after a shock 1-0 defeat to Stirling Albion, leaving them without a win from four Division Three away games this season.
For Greig McDonald though, the man scheduled to be in the other dugout – although he never ended up taking his place on the touchline – Saturday was a stunning day he will never forget.
Albion's home victory over Rangers has been ranked as the best in their 67-year history since being founded in 1945, but their manager was not even at Forthbank Stadium to see it – amazingly, he was off getting married in nearby town Dollar.
McDonald, who is just 30, is player-manager of the Binos and was only appointed boss long after the date for his big day had been set and fates conspired to mean the game he would miss was the capacity-crowd clash against McCoist's Ibrox giants.
However, he has revealed he was involved with preparations until hours before kick-off and then had members of his wedding party frantically checking for the score throughout the 90 minutes as he was being married to fiancée Jennifer.
"I had a conversation with [player-coach] Shaun Fagan late in the morning of Saturday after realising one of our players Jamie McCunnie had to pull out of the game for family reasons," McDonald explained to
The Scottish Sun
.
"That kept me involved; it was hard for me to stay away, but as soon as that issue was dealt with then my mobile was switched off. My focus after that was entirely on the wedding.
"Getting married to Jennifer was emotional enough for me - but the result from Forthbank made it an even bigger night to remember and the day even more special."
Despite his attempts to stay focused on his big day, news was soon filtering through that his side – who sat bottom of the league before the game - had taken an early lead against the Gers.
The manager explained: "As soon as we came out after the service, and we started getting photos taken, my best man told me that Brian Allison had scored.
"It was only five or 10 minutes into the game. That was just perfect for me.
"From that moment everyone was checking their phones for score updates! We were all anxious to hear that it was still 1-0 for us.
"I have to confess as I was posing for the photographer what was happening in the game was on my mind — I hope Jennifer can forgive me! But, to be fair, even she was asking the score.
"My best man and groomsmen had the specific responsibilities of keeping me informed of what was happening at the game. Every two minutes they were checking their phones.
"And just as we came in for the meal it finally came through we had beaten Rangers - it was just the perfect end to a perfect day."
McDonald's role as player-manager makes him the highest earner at Stirling Albion, but even he is on just a modest £200-a-week for the part-time role, which he combines with a job working at Lloyds Bank.
Some of the Rangers players he was up against are on wages in excess of £7,000-a-week despite their recent plunge through the Scottish league system, and the boss was thrilled with the famous victory for his underdogs.
"I was delighted we beat Rangers for my backroom staff, the players and the supporters. The result is a massive credit to them," he said.
"I'm buzzing. It's a great achievement for everyone at the club. We've got fantastic people behind the scenes. They deserved the joy we all got from beating Rangers. There are so many unsung heroes at Stirling Albion, from the chairman down. It's a great story."
The unusual nature of McDonald's management of the Binos will not stop there though, he is now set to jet off on a three-week honeymoon to Australia, Nez Zealand and Dubai, meaning he will leave the caretaker management team in charge for two more league matches.
He said: "My wedding and honeymoon were both booked a long time ago - it's one of those things.
"I'll miss the games against Montrose and Peterhead, but again I'll be keenly checking for the score."
Despite the drama of the day and success of his side, the most important thing for McDonald was the successful and happy ceremony enjoyed with his new wife – or at least that is what he is saying publicly!
"It was amazing," he added. "Jennifer supports whoever I'm involved with and thankfully she understands how I am with football. She's known me long enough.
"But my wedding was still more important. That took precedence over everything else. The fact Jennifer's now my wife means the world to me."