By
George

Ankers
The one-man title challenge

Paul

Scholes
How exactly have Manchester United got themselves into a position where they are entirely reliant on a 37-year-old, who was in full retirement 12 months ago, to do anything and everything?
The Red Devils arrived at

Anfield

on Sunday armed with a first-half performance so vapid and empty that it might as well have married Peter Andre and once again it required the introduction of Paul

Scholes

for them to learn how to keep hold of the ball.
With a miles-past-his-best Ryan

Giggs

starting apparently on a political basis just to avoid having to make Patrice

Evra

captain for a potential

powderkeg

of an occasion, it was essentially left to Michael

Carrick

to hold off the Liverpool midfield.
Said midfield consisted of possession machine Joe Allen alongside Steven Gerrard and Jonjo Shelvey, two men decidedly "up for it" as the hosts got swept up in emotion (in a good way). It was hardly a fair fight.
Struggling in the centre at

Anfield

is not a new phenomenon for United but their total dependency on

Scholes

decidedly is. The ginger

Gandalf

has already had to step in to tell Southampton: "You shall not pass (I shall instead)!", with the difference in performance with and without him startling.
GOOD WEEKEND


Marouane

Fellaini

and his hair
The be-afro'd colossus was once again in unplayable form this weekend, battering Swansea City black and blue at the Liberty Stadium. Plus, he got away with a 'Street Fighter'-style

Ryu

Hadouken

to punch his way to a goal.
Demba Ba
The two

Demba

strikers at Newcastle, Ba and

Papiss

Cisse

, apparently operate on some strange lunar calendar as one's form waxes and the other wanes, never both shining brightly. For now, it's the syrup-loving

strikezilla

who's enjoying the good times, smashing home another goal to turn over Norwich City.
Stewart Downing
"See what happens when you drop me, huh, boss? D'you see?"
That United could afford to splash £20 million-plus on Robin van

Persie

- who at least hit his penalty properly this time - this summer and not a central midfielder who can both be influential and play a full 90 minutes ever again is duck-billed-platypus levels of inconceivable.
Yet there they are, second in the Premier League table with 12 points. Without Scholes' ability to keep his head and pick a pass, they would be comfortably in the bottom half.
The man is making a single-handed run for Premier League glory. Well, a walk. He's got to be careful at his age, after all.
The weirdest unbeaten run ever
Arsenal
Strange things are happening at Arsenal. An almost unequivocal shambles in 2011-12, then selling their captain and best player to a huge rival just before the end of the transfer window... things really weren't supposed to go right.
But somehow they are. The Gunners are fifth in the league but perhaps behind only Chelsea in terms of actual form and, crucially, are still unbeaten.
It's not for want of trying. For a back line containing Per

Mertesacker

and Carl

Jenkinson

while protecting Vito

Mannone

in goal, keeping clean sheets was generally understood to be a physical impossibility.
Yet the German has evolved during the summer from a lumbering ooze to a titanic defensive behemoth, blocking everything with nerves of steel, while the skittish, mousy

Jenkinson

seems to have aged five years overnight. OK,

Mannone

made a bit of a hash of the goalscoring corner on Sunday but he's actually saved shots here and there too!
Not even Laurent Koscielny calmly passing the ball to Sergio Aguero in a perfect scoring position just after equalising at the other end could break the early-season undefeated streak.
Forget the title challenge - at this rate, Arsenal are going to have a new set of unlikely heroes. When it happens,
MTW
recommends that this strange bunch be known as the

Inconceivables

.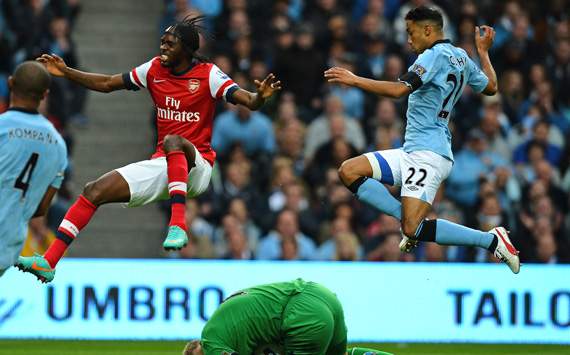 This is what MTW thinks of when it's trying to make itself go to sleep.

Quote of the weekend

"This is England. We're playing in England, we're not playing in Europe"
– Geography was never Tony Pulis' strong suit.

MTW Mailbag

Dear
MTW,
I am writing to seek your medical advice.

Friends and family are insisting that I "look a bit peaky" and might be coming down with Second Season Syndrome after losing 3-0 to

Everton

. "

Swanny

," they tell me, "your disciplinary record - I mean, er, skin - is blotted in yellow and red blotches!"

Honestly, I feel fine. Just because I'm getting more cards much more quickly than I did last year doesn't mean there's anything to worry about, right? I know I've had some relatively important internal organs surgically removed over the summer but all the limbs basically do what they're told.


BAD WEEKEND


Jonjo

Shelvey


A 20-year-old boy stormed up to an elderly man and called him a c*** but it's the youngster for whom MTW is scared. He may be 70 but Sir Alex Ferguson could quite easily carry off the Michael

Caine

vigilante role in 'Harry Brown'. Pick on someone your own age,

Jonjo

- for your own safety.

Fernando Torres
Form is temporary and class is permanent, so the Spaniard's supporters (

Torresistas

?) relentlessly preach. But, after another performance against Stoke City which suggested regression rather than progress, can we finally just admit that three years of enduring pants-

ness

is about as "permanent" as football gets?

Southampton
The south-coast side had a golden opportunity on their hands to record the Premier League's first pointless season but tragically choked and beat Aston Villa 4-1. They might stay up but they've missed out on the history books. The wimps.
Please, Doc, could you just break it to me gently or let me know that everything's fine.



Yours patiently,

S. City Football Club, Swansea


Well, Mr City,
MTW
has reviewed your test results and it is concerned about your anger management issues. Mood swings could be a symptom of a larger disease.
That said, your circulation is healthier than most and, if
MTW
may say so, you're still very easy on the eye so the signs are otherwise quite good.
Prognosis: Survival. But do some exercises for your back just to be safe.
A poem for John Terry

So, John Terry, you have
Retired from England duty
Before you were pushed?
For the Three Lions
You roared often the loudest
(Louder than required)
Blaming the FA
Which should have suspended you
Was a noble touch
Now how will England
Win tournaments without you?
(The same as before)
You'll be remembered
For all that pace, grace and tact
That you didn't have
And also that time
When you flogged your personal
Wembley

box for cash
Incredulity
A word you often prompted
But could you spell it?
Follow George Ankers on