By
George Ankers
At least his brain wasn't injured

John Terry (England)
England are 4-0 up against the world's 141st-ranked nation with less than 15 minutes to go. Moldova are not exactly displaying any final shreds of hope in their helpless pursuit of a consolation goal. John Terry picks up an injury...
... and stays on the pitch. Er, what?
Pointlessly battling on for another 10 minutes which may well have aggravated the problem to the extent that he will now miss Tuesday's game against Ukraine, you would have been forgiven for assuming that the injury was to the Chelsea defender's brain.
But Roy Hodgson allowed Terry's bravery complex, no doubt exacerbated by events over the past year, to get the better of them both. If the centre-back was worried that his going off and reducing a substitute-less England to 10 men would be the catalyst to a late embarrassment, such fears were put to rest by a glorious three-minute holdout following his belated disappearance.
GOOD WEEKEND


Joe Hart
During England's 5-0 win over Moldova in Chisinau, the goalkeeper completed five Sudoku puzzles, a really hard level on Legend of Zelda and learned a new guitar chord. A productive Friday.

Portsmouth
The south-coast club, who are now to having money what Bob Dylan is to Greco-Roman wrestling, gave nine-man Crawley a late slap in the face to win 3-0 in Sunday's League One clash. It was their first league win of the season and, for a team containing the likes of one-time Chelsea reject Jon Harley (inexplicably still only 32), unlikely to be followed by many more.

Liverpool
Brendan Rodgers will have Stewart Downing back available for selection after the Paralympic blind football tournament came to a close.
At this point
MTW
should probably make a joke about him coming back onto the pitch at full-time to celebrate with his team-mates but, let's face it, nobody wants that. Let's pretend it never happened.
On the plus side, the Three Lions will now only need to line up against Ukraine with a riskily slow centre-back instead of a continental-driftily slow one. It's coming home!
Revelation of the week
Wayne RooneyMTW
warns you now: The following paragraph contains information that may disturb you, unsettle you or otherwise force you to question your fundamental understanding of the universe. Sit down before reading. Have a glass of water to hand. Don't be alone.
Cristiano Ronaldo has an ego.
Ack! The glass of water might have been a mistake.
MTW
hopes that you haven't spilt it everywhere in shock. But the fact remains that the prancing powerhouse does, indeed, love himself.
As former Manchester United team-mate Wayne Rooney revealed in an extract from his upcoming book, 'My Decade in the Premier League' (a tome that
MTW
was pleasantly surprised to learn consists of more than just the letter 'N' repeated for 500 pages), Ronaldo enjoys mirrors. Loves 'em, in fact.
"In the time I've been playing with Ronnie, the one thing I've noticed about him is that he can't walk past his reflection without admiring it, even if we're about to play a game of football," the Englishman's ghostwriter translated from his scrawled cave-painting recollections.
"If there's one person with a bigger self-belief than Ronaldo, I haven't met him yet. He's not shy."
Rooney, of course, being a man happy to sign away the rights to publish not one but five books over his career so far and yet to come, wouldn't know the first thing about shyness.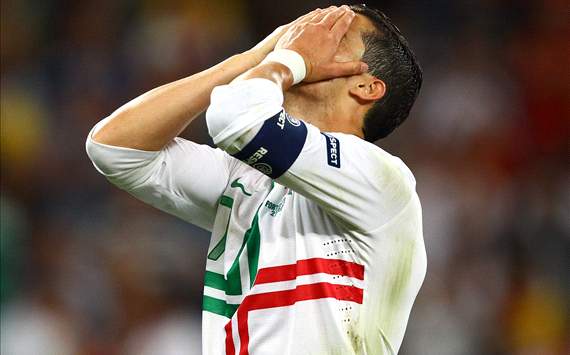 "I can't believe Wazza's ruined my down-to-earth, no-nonsense image!"
Quote of the weekend

"We usually say that you cannot become a legend before death. But I am a living legend - at least in Malmo"
– Zlatan Ibrahimovic. Just ... Zlatan Ibrahimovic.

BAD WEEKEND


Arsenal
After the wild enthusiasm of a convincing 2-0 win over Liverpool in their last match, fans' spirits may have returned to more typical levels of disbelief when Arsene Wenger confirmed that hapless nothing-back Johan Djourou still has a future at the club.

Andre Villas-Boas
The poor Portuguese can't even go through the traditional motions of assuring a still-good-but-obviously-soon-to-be-replaced player that he is still valued without it becoming a drama. What was he supposed to say? "Nah, Brad Friedel's rubbish"? MTW despairs for him.

Any footballer who Tweeted positively about the Paralympics
Be very careful when next you go down just a little bit too easily. MTW is watching you.
MTW Mailbag

Dear
MTW,
I've just been ignored by my boss for a job on which I could have really helped out and I'm right peeved. Really quite narked off, in fact.

I think I might publicly tell several thousand Twitter followers exactly what I think of him. Can't possibly see any downside but thought I'd better get a second opinion. If you could carry out a routine check on whether there's any reason that an explicit outburst could possibly be a bad idea, I'd appreciate it, but please be prompt in your reply. I'll probably just end up doing it anyway after a while.

Yours seethingly,

J. McClean, Astana, Friday September 7


Hiya! Thanks for writing in; sorry for the late respo- oh. Oh. Oh dear.
The pitiful game

Craig Levein Nil (Scotland)
Oh, Craig Levein Nil. What happened to you, Craig? When you took the Scotland job you looked like a quietly enthusiastic geography teacher. In the three subsequent years, you've filled out to become a bouncer and your team has gone just the same way.
The Scots' 0-0 draw against Serbia on Saturday was the perfect example of Levein Nil settling for more. It is entirely clear that in an admittedly tricky group the former Hearts boss would gleefully take 10 goalless stalemates whether or not it actually meant qualification. There might not be an embarrassment - at least in the usual sense - but there's still the glum rejection of almost everything else. Fans would almost certainly swap 10 fruitless draws for one exciting win.
Kenny Miller is an early-30s striker in MLS so maybe Levein Nil sees him as a budget Thierry Henry but the persistence with a forward who puts the "mediocre" into "grindingly mediocre" is enough to drive anyone insane.
MTW
wishes that somebody would take poor, dour Craig by the shoulders and push him towards a spa or a theme park so that he can learn to live a little and welcome some joy back into his life. Send Steven Fletcher with him while you're at it; someone's relationship could do with rekindling.
Follow George Ankers on