EXCLUSIVE
By Ben Somerford | Asian Football Editor
Australia keeper Nathan Coe is confident that he will find a new club soon despite admitting the right offer is yet to come up after deciding to leave Danish club SonderjyskE.
The 28-year-old is currently back in Brisbane and spoke to
Goal.com
about his future after deciding to finish up in Denmark when his contract with SonderjyskE expired at the end of the 2011-12 season.
The former Inter and PSV Eindhoven man, who has made three appearances for the Socceroos but is a regular in national team squads as a back-up keeper, revealed he is looking for a new challenge.
"I've decided to leave SonderjyskE. Now I'm looking for a new club, a new adventure," Coe said.
"At the moment I've had a few offers, but I've been not exactly 100 per cent keen on those, so I'm waiting for the right one.
Coe preferred not to disclose where the offers had come from, but said he was looking to leave Scandinavia having been there since leaving PSV Eindhoven for FC Copenhagen in 2007.
"It is a tough time finding a new club right now, but I've taken a decision to move on from Denmark and get out of Scandinavia and try something different," Coe said.
"I want to experience new things, grow more as a goalkeeper and learn new things, but I'm just waiting for the best thing."
He added: "I'd love to be in mainland Europe, I've been in Scandinavia for close to five years."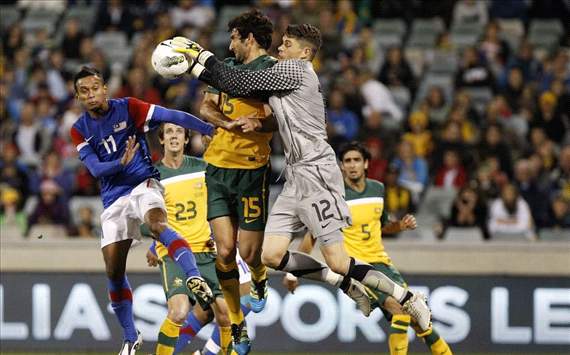 Green-and-gold Coe | In action for the Socceroos against Malaysia in a friendly
Coe, who has been training by himself in Brisbane in the hope the right offer might be just a phone call away, added he was positive a deal would pop up but said there was no time frame.
"I'd love it to be as soon as possible. Unfortunately things aren't moving that fast at the moment," he said.
"There are things in the pipeline but sometimes in football those things never eventuate. Talk is talk, sometimes you can only say this is certain when you've got a contract sitting in front of you.
"I feel calm and positive that something will come up, so I'm not really stressed or worried about what will happen, I just have to leave it up to faith.
The Australian Institute of Sport product added the decision to become a free agent and not sign a new deal with SonderjyskE had been a difficult choice, but one he felt he had to make.
"If I decided to re-sign with SonderjyskE I would have had a safe option, but I felt the time was right to change," he said.
Coe's previous spells at Inter, PSV and FC Copenhagen were largely spent sitting on the bench as second or third choice. Indeed, after years of playing second fiddle, Coe was finally first choice at a club, in SonderjyskE, which made the decision to leave even harder.
"The way I looked at it was when I was younger I did my apprenticeship. I learned a lot from a lot of good goalkeepers but sometimes being a goalkeeper takes a lot of time and patience to be able to get that opportunity to play," he said.
"I finally got that and I felt like I learned so much just by playing, but I also felt the time was right to make a change and try and move somewhere else, develop and learn a new way in a different country. We hope that's the right decision, only time will tell."
Follow Ben Somerford on

Follow Goal.com Asia on

and

for the latest in Asian footballing news, features, and analysis