It was seconds from the end of regulation time when Raffles Institution launched a counter-attack, which also happened to be their first offensive move of the game, that led to forward Koo Hui Fen slotting the ball home for the title-winning goal.

Speaking to Goal.com Singapore after the match, Raffles coach Leong Chee Mun was simply over the moon as the victory secured his school's first ever 'A' Divisions girls championship.
"The girls played very bravely and we were the underdogs so I think they were very resilient throughout," said Leong of his players.
"They played as a team and kept their discipline. Despite being under a lot of pressure [from Meridian], they refused to give up."
"They played very well and gave us a lot of pressure but I think my girls managed to hold them back. It's hard to say who wanted it more because everybody also wants it more.
"We took the chance and I think in a way, we were lucky."
Raffles captain Tran Thi Thai Khue, clearly at a loss for words, also echoed her coach's views: "They played well and attacked us a lot but they didn't take their chances and that's something they didn't do as well as us."
"We are all very happy as this is the first time, Raffles has won the title. I don't know how to describe it but we are just very happy!"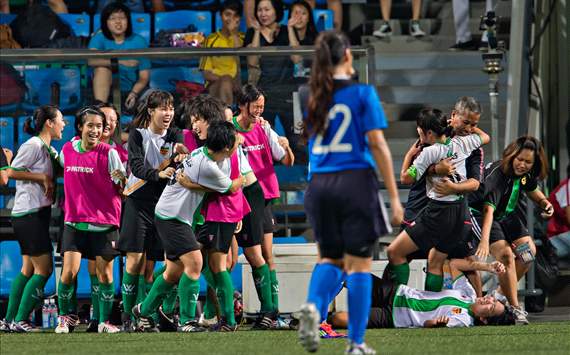 Goalscorer, Koo, shared what drove the team to a historic win.

"We believed in ourselves that we could do it," said the 19-year-old.

"For this one year, we have been working really hard and our teamwork improved, thus giving us the belief and motivation."
Her coach, Leong, was making sure that the win wasn't going to be a one-off event, promising that it was a sign of things to come.
"We will defend our title next year," he told Goal.com Singapore.

"We will try our best and see what happens. This is good encouragement for us as we are not one of the top schools in soccer so this game would probably encourage the new batch, as they have a job to do next year."
The goal that won Raffles the title was a heartbreaker for Meridian, who dominated the match but were made to pay due to a lapse of concentration in the final seconds.
A visibly disappointed Meridian coach Hafiz Muhamad believed that what separated both sides in the end was the finishing.
"Today is the finals and I told the girls to go all out," said Hafiz.
"I think they did well and kept on attacking until the last minute, the only thing that separated us [from Raffles], was that we just couldn't score.
"I think the players got overawed by the occasion. You can see that they were not playing in their normal way and were hesitant on the ball.
"Even though we had the chances, we never really looked like scoring. The shots were too tame and soft."

But Meridian captain Abigail Tan Teck Min remained positive, adding: "Indeed, it's a heartbreaking loss but my girls have come very far and they fought very hard."
"Even though we were not the champions, this is the first time in seven years we have reached the finals so it's an achievement for us."
When asked if she had any words for her team, Tan replied: "Don't be dismayed, don't be devastated because you gave your best and I am proud of you!"
"And last but not least, we are MSG, Meridian Soccer Girls. Love, Fight, Believe and we conquer!"